News
Nazanin Zaghari-Ratcliffe to go on hunger strike over lack of medical care
Thursday 3 January 2019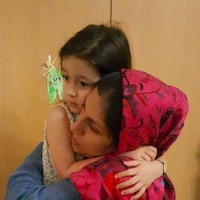 Thomson Reuters Foundation staffer Nazanin Zaghari-Ratcliffe (photo) announced she will go on hunger strike after being refused access to medical help.
In a letter written from Tehran's Evin prison and published by Iranian charity Defenders of Human Rights Centre, she said she will start the three-day strike with a fellow inmate and prominent rights activist, Narges Mohammadi, but continue it until their demands are met.
She has been behind bars since she was arrested at Tehran airport as she prepared to leave after visiting her Iranian family in April 2016.
The letter said both women had been barred access to medication and treatment "despite frequent requests" and appeals to relevant authorities.
"In protest against this illegal, inhuman and non-religious practice, and due to concerns about our health and our lives, we will go on hunger strike for three days from 24 to 26 Dey 1397 (14 to 16 January 2019) and ask for immediate care," the letter said.
"If the authorities refuse to address (our demands) and in case our health is put further in danger, we will stage our next protests. The officials of the Islamic Republic of Iran will be responsible for the consequences," read the letter's closing line.
Zaghari-Ratcliffe, who turned 40 last week when she also marked her 1,000th day behind bars, was separated from her 21-month-old daughter and arrested while she was attempting to return home to her husband in London.
She was later sentenced to five years in prison on espionage charges she denies, in a short trial where she was barred proper access to legal representation. ■
SOURCE

The Independent