News
Times Square staff prepare for moves after Refinitiv split
Monday 19 November 2018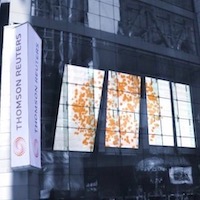 Two months after the Refinitiv spin-off, employees at Thomson Reuters' New York offices (photo) are preparing to relocate.
Facilities managers at 3 Times Square will begin separating the two companies' staff on Friday 30 November with the aim of completing the exercise in early February.
Not everyone will be asked to move, said Rob Schack, who is leading the project.
"We will work to minimise disruption both to our Reuters news operation and overall wherever possible," he wrote in a memo to staff in the 7th Avenue building in midtown Manhattan on Monday. Reuters News occupies parts of three floors.
Due to the scale of the project, some moves will take place from Thursday to Sunday, when staff who are affected could be asked to work remotely on Friday.
Event and meeting spaces on the 30th floor of the 32-storey tower will continue to be accessible to both organisations, and the café on the 16th floor will remain open to all employees in the building. ■
SOURCE

Thomson Reuters