News
PEN America honours jailed Reuters journalists
Wednesday 23 May 2018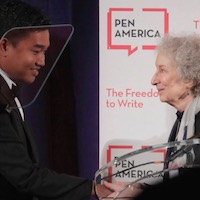 Two Reuters reporters detained since December in Myanmar were honoured by PEN America, the literary and human rights organisation, at a gala in New York on Tuesday.
PEN's Freedom to Write Award was presented to Wa Lone and Kyaw Soe Oo. In their absence through imprisonment, the award was collected by Wa Lone's brother, Ko Thura Aung (photo).
At the time of their arrest on 12 December they had been working on an investigation into the killing of 10 Rohingya Muslim men and boys in a village in Myanmar's Rakhine state.
The award was presented by Margaret Atwood, most recently known for her Dystopian novel The Handmaid's Tale, who warned that "When democracy is in retreat the first thing authoritarians do is silence those who are telling stories they dislike."
In a letter read by Atwood, the journalists offered a dare to the Myanmar government: "Where is the truth? Where is the truth and justice?" they asked. "Where is democracy and freedom? Why do soldiers who are found guilty of murder get 10 years while we journalists who expose the murder face 14 years in prison?"
PEN America handed out prizes for literary service, political activism and defence of the First Amendment of the US Constitution - the right to freedom of expression.
The gala took place as a longtime champion for writers oppressed in Eastern Europe during the Cold War, Philip Roth, was dying in a nearby hospital at age 85. Many spoke of risks to essential rights, abroad and in the United States. ■