News
Myanmar police searched Reuters reporter's home 'for news'
Wednesday 7 March 2018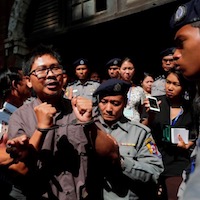 Police searched the home of Reuters reporter Wa Lone looking for material "related to news" the night after he and colleague Kyaw Soe Oo were arrested, an officer told a court.
Myanmar has previously denied accusations the two journalists were targeted over their reporting of a crisis in northern Rakhine state.
Court proceedings are under way in Yangon to decide if they will faces charges under the colonial-era Official Secrets Act, which carries a maximum penalty of 14 years in prison.
Wa Lone (photo), 31, told reporters outside the court: "The government can arrest us like this, waste our time in the court for many days and stop us from being able to write news. But I want to tell them right here that they can never hide the truth. We, journalists, will find the truth even though they are sending us to prison."
The two journalists have been recognised by their colleagues and honoured with the Reuters Baron Award.
The award recognises journalists who stand out in their proven commitment to Reuters' deep traditions of integrity and journalistic excellence, and is not given each year. It cited their remarkable and courageous reporting on the Rohingya crisis as being of global importance and underscoring the importance of press freedom.
Presenting the award at the annual Reuters Journalists of the Year Awards ceremony in New York last week, Reuters president and editor-in-chief Stephen Adler said the pair "have done remarkable work of global importance and have made an enormous sacrifice in the process. They have shown through their work why press freedom is so important, and they have acted with extraordinary courage and resilience throughout their ordeal… Our thoughts are with Wa Lone, Kyaw Soe Ooo and their families, as we celebrate their extraordinary work as Reuters journalists."
Reuters Myanmar bureau chief Antoni Slodkowski attended the ceremony to accept the award on behalf of the detained journalists.
He said: "The Baron Award is given to people who both embody the Reuters values of integrity and freedom from bias, but also for journalistic excellence. Wa Lone and Kyaw Soe Oo have shown through their courageous, tireless work that they not only embody those ideals, but that they live and breathe them also outside of the newsroom…
"Their mission is to make the world a better, more tolerant and more just place and they worked towards that vision both as professionals, but also as charity workers, authors and warm, generous husbands, brothers, sons and fantastic friends."
Before Wednesday's court hearing a doctor examined and took blood samples from the pair at the request of the defence, after their lawyer raised concerns that their health had deteriorated in prison since their arrest on 12 December.
Prosecution witness Police Major Soe Aung told the court he had been sent to search Wa Lone's family home in northern Yangon on the evening after their arrest.
Asked during cross-examination what police were looking for, he said the 10 or so police officers who entered the house were "searching in relation to news". He did not elaborate.
The reporters had been working on a Reuters investigation into the killing of 10 Rohingya Muslim men who were buried in a mass grave in northern Rakhine state after being hacked to death or shot by ethnic Rakhine Buddhist villagers and soldiers.
The military excavated the shallow grave in December, days after Wa Lone and Kyaw Soe Oo were arrested, saying they had received a tip-off. Authorities are taking action against 10 members of the security forces and six villagers, according to a government spokesman.
Soe Aung testified that during the search police found a reporters' notebook from the Myanmar Times, where Wa Lone had worked prior to joining Reuters in 2016, that included the phone number of a leader of an ethnic Rakhine armed group, which was recorded on a police search form at the time of the search.
Police also seized a broken laptop, a hard drive belonging to Wa Lone's younger brother, and an empty bag during the search, according to the police form and Wa Lone's family.
The reporters have said that they had been invited to meet two police officers at a northern Yangon restaurant on 12 December, and were arrested almost immediately after being handed rolled up papers by the policemen, whom they had not met before.
Police officers have testified in court, however, that they were arrested after they were stopped and searched at a traffic checkpoint by officers who were unaware they were journalists.
The hearing was adjourned until 14 March.
---
SOURCE