News
Detained reporter: 'I am trying to be strong'
Wednesday 21 February 2018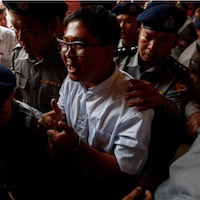 The first civilian to testify in the case of two Reuters reporters accused of violating Myanmar's Official Secrets Act contradicted police and prosecutors on Wednesday about where the pair were arrested, the journalists' lawyer said.
Wa Lone (photo), 31, and Kyaw Soe Oo, 27, were detained on 12 December for allegedly possessing confidential documents, after they had been invited to meet police officers over dinner in the northern outskirts of Yangon.
Win Lwin Oo, 50, a neighbourhood chief from another part of north Yangon, was the latest prosecution witness to give evidence in proceedings to decide whether they should be charged under the colonial-era law.
He said he was accompanying police as they conducted traffic searches and witnessed the reporters' detention.
The exact location of the arrests has emerged as a point of contention in the proceedings.
The reporters have told relatives they were arrested almost immediately after being handed some papers at the Saung Yeik Mon restaurant by two police officers they had not met before.
The prosecution and earlier police witnesses have testified the journalists were arrested after they were stopped and searched at a checkpoint at the junction of No. 3 Main Road and Nilar Road, several hundred metres from the restaurant, by officers who were unaware they were journalists. The prosecution has made no reference to a meeting with police prior to their detention.
"We kept arguing about it and during the examination today the witness Win Lwin Oo said it is not No.3 road but Sin Gyi restaurant, which is beside Saung Yeik Mon," defence lawyer Khin Maung Zaw told reporters after the hearing.
Prosecutor Kyaw Min Aung declined to answer questions from reporters. Government spokespeople have routinely declined to comment on the details of the case, citing the ongoing court proceedings.
As the reporters left court during the lunch break, Wa Lone, speaking in English, told reporters: "I should be in the newsroom. I am a journalist. I never did anything wrong. So, I am trying to be strong."
The two reporters had been working on a Reuters investigation into the killing of 10 Rohingya Muslim men who were buried in a mass grave in northern Rakhine state after being hacked to death or shot by ethnic Rakhine Buddhist neighbours and soldiers.
The date of the next court hearing was set for 28 February. ■
SOURCE