News
Obituary: Elizabeth Hawley
Sunday 28 January 2018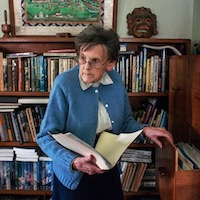 Elizabeth Hawley (photo), who has died in Kathmandu aged 94, reported for Reuters from Nepal for more than four decades on climbing expeditions to Mount Everest.
Known as the "chronicler of the Himalayas," she was one of the founders of The Himalayan Database, which recorded all expeditions in the mountain range from 1905 to 2017.
Born in Chicago, she was an editorial researcher with Fortune magazine in New York and moved to Kathmandu in 1960 to work as part-time correspondent for Time-Life. She had been on a holiday there and was captivated.
Hawley began reporting for Reuters in 1962, nine years after the pioneering climb of Everest by Sir Edmund Hillary and Tenzing Norgay opened the gates to global tourism in Nepal. She continued to report for the agency until 2008.
In 2011 she told Reuters: "I never took a conscious decision but it has been an engaging work over all these years.
"I very quickly realised that mountaineering will be a very important part of news reporting for an international news agency."
Though she had never been to the Everest base camp and never climbed a mountain, Hawley inspired respect and fear among climbers for her attention to detail and dry humour. She interviewed them before they began their ascent and again when they came down. She was seen as a key person to authenticate climbs, keeping meticulous records and verifying claims about successful expeditions.
Hawley had close friendships with many famous climbers including Hillary, who was reported to have called her "the Sherlock Holmes of the mountaineering world".
Fellow journalists described her as "one of a kind" and obsessed with getting facts right.
In 2014, the Nepalese government named a mountain in north-west Nepal, bordering Tibet, Peak Hawley in her honour.
Of her life among the mountains and the mountaineers, she said: "I came to Nepal. I never planned to stay. I just never left."
Hawley died on Friday in hospital, where she had been admitted a week earlier, of complications arising from pneumonia. She was unmarried.
---
SOURCE