News
Thomson Reuters pledges $100 million for new tech hub
Wednesday 11 October 2017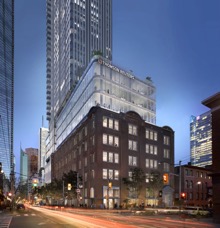 Thomson Reuters will spend about $100 million to house its new technology hub at a Toronto complex being built for occupation in 2021 (photo).
It has agreed to lease all of the office space at the new building in Duncan Street, site of the former Southam Press Building in the city's entertainment district.
The multi-use complex will be able to house up to 1,500 employees. The company expects to have hired up to 200 people this year and another 200 by the end of 2018, to be housed at a temporary Toronto site.
The $100 million commitment includes both capital investments and a 12-year lease starting when occupancy begins.
"This investment is indicative of how much potential we believe exists in the area and the leadership role we want to play in Canada," said James Smith, president and chief executive officer. "We are thrilled with the talent we have been able to attract in year one. Once fully staffed, the Centre will house one of Canada's largest technology hubs dedicated to developing the next generation of products and capabilities for our global customers."
Last October, Thomson Reuters announced it was opening a technology centre in Toronto. The centre has been temporarily located in another building and focuses on using cloud computing, big data analytics and machine learning to create better, faster, more intuitive and more secure solutions for customers.
"Our team operates as a catalyst for our global network of technologists working to provide our customers with the information, expertise and software they need," said Shawn Malhotra, vice president, Thomson Reuters Technology Centre. "This building will allow us to bring together our growing team in a collaborative work environment, in a prime spot rooted firmly in the culture and creativity of downtown Toronto." ■
SOURCE