News
Allan Barker's funeral
Monday 30 January 2017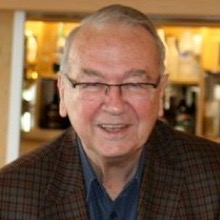 Waltzing Matilda, Australia's best-known bush ballad and unofficial national anthem, greeted mourners including a contingent of more than two dozen Reuters colleagues at the funeral of Allan Barker (photo) on Monday.
Barker, known to colleagues as the Sarge, died on 9 January - three weeks after his 83rd birthday - following a short illness.
In 35 years with Reuters he worked as a correspondent and editor in New York, Washington, London, Singapore and Hong Kong. He founded the Business News Unit in London and became founding editor of Reuters Business Report in New York.
His signature mark of disapproval at journalistic shortcomings, "I'm not entirely happy", was recalled in eulogies delivered by his son Gordon, minister SarahJane Boden, and Barry May.
Besides following financial markets, Barker indulged his gaming instincts at horse races. Appropriately, music included the songs Wild Horses and Cheltenham, a lyric about Cheltenham race course sung to the tune of Downtown.
Born in Perth, Western Australia, Barker had wanted to return, but doctors advised him against attempting the journey because of his ill-health.
Following cremation at Chichester, West Sussex, his ashes are to be flown to Perth and scattered at the race track there. ■