News
Thomson Reuters Q1 profit misses analysts' forecasts
Wednesday 29 April 2015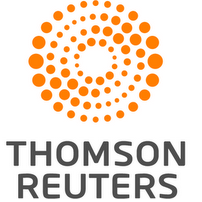 Thomson Reuters' adjusted profits narrowly missed Wall Street expectations as a stronger US dollar weighed on first-quarter results.
Organic revenues rose due to increases in the legal and tax and accounting businesses.
Profit was $305 million, or 38 cents a share, compared with a year-earlier figure of $282 million, or 34 cents a share.
Revenue in the group's core financial and risk division whose customers are banks and other financial institutions was flat at $1.5 billion, an improvement from quarters past.
F&R has faced declining demand from banks as firms have sought to reduce costs and cut jobs. Thomson Reuters has also tried to control costs and reduce its workforce.
Chief Executive James Smith said the company was off to a solid start this year.
"Operationally and financially we are on track where we thought we would be," he said in an interview with Reuters.
Smith said that, to combat currency swings, the company is adequately hedged for the year and is aligning its cost base with its revenue base. "In some ways you can't manage around currency fluctuation when they swing that dramatically," he said.
He said Thomson Reuters is still committed to the news division after the departure of Reuters chief executive Andrew Rashbass. The company is searching internally and externally for a new CEO, he added.
Reuters News revenues were $74 million, one per cent higher compared with the same period last year.
Factoring out acquisitions and currency changes, group revenue grew one per cent during the first quarter to $3.04 billion, in line with analysts expectations. When currency changes were factored in, total revenue fell three per cent.
Adjusted for special items, income was $353 million, or 44 cents per share, compared with $374 million, or 46 cents per share, a year earlier. Analysts had forecast 45 cents per share.
The company reaffirmed its forecast of positive organic revenue growth for the year. ■
SOURCE