News
Obituary: Peter 'Cal' Ebert
Thursday 26 March 2015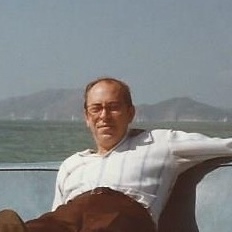 Peter "Cal" Ebert, for 25 years a stalwart of four Reuters editing desks around the world, has died suddenly in Thailand at the age of 74.
He was staying at the downmarket hotel in the resort of Pattaya which he had used as a second home for 40 years, Paul Smurthwaite writes.
The source for Cal's death is my old chum, the Paris based journalist Greg Chamberlain who was at Leeds University with him in the early 60s and has maintained contact since. Greg said today: "Cal always said he wanted to die in that hotel and he got his wish. It couldn't have been a better way to go and he has no family left."
Cal retired from Reuters in 1999 after stints on the Hong Kong, Bahrain, Nicosia and finally London desks.
---
PHOTO: Cal Ebert, a part-owner, aboard the junk Ishrat off Hong Kong in 1984. ■