News
Obituary: Brian Williams
Saturday 7 February 2015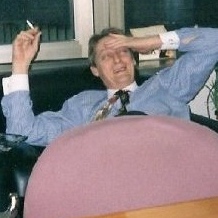 Brian Williams (photo), correspondent and editor beloved as a colleague and friend by many Reuters people past and present, died of cancer in Athens on Saturday. He would have been 70 in three weeks' time.
Known affectionately as Digger, Williams left his journalistic mark and a trail of happy memories wherever he went - London, New Delhi, New York, Saigon, Sydney, Tokyo and more besides. He had joined Reuters in 1969 from the Melbourne Age.
Williams came from Babinda in far north Queensland. After high school in Townsville he got a job as a cadet reporter on the Brisbane Telegraph and was working in the very early hours of 23 November 1963 when the telex machine chattered into life: "United States President John F Kennedy has been assassinated." He called the editor at home and the newspaper swung into action, producing half a dozen special editions.
The editor-in-chief of the Courier-Mail, flagship title in the group, was furious that the upstart Telegraph had stolen a march on the story. Williams was bitten. He went on the road and never looked back. In Vietnam he covered the war and teamed up with other Australian journalists working in Saigon. He also covered the war in Cambodia.
Years later, recalling his time as Reuters bureau chief in New Delhi, Williams remembered the news outlook he sent to editors in Hong Kong on 31 October 1984: "Very quiet day. Only news likely to be from visiting England cricket team." An hour later, Sikh bodyguards assassinated Prime Minister Indira Gandhi. More bloodletting followed as Hindus took revenge on Sikhs, then a poison gas leak at a Union Carbide insecticide plant in Bhopal turned out to be the worst industrial accident the world had seen. The young, relatively inexperienced and untested bureau Williams headed was tried as never before.
His news outlook on that fateful day hung on the wall in Reuters' Asia newsroom in Hong Kong for years to come as a caution that you never know when news is going to break - even if the England cricketers are in town.
"I'd arrived in India a year earlier, an Australian with 15 years' experience under my belt, to the new post of chief correspondent for South Asia, to be wakened in my hotel on my first night there by a telephone call. Najmul Hasan, a journalist from my bureau, had been killed by a land mine on an assignment in Iran to cover the war with Iraq," he recalled.
In New York, Williams was media news editor for the Americas, then worked in Tokyo as chief correspondent for Japan and North Korea, followed by London as chief correspondent for Britain and Ireland.
He was Olympics editor-in-charge for Sydney 2000. Four years later he organised coverage of the 2004 Games in Athens and afterwards stayed on in Greece, enjoying retirement from 2005 with his wife, Aliki, a senior political correspondent at the Greek parliament, before falling ill. She said he died in her arms.
Williams travelled the world and earned a reputation as a solid Reuters all-rounder who worked hard and played hard. A mentor to many, some called him a legend.
"Brian's passion for news and his wicked sense of humour will be remembered and sorely missed by the colleagues and friends who knew him," Alexander Smith, Reuters financial services editor, wrote in a note to editorial staff.
There will be a memorial in London at a date to be announced. ■