News
Thomson Reuters forex volumes soared in September
Friday 10 October 2014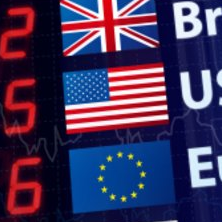 Trading volumes on currency platforms run by Thomson Reuters surged by a third year-on-year to more than $400 billion a day in September.
It was the first month to reflect fully a recovery in market volatility fuelled by politics and a dollar rally. Volatility, which tends to drive volumes higher by increasing the potential returns for traders from day-to-day activity, was at or around all-time lows for the first six months of this year, stemming activity among major dealers.
But events ranging from Scotland's referendum on independence to surprise dovish messages from the Bank of England and European Central Bank on policy have spurred activity and volatility over the last month.
Thomson Reuters switched methodologies earlier this year to include volumes from all of its platforms including Matching and buyside system FX All. As a result, the data only goes back to the start of 2013.
The $417 billion in trading in September was the highest since the start of that series and up 33 per cent on the same month a year earlier. Total average daily volumes in August was $355 billion. Average daily volumes for spot trading last month was $144.2 billion.
Average volumes at competing platform EBS rose 45 per cent on the year in September to $117.9 billion a day, the highest since June 2013. ■
SOURCE

Reuters