News
Lower forex trading volumes again hit Thomson Reuters
Wednesday 11 June 2014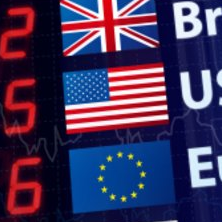 Thomson Reuters' foreign exchange trading volumes were down 3.3 per cent in May and FXall, its buyside-focused business, also returned 3.8 per cent less than in April.
With only a few large forex firms having made some headway in reversing the continually contracting trading volumes that have prevailed since the beginning of the year, Thomson Reuters' announcement of its trading metrics for May 2014 bear out the general direction that this year's environment is not improving, forex industry research and advisory website LeapRate said.
Average daily forex volumes at Thomson Reuters matching operations for May amounted to $87 billion, a 3.3 per cent decrease over the figures achieved in April and a 38 per cent decline from the highs of May 2013, a period when the entire forex industry was experiencing a sustained run of very high volumes.
FXall, the professional trading platform which Thomson Reuters purchased for $625 million two years ago, has also experienced a decline in trading revenues, with average daily volumes for May down 3.8 per cent compared with April, representing the second lowest results in what has been widely acknowledged as a difficult year, LeapRate said. ■
SOURCE