Library
The book that foretold Thomson's takeover of Reuters
BRIAN MOONEY & BARRY SIMPSON - Breaking News: How the Wheels Came Off at Reuters - Capstone Publishing - 2003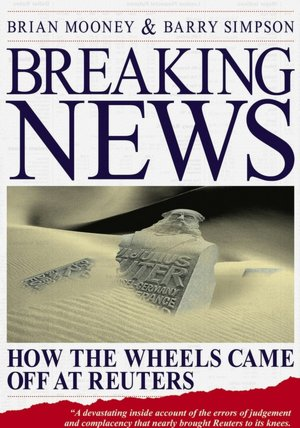 This book was billed as a "riveting exposé of the greatest achievements and biggest failures of one of the world's most famous companies".
It was based on the experience of two journalists, Brian Mooney (Reuters 1971-2000) and Barry Simpson* (Reuters 1971-1996) and interviews with current and former senior staff, competitors, city analysts, bankers, brokers, editors and others who comprise Reuters' client base.
They recount the history of the company from Paul Julius Reuter's pigeon post in 1850 to a record loss and thousands of staff lay-offs in 2003.
The authors observed that "Reuters is vulnerable to takeover. The Golden Share controlled by the trustees had always been flaunted as an effective barrier to a bid, but former non-executive director Pehr Gyllenhammar, now chairman of the trustees, has made abundantly clear that this is not so. All that is required is that a bidder should be a company of status and repute, committed to maintaining Reuters editorial principles, and above all its editorial independence."
They added: "In reality, potential bidders are few. Speculation has centred on Thomson Corporation and Pearson..."
Mooney and Simpson also noted: "Those we worked with, a glorious diversity of every race, religion and creed, were not just colleagues, they were family, sharing a common cause. Working for Reuters was not just a job; it was a way of life, and one we were privileged to enjoy."
Tim Sebastian, broadcaster and former Reuters correspondent, called the book "a riveting insider account of what went wrong in one of the world's most successful companies. A brilliantly researched story, told with style and pace. Read it and heed the warning".
*Barry Simpson died of a heart attack on 24 July 2006 aged 56. ■