Comment
Remembering Maria Golovnina - a fun-loving friend who was always on the move
Wednesday 4 March 2015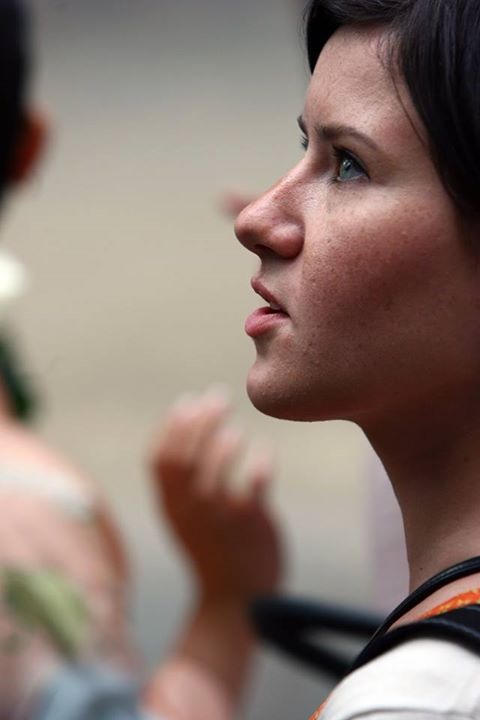 "Are you Waki-san? I'm Maria, a new graduate trainee from Tokyo."
It was September 2001 in London when Maria Golovnina, blonde hair with piercing blue eyes, came by to introduce herself in fluent, polite Japanese which you use to address to someone senior (I was a graduate trainee the year before). She asked if she could borrow a Japanese newspaper to keep up her Japanese.
A daughter of a veteran Russian journalist who was the Tokyo bureau chief at TASS news agency, journalism was a family trade. But her family also had a distinctive connection to Japan. Her grandfather was a highly respected academic on Japanese studies at a university in Moscow and she was also distantly related to Vasily Golovnin, a Russian explorer who mapped the Kuril Island and was held captive for two years by the Japanese in the island of Hokkaido. (During his captivity he learned the Japanese language, culture and traditions and published his account in a book - Captivity in Japan During the Years 1811, 1812, 1813 - after his return to Russia. The book was an authoritative volume on the culture of then-mysterious Japan that helped shape an entire generation's view of Japan.)
We quickly did away with the formalities and became close friends. My mom quite often mistook her voice for mine when speaking on the phone as somehow we had a similar tone of voice - or perhaps she was influenced by the way I speak Japanese (very fast). When she was a student she had a part-time job in a butcher near her house in Shinjuku, Tokyo and she told me that's how she came to speak Japanese fluently despite being educated in schools inside the Russian embassy in Tokyo.
She being a dedicated general news journalist and me a financial one, we didn't talk much about work and office politics when we chatted. We shared interests in a few things, one of which was classical music, particularly from the Baroque era. We went to a concert of Handel's Messiah in autumn 2000 at the Royal Albert Hall. Despite being a sing-along one we were the only ones seriously singing. Working late at night at the Kiev bureau during the Orange revolution in 2004, she told me how listening to Classic FM kept her sane. Maria also loved Mozart's Requiem - so much so that she told me that was a piece of music she wanted to be played at her funeral.
I visited her twice in Moscow. She had a cat, basic furniture and tons of books in her flat near Pushkin Square. On a weekend visit to a Dr Zhivago-like picturesque medieval town of Suzdal, more than 200 km northeast of Moscow, we walked for miles and enjoyed slightly dodgy local beer. We promised we would one day go to Japan from Europe by a combination of a Siberian railway and a ferry, and also visit Golovnin Island, a caldera named after her distant relative and located in the southern part of Kunashiri Island - at the heart of a territorial dispute between Japan and Russia. (On the Northern Territories dispute she always sided with Japan, saying that the Soviet Union annexed the islands amidst the post-World War II chaos.)
Despite her whirlwind life as a foreign correspondent covering war and conflicts, she always spoke of her dream of settling in London, which she loved, getting a British passport and one day starting a family.
During her stint as the Central Asian bureau chief in Kazakhstan she often took her R&R break in London and stayed with us. She took beautiful photos from far-away places like Afghanistan and Libya, some of which you can still see here (https://www.flickr.com/photos/marusia/). We asked her to become an unofficial photographer at my wedding in 2009. It turns out many of the photos were blurred and unusable because she had a little too much drink ("I was so happy for you, Natchan, and I got drunk to demonstrate that," she said.)
It seemed she was closer to her dream when she managed to buy a small flat in Bloomsbury. She became a part-time vegetarian, took up some exercise and even started cooking occasionally. She bought a Brompton folding bicycle and cycled everywhere. But she realised a life in a developed, urban city where everything is more or less predictable was not her thing. She was soon on the move again, this time to Pakistan, her last posting. During her one-and-a-half years there she didn't visit London nor her hometown of Tokyo. We exchanged e-mails just a few days before her tragic death, about Russian proverbs on winter.
She's gone too soon, but she also hurried her life which was lived to the fullest. She must be doing her own press pickup now - I can just hear her saying: "Look Natchan, I made it to the wire! Even The New York Times covered it! Look at the number of retweets and conspiracy theories!"
Maria chan, we miss you so much. But you will always be in our hearts.
---
PHOTO: Maria Golovnina in July 2009 at my wedding. ■