Comment
Dispatches from Saigon
Sunday 25 July 2021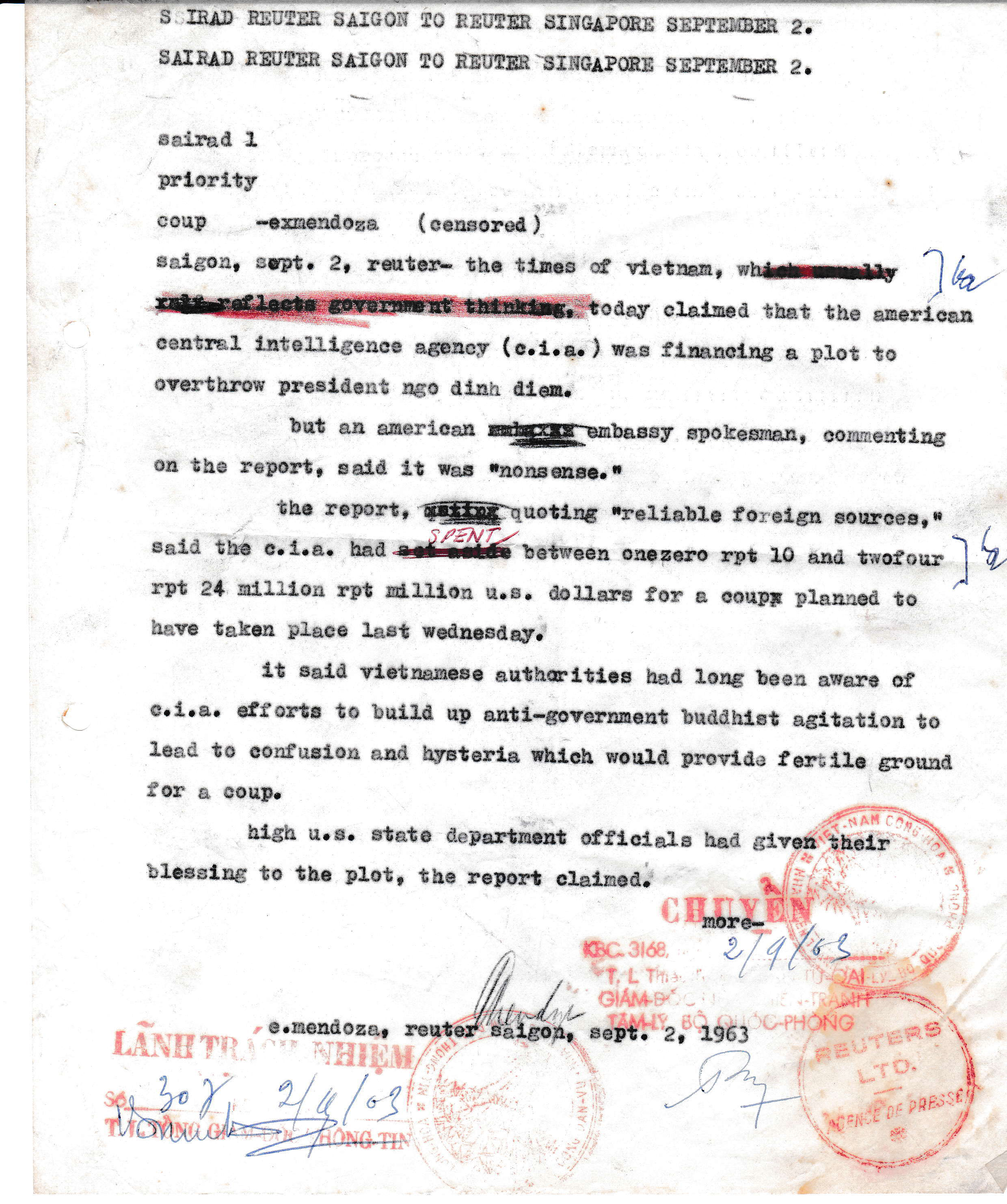 A parcel from New Zealand transported me back to 1960s Saigon. It contained some of my old dispatches and was sent by Christine Lanham, daughter of the late Nick Turner, Reuters correspondent in Vietnam from 1962 to 1964.
A few years after leaving Reuters to freelance, Nick saw office manager Pham Ngoc Dinh standing outside the Saigon bureau with boxes of old files destined for the tip. Nick took the files dating back to his time with Reuters, shipped them to New Zealand and was working on his memoirs when he died of lymphoma in 2016.
Christine, a lawyer and mother of three, is hoping to finish the project. Going through Nick's papers, she found my dispatches and contacted me through The Baron. She asked if I wanted them. "They may seem like an odd thing to keep but I know Dad treasured his, so thought I'd ask," she said.
Based in Bangkok, I reinforced Saigon when there was a big story like the US-backed coup that overthrew President Ngo Dinh Diem in November 1963 and the Buddhist crisis that led to it. The Buddhists were angered by Diem's pro-Catholic policies and demanded religious equality.
In June that year, a Buddhist monk burned himself to death at a Saigon street intersection. The photo of the burning monk, taken by Malcolm Browne of AP, made front page news around the world. Nick and I spent tense hours waiting for a phone call about planned street demonstrations and possibly another self-immolation. Several foreign correspondents, including Peter Arnett of AP and David Halberstam of The New York Times, were assaulted by police while covering the demonstrations.
In August I went to Hue, the former royal capital on the banks of the Perfume River, where the protests had begun in May against a ban on flying the Buddhist flag. I checked into a small inn and was woken at 4am by commotion in the streets and the banging of pots and pans. Soldiers had raided Buddhist pagodas across the country during the night and the people of Hue were protesting. Martial law was imposed. There was no way of communicating with Nick so I took the first available US military flight to Saigon - a C-130 Hercules reeking of chemicals from a jungle defoliating mission. Years later I read with horror that these chemicals called Agent Orange can cause cancer.
Christine said her father did not hire Pham Xuan An, the Reuters reporter who turned out to be a Viet Cong intelligence officer decorated and promoted to general after the war. She was right. I was in Saigon briefly in January 1961 and An was already working for Reuters then. I believe he was hired by Bruce Russell and David Chipp, Reuters manager for Southeast Asia at the time.
I find it difficult to think of An as other than a hard-working journalist with a good network of contacts. Articulate and easy-going, he talked fondly of the two years he spent in the US studying journalism on a college scholarship. I remember walking with him to the Air Vietnam office where his wife worked as a receptionist. They were expecting their first baby. I asked him if he wanted a boy or a girl. Without hesitation he said: "I prefer a girl. She will look after me in my old age."
In the old Reuter office in the Vietnam Press compound An had a battered wooden desk with a locked drawer. It held "captured" Viet Cong documents which he said had come from his army contacts. During quiet moments he would take out a document and translate it for Nick or me. One document provided me with material for a feature story on the Viet Cong's use of elephants to transport arms and supplies on the Ho Chi Minh trail through southern Laos.
After An left Reuters for Time magazine, Nick hired Germaine Loc, a charming former army nurse, as an editorial assistant. Germaine provided invaluable help when I took over the bureau after Nick's departure. She said she decided to change careers after landing on a flower pot on one parachute jump. In 1969 she married American photojournalist Dick Swanson and moved to Washington DC where she became a celebrity restaurateur. Swanson got 12 of her family out of Saigon just before the city fell in 1975.
Attached is a photo of my censored dispatch on the Times of Vietnam reporting a CIA plot to overthrow President Diem. The censor crossed out a phrase that the newspaper usually reflects government thinking. A dispatch that failed to get past the censor was about foreign embassies complaining that their coded diplomatic cables about the situation in South Vietnam were not being transmitted by the Post Office.
Such was the paranoia in Saigon in those days before the US started sending in thousands of combat troops to replace its thin line of military advisers. ■