Comment
Carl Mollins - some notes
Thursday 16 June 2016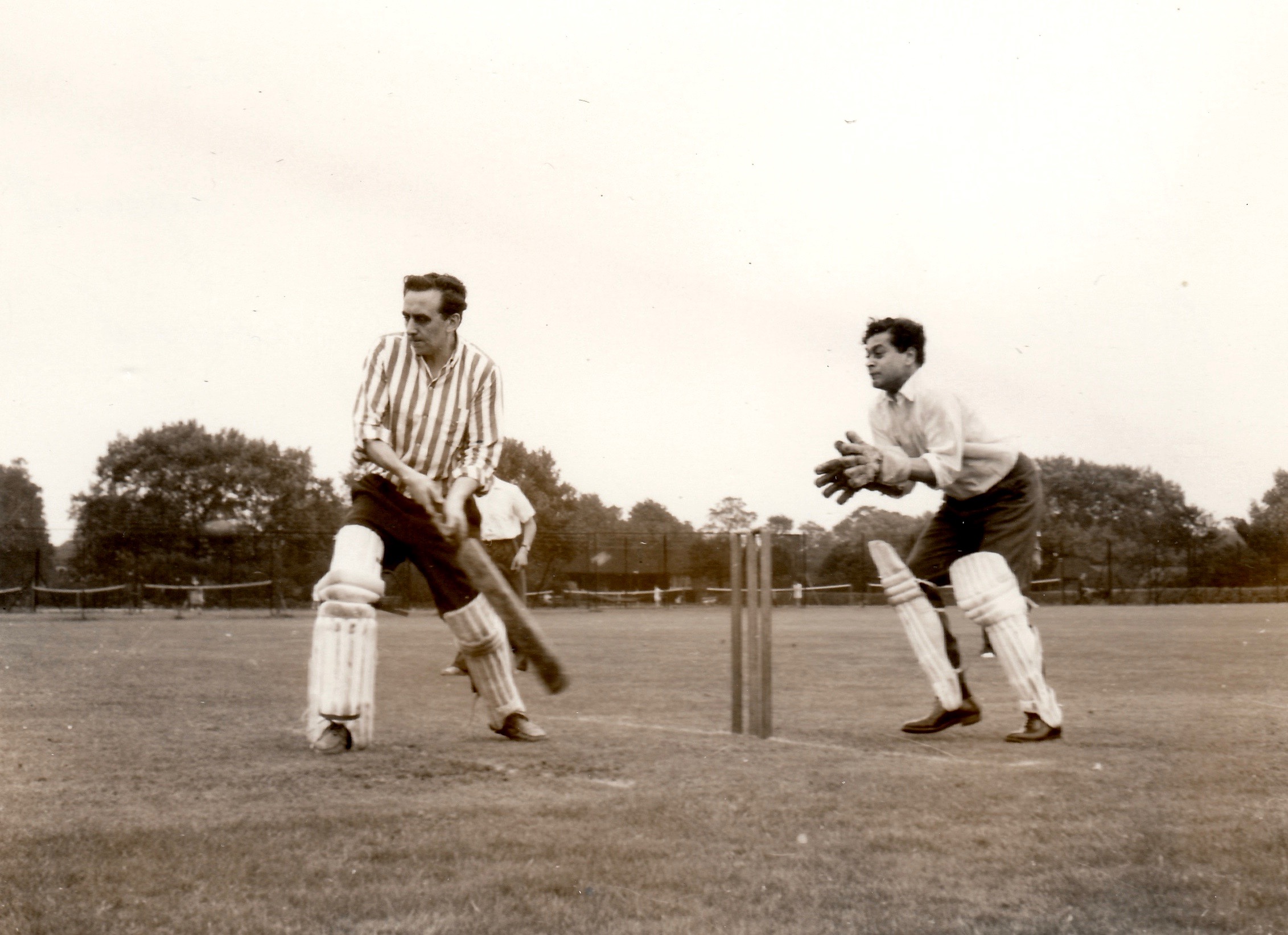 PHOTO: Batsman Carl Mollins at a cricket match on Wandsworth Common, London, in 1957. The wicket-keeper is Mohsin Ali, Reuters diplomatic correspondent.
---
Carl Mollins joined Reuters in the mid-Fifties around the same time as another budding journalist from Canada, Jack Hartzman. Apparently, when the two met at 85 Fleet Street, Hartzman assured his fellow-Torontonian that he - Jack - would be staying for maybe six months at most. Hartzman, of course, ended up remaining for some 40 years active service, while Mollins left for Canadian Press after five.
But the impact of Reuters and London stayed with Carl through his subsequent decades as a top operative for CP and the Toronto Star and executive editor of the national Canadian news magazine, Maclean's. The induction into solid news agency ways through Carl's experience of diverse desks at the world-connected "Eighty-Five" gave extra strength and dimension to his already-sound journalistic qualities. And the gossipy high jinks of recreational Fleet Street gave him useful familiarity with news trade secrets worldwide.
Mollins's favourite pub was one of the two then located on the ground floor of 85 Fleet. After late shifts upstairs, he would often hike all the way home to Bayswater. In WC2, he initially shared a basement flat with a pair of equally penurious young newsmen. One of those was the later famous Morley Safer, with whom he'd attended high school back in Toronto. Then, on moving to another Bayswater address, he met an English neighbour in the building, Joan Levett, who subsequently became his wife. Long after Carl left Reuters, their daughter Julie joined the company she and sister Tracey had heard so much about.
At CP's Toronto head bureau 1961-65, Mollins plugged impressively away at everything. But his Reuter background helped him earn a transfer to CP London from where he ranged across continental Europe, the Middle East and Africa as well as the homely UK. In Britain, he staffed everything from political conventions and big business to the FA Cup and Bisley Shoot, the sports beat following on from his earlier coverage of events like the Stanley Cup ice hockey playoffs in Canada.
The latter included one post-game news conference in particular, featuring the victorious Montreal Canadiens. The Canadiens' roughhouse coach "Toe" Blake, nursing a grudge against the media, singled out the totally innocent Mollins for his verbal revenge. As he loudly bore down on Carl, a Montreal super-star - French-Canadian Jean Beliveau - stepped in and headed off the Terrible "Toe". Thereafter, Mollins never tired of light-heartedly boasting - especially at parties in his Sixties Bayswater flat - how his life had been "saved" by hockey's greatest luminary.
A sometime lecturer in journalism at university level, Carl Mollins BA once interviewed media guru Marshall McLuhan in preparation for a pioneer (1964) attempt to make comprehensible for ordinary CP readers the brilliant obscurities dispensed by the academic dubbed "McLoonie" by grouches in the UK. Mollins cornered the author of Understanding Media at his famously offbeat office, where he stretched out on a sofa for interrogation. McLuhan's brilliant longueurs duly poured out but eventually his voice began to fade and the eyes to close - and Mollins realised that the futuristic ideologue had gone to sleep! Still, Carl had gathered enough spontaneous quotes to round out his researches. His groundbreaking "interp." soon hit the CP wire, McLuhan demystified for Everyman.
"The son of a preacher man" (as Dusty Springfield would have it), Mollins prepared for publication the diary kept by Rev Harry Mollins of Western Front ordeals as a Canadian artillery soldier and gunner in World War One. Carl's editing of an encyclopaedic book on Canada's 20th-century evolution, done for Maclean's, was further proof of his versatility.
He was leaving London for a sports assignment in Belgrade when - so he bemusedly related afterwards - he was warned by a geographically obtuse superior not to waste any spare time during the trip but to use it instead to head for the then-Yugoslavia's southern border "and see what's going on in Morocco".
For all his global expeditions, later from Ottawa and Washington (he'd started his work career as a railway porter for Canadian Pacific), Mollins never lost his Reuter-bred weakness for London. There he developed a scholarly fascination for, among other things, British royalty. After his last move to Toronto in the 1980s, he festooned his rambling house with a feast of historical pictures, only to find no space left for his royal personalities. He was reduced to stylising - with no offence intended - a ground-level WC as a makeshift gallery for Victoria and her descendants. And thus was created probably the most unlikely monarchical showplace in Canada.
In 2008, a British cousin of mine was viewing a self-portrait by modernist Wyndham Lewis at London's National Portrait Gallery. The picture happened to belong to me. My kinsman became aware of a bearded but benign-looking septuagenarian standing close-by who suddenly said, "I know the man who owns that picture." The stranger was Mollins, assiduously gallery-going on a late-life return to a city he never forsook. ■