Columns
Symphony: movement in a major key
Tuesday 8 December 2015
Is Symphony a potential Bloomberg killer? And if the financial sector's new business communications system can slay that dragon, what harm could it do to Thomson Reuters?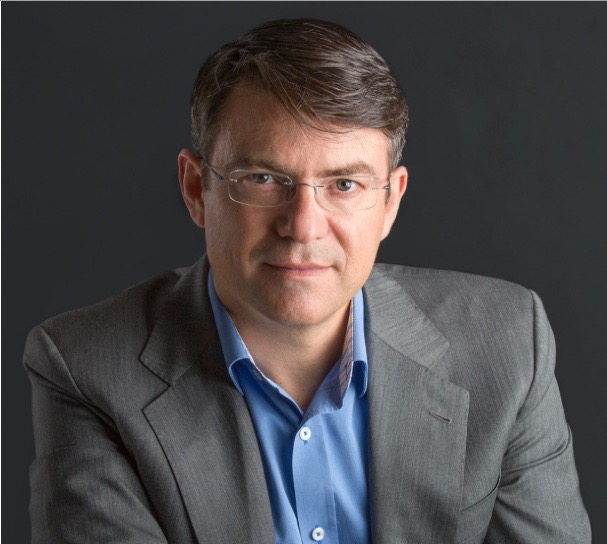 The answer, according to its creator's vision, is that it's much bigger than that. The aim is to provide a secure and compliant internal and external communications alternative to e-mail and instant messaging across many business sectors.
Symphony is a cloud-based encrypted digital messaging system that is backed by many of Wall Street's biggest banks. It enables traders to talk to each other securely and privately because only the enterprises that use it hold the decryption key. It claims to be far cheaper and more secure than the most popular chat room technology for the financial sector.
It was founded last year by David Gurlé (photo), a French communications entrepreneur who trained as a telecommunications engineer. On his LinkedIn profile, he describes himself as "A visionary with an excellent track record of delivering industry transformational and disruptive initiatives". Among his listed interests are flying (he pilots a light aircraft in the San Francisco Bay Area), skiing, running, biking, motorcycling, reading and travelling.
So, an innovator and a man of action who believes that "action is the footprint of success".
Born in Cannes on the Côte d'Azur, Gurlé is now based in Palo Alto, the city in California's Silicon Valley that is home to such high-tech companies as Hewlett-Packard, Skype and Tesla Motors. Gurlé joined Skype from Thomson Reuters in January 2010 to run its enterprise business division.
Tom Glocer had hired Gurlé from Microsoft in April 2003 to build Reuters Messaging because he did not think Reuters should build a "me too" private e-mail system.
"We achieved some success with over 100,000 registered users, but did not break open Bloomberg's messaging stronghold," said Glocer, who was Reuters chief executive at the time.
"I have always felt that Reuters did not need to convert Bloomberg's proprietary lock on messaging into one for Reuters, we only needed to even up the playing field by neutralising the proprietary lock-in of Bloomberg. All our banking clients feel the same way, hence their banding together in Symphony to buy Perzo," he told The Baron.
Perzo was an instant messaging software company founded by Gurlé in September 2012. Glocer, who had left Thomson Reuters at the end of 2011, saw its potential and became an investor. He is now a member of Symphony's advisory board.
Symphony is the new kid on the communications block - David squaring up to Bloomberg's Goliath. It has powerful friends.
Big investment banks with deep pockets see it as the key to unshackling dependence on Bloomberg. Their interest was prompted by a self-inflicted Bloomberg wound - a scandal in 2013 when it became known that the financial information company's reporters were monitoring log-in histories on their employer's terminals in client banks and writing stories based on confidential contacts. Customers were outraged by the unauthorised snooping. Bloomberg apologised but clients were sceptical about talk of Chinese walls between Bloomberg's terminal business and its journalists.
In October 2014 Perzo was acquired by a consortium of 15 of the world's leading financial services firms headed by Goldman Sachs, which turned it into Symphony with Gurlé at its head. The founding investment banks included Bank of America Merrill Lynch, Bank of New York Mellon, Citigroup, Credit Suisse, Deutsche Bank, HSBC, JP Morgan Chase, Morgan Stanley, Nomura and Wells Fargo.
Symphony was seen immediately as a major threat to Bloomberg, whose orange-on-black screen dominates the messaging space for traders, and a lesser one to Thomson Reuters, whose rival flagship desktop Eikon has a smaller market share.
We have been in discussions since the very early days of Symphony, even before Symphony was formed as an entity, with TR and we continue those discussions but we haven't yet reached a conclusion that satisfies both parties
Reuters Messaging morphed into Thomson Reuters Eikon Messenger - like its competitors, secure and encrypted - which is available as part of the desktop and also as a stand-alone, free-of-charge application. It now has more than 250,000 users across 24,000-plus firms in more than 170 countries and boasts access to a directory of two million fully vetted financial professionals.
Those are big numbers, but it's the Bloomberg version - priced in excess of $20,000 per terminal per year - that most users (estimated north of 320,000) prefer. It's a business that is reckoned to be worth $8 billion a year.
Symphony replicates the secure chat tool used by traders and investors that is the most popular feature of the Bloomberg terminal and combines it with elements of social media like hashtags and mentions.
The idea attracted $66 million in capital from its founding investors - a hefty war-chest for any start-up - enabling it to expand rapidly with offices in New York, Hong Kong, Singapore and London. Another is planned in Tokyo next year.
In October, Symphony raised more than $100 million in new capital - double what it was seeking - from eager investors including Société Générale, UBS and, significantly, Alphabet, the Internet behemoth formerly known as Google, along with a group of existing investors. That put Symphony's valuation at $650 million, according to The Wall Street Journal.
It now has more than 50,000 users in 100 countries. About 60 per cent of them are investors.
Symphony's business plan envisages profit to be realised between the second half of 2017 and the first half of 2018 - unusually early for a start-up launched in 2014.
Crucially, Symphony is free for individuals and teams, while small to medium-sized businesses with a minimum of 50 users pay $15 per user per month, a fraction of what Bloomberg charges. Symphony for enterprises with 500 users and above is also available for $15 per user per month. Both Symphony's offers for business and for enterprise include the full range of administrative and compliance features.
With huge potential savings to be gained from such a low price point, Symphony must seem irresistible to Bloomberg clients.
GOOD NEWS OR BAD NEWS?
So, back to the original question: is it a Bloomberg killer?
"Absolutely not," Gurlé told The Baron in a telephone interview. "We are not building Eikon like Thomson Reuters is, and we are not building a Factset or any of the information terminals. We are building a communication and a workflow platform within which messaging is a centre piece and a core piece."
He conceded that the model being introduced by Symphony could be perceived as a threat if a Bloomberg terminal was used exclusively for messaging, "but I am not privy to the way our customers and their users are using the Bloomberg terminal so it's hard to conjecture around that".
Is Symphony good news or bad news for Thomson Reuters?
"It depends on what Thomson Reuters wants to do," Gurlé replied. "If Thomson Reuters wants to follow a very similar path as Bloomberg does, I think it could cause them some challenge."
He thinks that if the messaging facility is what holds Bloomberg's dominance in the marketplace and if Symphony does unsettle that, then Thomson Reuters might benefit.
He described Eikon Messenger, which he ran when it was Reuters Messaging, as a good complement to Eikon "and the strategy of TR to build an embedded collaboration capacity with their terminal is a very good integration option.
"The challenge is that they started late, and they did not have, to begin with, the community around that and it has been an uphill battle which they tried to solve by doing a great job with integration and a great job in trying to create a federated infrastructure. But federation is one of those things which is very hard to achieve because it ties things to the lowest common denominator as opposed to the best denominator and therefore it impedes the experience."
Gurlé hopes for "movement towards an understanding of what would be the best experience and there could be a change in the shape of how Eikon is used in capital markets from a data and information perspective."
Can Symphony link with Eikon or Bloomberg?
"There are two ways we talk about what you call linking," he said. "One way is how Symphony interacts with a non-Symphony user and we do that today by downgrading the experience to e-mail which is the most universal communications tool. When we do so we lose one of the core benefits of Symphony which is secure and compliant capabilities so that kind of removes one of the most valuable assets for which our customers use Symphony, which is data privacy and compliance. Nevertheless, it's possible."
The best way for a third party to integrate or link Symphony would be to replace their own messaging solution with Symphony, he said.
DISCUSSIONS WITH THOMSON REUTERS
Have there been any discussions with Thomson Reuters about integrating Symphony or any other form of cooperation?
Gurlé answered: "We have been in discussions since the very early days of Symphony, even before Symphony was formed as an entity, with TR and we continue those discussions but we haven't yet reached a conclusion that satisfies both parties."
How big is his - and Symphony's - ambition?
"I see Symphony naturally stepping out from financial services to the adjacent markets, namely accounting, audit, fintech, legal, regulators… They have very similar constraints around data privacy and compliance. They are also regulated. I see those as natural extension points for us. There is also interest from the healthcare community."
Gurlé said the significance of the Alphabet (Google) participation in the latest funding round was big.
"It's big because (a) it's an endorsement of the potential of Symphony beyond just financial services; (b) it is an opportunity for us to leverage some of the other assets that Google has in terms of computing, in terms of applications, so that we can enhance Symphony further; and (c) I think it's a platform for Google to understand the intricacies of a market as special as financial services are and how they can tune their own computing platforms to meet such strict requirements around security and compliance that they have to do. So it's big and it's something that we are very proud of."
In addition to its chat service for internal and external electronic communications, Symphony will also provide access to a stream of financial information. Three suppliers agreed to provide news and data for Symphony's initial release: news and business information vendor Dow Jones; McGraw Hill Financial's research and analytics provider Standard & Poor's Capital IQ; and Selerity, an information aggregator that offers a filtering system to provide relevant real-time content and analytics based on a user's interests.
"I think we have done an excellent job in understanding that content is a key component of the workflow in financial services whether it is the creation of original content or contributed content." He said Symphony is working with a number of other content providers and added: "Watch that space in the first half of next year."
Regulators seem happy. The New York State Department of Financial Services that oversees Wall Street banks ruled they can use Symphony as long as they keep copies of all electronic communications for seven years and store duplicate copies of decryption keys with independent entities.
Several former Thomson Reuters executives have joined Symphony. They include Eran Barak, its global head of business operations, and product managers Koray Oztekin and Ann Demirtjis. All three - and others - worked on Reuters Messaging.
THREAT OR OPPORTUNITY?
So far as Thomson Reuters is concerned, is Symphony a threat or an opportunity?
"It's not about threats or opportunities, it's about how we connect partners and clients together to continually evolve our service offering and drive value within that community," said David Craig, president of the financial and risk division that runs Eikon.
"This is the Spotify moment for the financial community and Thomson Reuters is a platform business uniquely positioned at the centre of this 'findustrial revolution'," he told The Baron.
"Our open platform has always been designed to integrate third party data and content, to interface with third party applications and messaging systems. Eikon Messenger is not only available in Eikon but is also offered free as a stand-alone service - and it is also available across all major mobile device types. As you would expect from our open platform business, it will connect to other messenger services such as Yahoo, AOL and Microsoft Lync.
"We are ensuring that we maintain our strength as secure and compliant - in fact we are seen as the most compliant-friendly messenger service, an important issue in today's world following various scandals and compliance issues."
Craig declined to comment specifically on Symphony or any other competitor.
"I would say however that we encourage and welcome other messaging providers to interface to our messaging system, and take advantage of bi-lateral chat functionality ensuring necessary surveillance, authentication and record keeping. We now have more than 250,000 users, which continues to grow, and interoperability with other systems gives access to hundreds of thousands of others."
---
Barry May is editor of The Baron. ■