Columns
Principles and power: an inquiry
Friday 18 October 2013
The chief guardian of the Thomson Reuters Trust Principles leaned across the table, held up a slim pamphlet and said: "We do have a power. Do you know this?"
The title on the cover of the 16-page document, in bold, grey, capital letters, was Thomson Reuters Founders Share Company Limited. It was published earlier this year. You can read it here.
I had asked the chairman of the Founders Share Company whether its directors - a panel of "experienced and eminent people from the world of politics, diplomacy, journalism, public service and business" known as trustees - had any power to block a takeover or sale of Reuters. If so, under what circumstances, and if not, what is the purpose of the trustees?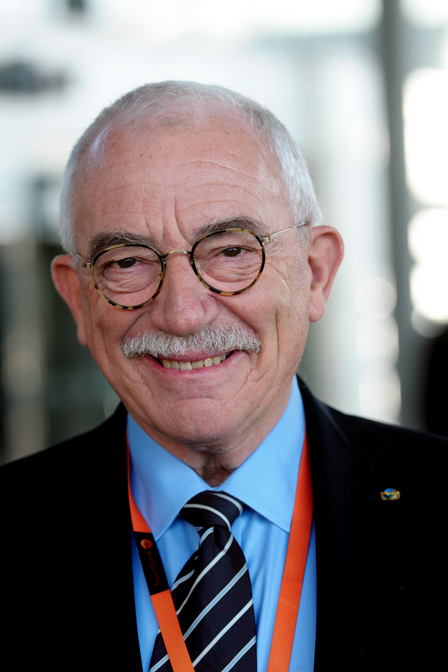 The Founders Share Company acts as a guardian of the Trust Principles, adopted by Reuters in 1941 and now applicable to the entire Thomson Reuters group. They were designed originally to preserve Reuters' independence, integrity and freedom from bias in the dissemination of news and information.
The constitution of Thomson Reuters Corporation, ultimate parent company of the Thomson Reuters group, includes provisions to safeguard the Principles. Thomson Reuters has issued the Founders Share Company with a single Founders Share which enables it to restrict any shareholder action which threatens the Principles.
I was trying to find out whether the trustees have teeth.
Their chairman is Uffe Ellemann-Jensen (photo), formerly a journalist and a politician in Denmark. He served as the country's minister for foreign affairs, deputy prime minister and leader of the centre-right Liberal Party, Venstre, and was president of the European Liberals. A former business editor for the daily Berlingske Aftenavis, former editor-in-chief of the business daily Børsen, and a commentator on economic and political affairs in the news department of Danish television, he is a columnist with the daily Berlingske Tidende and the author of books on economics and politics. He will be 72 on 1 November 2014.
Appointed a trustee in 2001, he became chairman of the board on 1 January 2013 on the retirement of Swedish businessman Pehr Gyllenhammar, 77. Under a company rule that requires trustees to leave after 15 years, he is due to step down in 2017.
THE TRUSTEES' SPECIAL POWERS
In an anonymous meeting room within the fifth floor executive suite at Thomson Reuters' London offices at Canary Wharf, Ellemann-Jensen responded to my questions for an hour shortly before going into a meeting with his fellow trustees yesterday. Many of the questions were suggested by members of The Baron Editorial Advisory Board.
"In this," Ellemann-Jensen said, holding up the pamphlet, "you will find a description of the special powers that are attached to the Founders share. And this Founders share - you know the history, probably, it was when the old Reuters became publicly traded back in the '80s - this Founders share was issued, and there was this special power that if somebody wanted to acquire more than 15 per cent of the total stock it could be prevented."
That power was tested at the time of the flotation. Ellemann-Jensen said Gyllenhammar told him about it. Rupert Murdoch, newspaper proprietor and non-executive director of Reuters, had accumulated a large stake in the company that passed the 15 per cent mark.
"They went to him and said we have this Founders share, you know, so we suggest that you sell until you are below 15 per cent. And if you do not, we shall assist you, but maybe you'll get a better price if you sell them on your own. But make no mistake, we will sell them if you don't. So he sold them.
We could have said no [to the Thomson takeover], and then we would have been in the situation where Reuters would continue down the drain
Ellemann-Jensen followed up with a brief anecdote about a recent exchange with an employee in China. "When I was in China recently a young Chinese journalist, one of the locals in Beijing, she asked the question: 'Well, you broke that principle when Thomson came in, and if you broke it once, how can we be sure that you won't break it twice?' Which is a damned good question."
What is the answer?
"The answer is, well, if you look at the Principles, one of the Principles, if you take the enlarged version from the history, one of them is: Reuters should devote the appropriate resources to maintaining its leading position in the international news and information business. The situation at the time, when Thomson came with their offer, was that Reuters did no longer have these resources.
"I remember when I became a trustee, the first meeting took place in Fleet Street on the board floor, top of the building, wonderful French Impressionists on the floor. Wow! And I said wow, top of the world. At the next meeting, the French Impressionists had disappeared. At the next meeting the building had disappeared (Reuters sold 85 Fleet Street, its headquarters since 1939, and moved to Canary Wharf in London's Docklands). So you only had to extrapolate that development to understand what was happening. Reuters was simply not any longer in a position to live up to this Principle. So, when Thomson came, we gave it very, very careful consideration in our board, and Pehr Gyllenhammar who was chairman at that time, he spent a lot of time looking into this, and we found out that we had to deal with people with a very, very high standard, who actually said at a certain point when we met with some of them, 'Well, we love these Principles because this is the way we are doing business'. And then we got the guarantee that in this new company the Founders Principles would cover all activities, like in Reuters when Reuters started to expand the activities, the Principles covered everything, but in this enlarged business with 60,000 employees, everybody would be covered by the Principles, and we would make a similar construction as the previous one with the Founders share with the same rights. So that's why we said yes."
THE TRUSTEES' RIGHTS
Now, he said, the situation is "slightly different". Now the Trustees have to look at the share owned by Woodbridge, the Thomson family's investment company through which it owns 55 per cent of the business. "And if they go below 35 per cent - they are right now above 50 - if they go below 35 then we have the possibility to step in, and again, if anybody outside Woodbridge comes in and tries to acquire 15 per cent without the confirmation of our board, again we can step in like in the old days with the Murdoch case. So this is basically the same situation today as it used to be in the past."
What was the legal basis of that power?
"It is English company law. The rights are in the constitution of the Thomson Reuters Corporation, you will find the provisions to safeguard this, and if you look at the annual report from Thomson Reuters you will see a special section in the back of that very thick report telling the shareholders that we have this Founders Share Company, they have certain rights and this might limit our possibilities to act in a businesslike way."
But would English company law have force in the United States or in Canada?
"I am sure that that has been covered, because it's a Canadian company and for all practical purposes I would say we have these powers. I don't hope we'll have to use them but I'm sure we have them. And if necessary we'll find a way to use them."
I pressed the point. Didn't the Thomson bid - they paid $17 billion for Reuters in 2008 - show that the trustees are in reality powerless to block the force of a major business deal for Reuters editorial agreed by both buyer and seller?
"Well," he said. There was a long pause. "You've got a point there, of course. Since we accepted it, but we didn't accept it because we felt that there was no alternative. We could have said no, and then we would have been in the situation where Reuters would continue down the drain. So, yes, I think we have the possibility, but what we experienced was that suddenly there was one of the Principles that perhaps had been left a little aside that suddenly gave a special meaning. That is the Principle to make sure that the resources are there."
THE TRUSTEES' DUTY
The Thomson Reuters corporate website states that "The Directors of Thomson Reuters Founders Share Company have a duty to ensure, to the extent possible [my italics], that the Trust Principles are complied with."
What does this mean? It seems to be a new phrase that has been introduced recently, or at least since the takeover. What precise powers do the trustees believe they actually have? It sounds like a get-out clause, I told Ellemann-Jensen.
His response was candid. "Well, it's a cover my arse clause. Pardon my French," he said. "It's a CMA clause, let's be polite there. Yes, but it speaks reality, and I don't know if it's new, but if it's new I don't know when it came in, but for practical purposes you have a company with 60,000 employees and our job is not to sit there as some kind of ombudsman institution, to be able to look into what every little corner of the company is doing, that would not be possible. And we are not sort of a court to which one could go and have judgments made on special cases. We work in a totally different environment, and this is why I think it's very prudent to say to the extent that's possible."
How would the Trustees respond to an attempt to sell the editorial business? The Reuters News part of Thomson Reuters is not known to be in play and it would be all too easy to dismiss this as a hypothetical question, as Ellemann-Jensen himself observed, but he did not demur. "If such a thing would happen my guess is that we would then use the powers that we have in our Founders Share to prevent such a sale. That, at least, would be my recommendation to the board and I have a very nice board who listen carefully to what the chairman says."
Here are some of the other questions and Ellemann-Jensen's answers:
Has the practice of hiring highly-paid commentators with strong points of view been good for the company?
THE TRUSTEES' MEETINGS
"You mean Breaking Views? This is an ongoing discussion in our board and has been from the very beginning. Is such a thing as Breaking Views actually compatible with the Trust Principles? And you can argue that it isn't, because by the whole nature of Breaking Views it is biased and it's not neutral at all, so it is a problem. And from my visits to editorial offices around the world I also get the impression that sometimes it gives problems, because how to distinguish between Reuters News, who are unbiased, and Breaking Views? It is a problem and it's up for debate all the time. We discuss it often. We have not reached any conclusion...
"You are testing new grounds because it's the same everywhere in the whole news business that presenting views is also part of the business. You see that in every newspaper. But it's so much easier in a printed paper to have the editorial pages than it is in a business like Reuters. So, yes, it's a problem and you have to be aware of it and you have to be open about it and I think it's an ongoing struggle to make sure that things are kept separated. But it's difficult."
How does he see that being resolved?
"Well, first of all, to be aware of the problems. And then, I don't have a solution now. And I don't think that the problem has reached a size or a severity that demands a solution... We keep the debate open. That's also a good thing."
The Trustees meet twice a year: once in New York, once in London. I asked about the frequency of meetings with Thomson Reuters chief executive James Smith, Reuters president and editor-in-chief Stephen Adler and others. He said it was three or four times a year, and then added: "In between board meetings sometimes I send a letter to fellow trustees every now and then and, on top of that, I would say at least once a month, sometimes twice a month, a number of articles are compiled and sent to the trustees including if there's something in The Baron that we need to read."
THE TRUSTEES' DIVERSITY
Does he think the current board of trustees is well balanced and representative in terms of relevant professions, gender and geography? Out of 16 trustees, only four are women, only two are from fast developing countries (Brazil and China) and only four seem to have real media credentials.
"We have a problem now with gender," he said. "We have not got enough women and unfortunately a couple of prospective members declined so I'm searching right now in my capacity of our Nomination Committee chairman... We do have a fairly good spread when it comes to geography, when it comes to professions."
Finally, I asked Ellemann-Jensen whether there was anything in the history of Reuters that was relevant to the organisation today.
"Well, basic good old journalism," he said. "Find the news, publish the news, whether you use carrier pigeons or you use the Internet, which is basically the same as a carrier pigeon. So I would say that this basic story of picking up the news, distributing honest news, yes, that's the journalistic soul of the whole business. This is why I find it so important that all the efforts are being made now to deal with news and Reuters not as a cost element but as an asset, an asset that you have to make part of the business. And this is where [Reuters' new chief executive Andrew] Rashbass's position and his past success in The Economist is something to pin a lot of hopes on...
"I feel that there's an understanding of the value of regarding news as an asset. And this should be one of the important things also in the work of our board to continue to make sure that news is regarded as an asset...
"I believe that there is a good reason to polish the pride of the original Reuters business and that a lot of people in other parts of the total business do feel that pride."
At the close of the interview, Ellemann-Jensen handed me his card and made a particular point of showing the reverse. It said:
TRUST
INTEGRITY
INDEPENDENCE
FREEDOM FROM BIAS
---
Barry May is editor of The Baron. He is a former correspondent, editor and manager of Reuters who ended a 32-year career with the organisation as deputy managing editor.​ ■