Archives
Lincoln assassinated!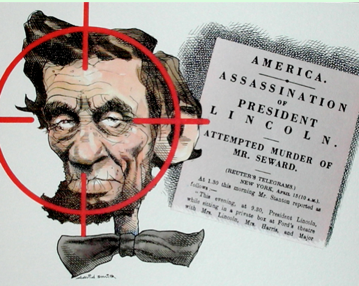 News travelled across the Atlantic with the speed of a steamboat in 1865 and it was 12 days before the people of Europe knew about President Lincoln's assassination in Ford's Theatre, Washington.
It was Reuters that told them, with the help of James 'Tugboat' McLean in New York, a lookout in Ireland, three men with outsize shrimping nets and a private telegraph line.
McLean was Reuters go-getting correspondent, in those days called an agent. We accord him the nickname 'Tugboat' because, when news of Lincoln's death reached New York too late for the British mail steamer, he pursued the ship in a hired tugboat and threw his news on board.
McLean's detailed report captured the opera-style high drama of the assassination, which was a swift sequel to the victory of Lincoln's Union forces in the American Civil War.
His dispatch described how John Wilkes Booth, actor and passionate secessionist, walked into the unguarded state box at the end of the Dress Circle, and shot Lincoln once through the back of the head with a pistol.
Crying "Sic semper tyrannis" ("Thus always with tyrants"), he leapt onto the stage waving a large knife, rushed through a backstage door into an alley and rode away into the night on a horse. Lincoln died a few hours later.
Troops eventually cornered Booth in a barn, which burned dramatically while he was besieged. He died in the ruins and no one knows whether a bullet in his body came from his own gun or that of a soldier.
Tugboats apart, it was no surprising that Reuters beat everybody in speeding the news to Europe. The agency's founder Paul Julius Reuter, determined to be first with news about the American Civil War, had been working an express service long before Lincoln was shot.
You incarnate fiend, you have the heart of an assassin yourself!
The telegraph from London extended westwards only as far as Cork, in Ireland, and boats would meet the mail steamers off Roche's Point, near Queenstown, in a race to be first with American news at the Cork cable office.
Not good enough for Mr Reuter! He completed a private telegraph line 60 miles from Cork to the tiny harbour of Crookhaven, at Ireland's south-western tip, and used a steam tender, the Marseilles, to pick up his mail.
The New York agent sealed his news in watertight canisters with an arrangement for flying a small flag on top and for fixing a blue light at night. They were entrusted to the mail ship's purser, who had them lowered overboard when the Marseilles came close.
An alarm from a lookout on Brow Head, near Crookhaven, whenever a mail steamer came in sight, alerted the three men who ran the pick-up service. They put to sea whatever the weather, equipped with nets on long poles, like outsize shrimping nets, which they used to fish the canisters from the sea.
Once the canisters were landed at Crookhaven no time was lost before the contents were telegraphed over Reuters private line to Cork, and on to London. Newspapers had the latest news while the mail ship that brought it was still at sea. Competitors were left hours behind.
Lincoln was shot at the evening theatre performance on 14 April, 1865, but Europe had to wait for the Reuter bulletin in mid-morning of 26 April to learn about it. The news produced a sharp impact of shock and horror, throwing markets into confusion and dismaying even supporters of the Confederate South in the Civil War.
On the floor of the Liverpool Exchange, where Confederate support was strong, a man who ventured a faint "Hurrah" was thrown out by a fellow trader who exclaimed "You incarnate fiend, you have the heart of an assassin yourself!"
Though the news was bad, for those who did not have the hearts of assassins, it meant a triumph for Reuters.
It was news no one could ignore, and the sweeping display Reuters received for its report in the British and Continental press amply justified Mr Reuter's habit of sparing neither effort nor expense to ensure that his agency's news must be not only accurate but fast.
---
First published in Reuters World No. 55 August 1988
WHEN IS A SCOOP NOT A SCOOP?
The legend of how Reuters scored its first big scoop with a Europe exclusive on President Abraham Lincoln's assassination has been a colourful part of company history for generations.
The tale had a Reuters agent in New York nicknamed Tugboat, a lookout in Ireland, three men with outsize shrimping nets and a private telegraph line.
A rattling good yarn, to be sure, celebrated in company folklore as an early example of the ingenious lengths to which Reuters pioneers went to be first with the news.
But was it true? Not quite, it appears from research conducted by Thomson Reuters' archivist John Entwisle. His account of what actually happened, based on his examination of contemporaneous coverage in British newspaper archives, follows.
Reuters has always aimed to be first with the news. Reporting the shooting of President Abraham Lincoln in 1865, it was first. Or was it?
The story begins in New York and New Jersey - in Manhattan and Hoboken, facing each other across the Hudson River. It involves people for whom, within minutes, a peaceful evening changed to one of the most eventful nights of the 19th century. By dawn, a Reuters legend was in the making.
IN MANHATTAN
Good Friday evening (14 April) 1865 was routine at 195 Broadway - in those days the Associated Press headquarters, nowadays offices for Thomson Reuters. Five days earlier, the Confederacy had surrendered and that was still the main news story. The four-year Civil War had cost more than 600,000 lives. Because there was still no transatlantic cable, all news had to be sent east to Europe by ship. What story could be more momentous?
At around 11:00 pm the AP's private telegraph machine rattled into action with a message from Washington. The experienced telegraphist translated the Morse characters into letters as he listened. The message read: President Lincoln shot. The result was pandemonium.
AP had a contractual agreement with Julius Reuter. It supplied his agency in London with American news dispatched by the fastest available steamer. In return, Reuter supplied AP with news from Europe and the Far East. The next ship scheduled to leave the Hudson for England was not to set sail until 5:00 pm on the Saturday. Several hours nearer to England was Portland, Maine, from where the Nova Scotian, a Canadian steamer, was due to sail about midday. Because AP had constructed its own telegraph line northward through Portland, the dramatic news about Lincoln could be placed on the Nova Scotian without delay. The President breathed his last at 7:22 am on the Saturday morning after lingering overnight. This meant that by the time the steamer sailed the story had been changed to Lincoln Assassinated. Copies of the local Portland newspapers, with their own reports from Washington, were also put on board. Captain Wylie hoped to reach the Irish coast in as little as 10 days.
IN HOBOKEN
As well as his contract with AP, Reuter had his own representative in New York. This was James Heckscher, a fellow German. He was regarded by Julius as one his best men. He had arrived in 1864 to "more fully develop the American service of news". He was there not to compete with AP but to supply a more detailed financial and commercial service, based on New York Stock Exchange closing prices. He probably lodged across the Hudson in Hoboken, then known as Little Germany. The Exchange was closed on Good Friday. So for him, also, it must have been a quiet day.
The bad news from Washington - sure to be market-moving in London - had to be delivered to Reuter's commercial clients as quickly as possible. Heckscher had no access to AP's Portland telegraph line. But he found that, around midnight, the Teutonia, a Hamburg-bound ship calling at Southampton, had sailed from its wharf at the foot of Third Street, Hoboken, and was steaming out to Sandy Hook. By chartering a fast tug, he might be able to catch up with the Teutonia and throw onboard his message Lincoln angeschossen (Lincoln shot - not, at this point, assassinated). Tradition has it that the owner of the tug - the fastest in the port - was a Captain Schmidt from Hoboken. Luck was on his side. By going full steam ahead, he duly caught up with the Teutonia. So far, so good.
IN THE ATLANTIC
The Nova Scotian was routed to reach Liverpool around the north coast of Ireland. The drill was for ships to be intercepted at the mouth of Lough Foyle by a small steamer which would take off brief dispatches of American news. From the telegraph station at Greencastle on the Irish mainland, this news would be telegraphed to recipients in London, including Reuter. These dispatches would arrive at least a day before the Nova Scotian reached Liverpool with fuller news.
In contrast, the Teutonia set sail around the south of Ireland. On reaching Crookhaven, in the extreme south-west, ships taking this route were routinely met by the Marseilles, a small steamer, owned by Julius Reuter. As a result, and using Reuter's privately-constructed telegraph line to Cork, Heckscher's news would have reached the agency's office in London at least a day before the steamer docked at Southampton.
Which ship would deliver its Lincoln news first? By all likelihood, the Nova Scotian should have been first. But dense fog around the northern Irish coast delayed its progress and it was not sighted until 10:00 am on Wednesday 26 April. In the south, visibility was better. The Teutonia appeared off Crookhaven at 8:00 am. By the time Reuter's AP messages were being telegraphed to London, Heckscher's message had already arrived.
IN LONDON
This should have been the end of the story. But it wasn't. Julius Reuter never issued any telegram to any newspapers telling what Hecksher had gone to such great trouble to report: that Lincoln had been shot. Why not?
What seems to have happened was that Reuter circulated the news to only a small number of banks and finance houses. Did these include his personal friends, and was he knowingly giving them a tip about a likely fall in the stock markets? Possibly. But maybe his legal agreement with his commercial subscribers prevented him from immediately passing on the information to anyone else for a defined time period. Inevitably, the news broke. It seems that someone in American Peabody's Bank in London told a friend in the London Stock Exchange, who telegraphed a friend in the Liverpool Stock Exchange, and so on. Even so - and this is the most surprising piece in the whole jigsaw - Heckscher's story was viewed as no more than "mysterious message", or as a "possible rumour to affect stock prices". Although entirely correct, it was taken only half-seriously. And its connection with Reuter was never mentioned.
Ironically, it was only when the Reuter's (AP) telegram from the Nova Scotian finally arrived - along with the official report to the US Legation in London - that the earlier independent Heckscher scoop for Reuters was confirmed. By that time, the "mysterious message" of a shooting had been confirmed by the news of Lincoln's subsequent death. Alas, such confirmation meant that Heckscher​'s hard-won preparatory news flash had lost all its significance.
The Old World knew, without doubt, that Abe Lincoln was dead from an assassin's bullet.
Certainly, Reuters was not first with the news of Lincoln's death. Whether it was first with the news of his shooting remains open to debate. What is certain is that, with the successful inauguration of the first Atlantic cable the following year, such a story about a story could never happen again. ■