Archives
How Reuters News Graphics began 25 years ago
Thursday 14 May 2015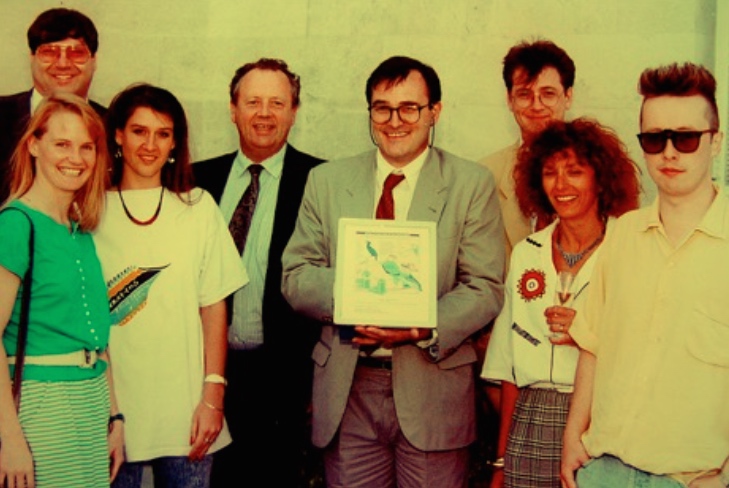 After more than three years' internal grafting - including a live news graphics experiment from the 1988 Seoul Olympics - the Reuters News Graphics Service (RNGS) finally got under way on 2 April 1990.
The fledgling team of Laurence Vicens-Thompson, researcher/translator/PA, graphics designers Lance Bell and Ciaran Hughes, recruited in London and me, editor, from Australia, had just six weeks to launch RNGS with 14 May the go-live date.
Graphics journalist Chan Chee Kin, initially refused a work permit, was to join the new service from the Singapore Straits Times in October. Consultant Duncan Mil's assistance was vital in those first hectic weeks as was the driving force behind the launch, media marketing manager Phil Stone. News graphics guru Peter Sullivan, author of two influential books on creating news graphics, brought additional experience and know-how to the enterprise.
Only days before, I had flown into London with a young family, fresh from The Age newspaper of Melbourne and national elections' coverage downunder on the last Wednesday in March and started work the next day. The following Monday, I met the team at the company's half-day induction course in the basement of the St Bride's building which abutted 85 Fleet Street - editorial HQ in 1990. We unpacked five new Apple Macintosh IIci computers on the second floor office space overlooking St Bride's Church and set about building a basic vector map library at the same time as establishing a visual reference library.
Except for Laurence, seconded internally to the multi-purpose role of translator/PA/ researcher, we were on 12-month contracts.
Hard copy maps poured in from Reuters bureaux around the world after MEA executive Tony Winning sent an urgent request for assistance on the company's old news wire which, pre-Internet, had screen top messaging.
We had just six weeks to pull a service together, insinuate it into an existing global news operation and if our jobs were to be secured we had to make a profit within two years. To add to the excitement, it was launched to coincide with the 1990 World Cup, hosted by Italy.
Main artistic challenge was that no graphic could be bigger than 120KB (compressed): delivery was by telephone modems and a server at Toronto University that limited client-side delivery to very low BAUD rates.
In commercial terms it was a real seat-of-the-pants enterprise but oh so exciting. Long hours, exceptional young talent in the team - hand-picked by two of the best exponents of the craft: Mil, now owner of RNGS competitor Graphic News and author about news graphics; the late, great Peter Sullivan of Sunday Times fame. Tremendous support from media marketing also played its part with almost 50 subscribers on contracts when we launched. Technical support was also vital with the company's first Apple Macintosh desk having to be shoe-horned - against much in-house IT opposition - into a Windows and SII environment.
Paul Brummett was assigned by IT to us to ensure the smooth performance of our equipment and news product delivery to subscribers.
After launch, the subscriber base fluctuated between the high 50s and low 80s. Then on 2 August, Saddam Hussein's Iraq army took Kuwait and RNGS came into its own. By the time the US-led international force pushed Iraq's troops and tanks back across its border in 1991 and in the critical absence of photographs, RNGS had more than 200 subscribers and the books were in the black.
Work contracts were renewed and, riding on the back of Reuters' investment in satellite delivery, our vector images were soon being delivered faster, bigger (up to 1MB) directly to newspaper art rooms around the world. During the first six years we also established foreign-language desks in Miami, Cairo, and Moscow (in partnership with ITAR-Tass) while Paris, Bonn and Tokyo received then translated/ interpreted and re-transmitted the graphics to their local and national subscribers.
By 2000, RNGS, which had made the world's first animated interactive graphics by a news organisation for the 1997 UK elections, had almost 500 subscribers in 90 countries and was grossing £1.6 million per annum. It was working six days a week delivering an average of 50 news and information graphics in six languages as well as a range of business charts recording the main indices each week day. New York joined the fray the same year with an online graphics service.
Staff had increased in London to seven full-time, two part-time with three in Miami - a total of 20 around the world, counting affiliates, partners and translators.
Ironically perhaps, the service in 2003 was shut down in London and moved to south east Asia where it was re-established under Jim Peet's stewardship in Singapore, the only region not to have an RNGS bureau during its first 13 years. Jim, who joined the London-based service in June 1995, successfully oversaw the off-shore transition.
In June 2012 ex-Wall Street Journal senior graphics editor Maryanne Murray was appointed global head of graphics.
---
PHOTO: RNGS's first anniversary (1991) L-R: Phil Stone, freelancers Vicky Mullen and Vicki Sizgoric, managing director Peter Job, Corrie Parsonson, Lance Bell, Laurence Vicens-Thompson and Ciaran Hughes.