Archives
Hot dogs and gourmet cuisine: life at the top of Reuters
On his first foreign assignment as a correspondent John Chadwick met three successive Reuters chiefs within the space of 18 months and learned some lessons in the facts of company life at top level. The following account is based on a passage in his 2009 book Snapshots: A Reporter's Life.
---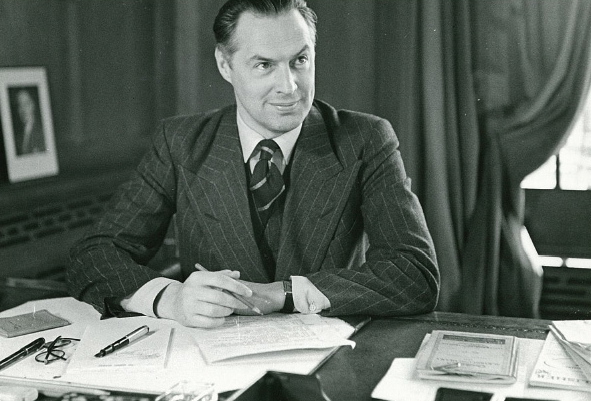 Word came from London in 1959 that General Manager Sir Christopher Chancellor was coming to Copenhagen for contract negotiations with the Danish agency, Ritzau.
Chancellor (photo) was a redoubtable figure, with a massive reputation for steering Reuters into smooth waters after the war. I was on hand as requested at Kastrup airport when the great man arrived, accompanied by Walton "Tony" Cole, his burly Scottish deputy, and I shepherded the impressive pair out towards the long queue for taxis. These were mainly glittering black Mercedes - though I noticed that down the line a battered relic of pre-war days had somehow got into the action. It surely wasn't going to get to the head of the queue, though, was it? Surely? But as the line rolled relentlessly nearer, it became clear that this wheezing wreck was indeed the one into which the head of Reuters would be bundled. We rattled in virtual silence into town. After Chancellor had retired to his suite in the splendid Hotel d'Angleterre (where else?) Cole took me aside to teach me the facts of company life at higher level, where you don't queue for taxis, you order cars in advance. I was clearly not accustomed to the good life. So I made sure to be at the hotel promptly at nine each morning, when the General Manager's day began. A morning chat would first take place in Cole's room, where I was already at hand. A knock on the door heralded Chancellor's arrival. The Reuter boss would walk in behind an outstretched copy of The Times and then sit down to peruse its principal pages, shooting sharp questions at Cole from behind the paper to elicit how Reuters had done on this or that world story. Cole, obviously already well briefed by head office as to the state of the Reuter wire, would smartly respond. Now there were social/business calls to be made and, on the first day, a visit to the Ritzau family's home. We surely cut a strange sight in this highly Social Democratic capital. Chancellor's elegantly tailored black jacket and striped trousers were not something the Danes saw every day. He strode briskly in front, the massive Cole doing his best to keep up. Chadwick (as I was always addressed by Chancellor) brought up the rear, carrying a bunch of flowers, as commanded, for Mrs Ritzau.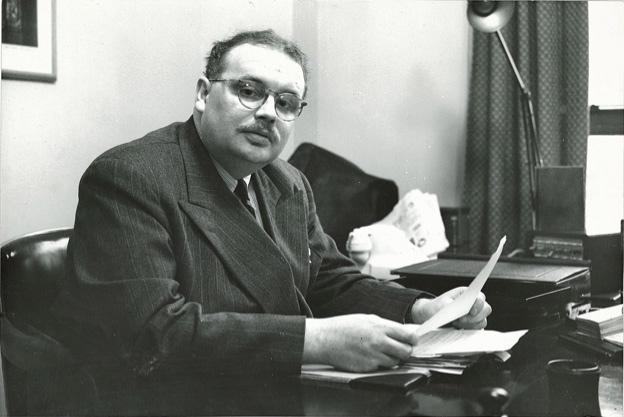 Once the MD had left for London, things relaxed. Business done, Cole (photo) liked to get out in the evenings. He had what seemed to me a gargantuan appetite. We were walking down Stroget (the main shopping street) one evening when he spotted one of those Nordic institutions – a hot dog stand. They come boiled or grilled, with tomato ketchup or mustard. Let's have some, said Cole. So Reuters' future boss and I stood in the cobbled square, munching shiny red sausages. And he'd already dined substantially, I imagine, in the considerably more elegant surroundings of the Angleterre. "I like these", he said. "We must try them again". And so we did, several times, before his business in Copenhagen was done. He enjoyed the atmosphere of the city by night, the lights from dozens of small shops casting a warm glow over the streets. He told me he collected old lamps. I'd just written a feature on the subject and knew where the antique shops were. I remember him standing out on the pavement on a cold November evening, watching like a tennis spectator at Wimbledon as inside the dimly lit shop, half a floor below pavement level, the proprietor and I haggled back and forth over the price of a pair of Chinese lamps which had taken his fancy. Eventually I looked up through the window and signalled that the price had been satisfactorily negotiated, at which Cole came bounding down the steps. He was delighted with his purchase. He rewarded me by having me carry the bulky parcels back to London on my next trip home!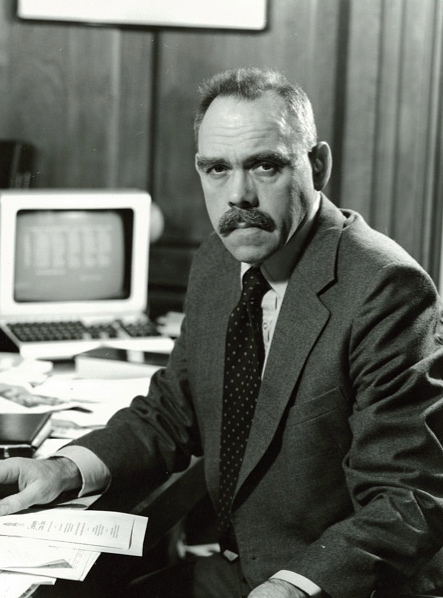 I was soon to meet the third man in a row to accede to the Reuter throne, following Cole's sudden death of a heart attack at his desk at 85 Fleet Street. Gerald Long (photo) was very much the gourmet, and I doubt if he'd ever have dreamt of eating sausages on the street. The first time I met him he was European Editor in Bonn. Now he arrived in Copenhagen for contract talks with the Danish agency. A fellow northerner, son of a postman, he'd by this time acquired quite an upmarket accent and manner to go with it. He was outspoken in his view of the agency, clearly ambitious and dissatisfied with his role in Bonn. Because of Reuter stinginess, he said, (however seriously I couldn't judge) - their fourth child had had to sleep in a bottom drawer, converted into a bed. He said he'd earlier had a good offer from the Daily Express and now wondered if he shouldn't have taken it up. It was strange to recall all this a year later in New York, where I was then working, when the news came through, after Cole's death, of Long's appointment to the top job. I was the only one in Reuters North America who'd ever met him. ■