Archives
Berlin border closed!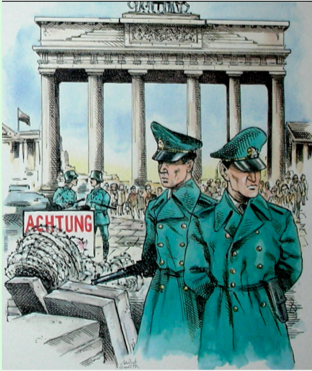 Two o'clock in the morning. An odd time to be touring the streets of East Berlin. But it was not sight-seeing in the usual sense. The Reuter correspondent was the only resident representative of the western press and he had received a tip-off.
He was on the spot when, to the astonishment of all except those who conceived it, the Berlin Wall was born on 13 August 1961, and Reuters had a world beat with the story.
Everyone had been expecting something, but not a wall. East Germany had been losing citizens at such an amazing rate that its economy and its future were threatened. The fugitives went west by way of Berlin, where entry to the western sectors was easy. What would the Soviet Union and East Germany do about it?
Any theory seemed permissible in the hot summer of 1961 and Adam Kellett-Long, Reuters man in East Berlin, grew weary of checking rumours that led nowhere. News was hard to get in communist East Berlin, unless it was an official pronouncement, but that was no excuse for not trying. Kellett-Long had buttonholed a senior member of the government two days earlier as he left a session of the Volkskammer, the People's Chamber, and asked him what was going on.
He had replied "If I were you and I had plans to spend this weekend away from Berlin, I wouldn't". Not what, but when! Now it was already Saturday.
It had been a hint, not a statement, and facts were needed for the next instalment of the crisis story from East Berlin, due around midnight.
'I strongly advise you not to go to bed tonight,' he said, and then rang off without saying who he was. An anonymous friend!
Earlier, Kellett-Long had caught the tension of the moment with the phrase "Berlin is holding its breath..." What was he to say now? "Berlin is still holding its breath"? The sub-editors in London would doubtless suggest with acid humour that, having held its breath for so long, Berlin must by now be going blue in the face! Something new was a necessity.
Nothing of note on the teleprinter of the official news agency, ADN. Nothing of note in the early editions of the official newspaper, Neues Deutschland. Midnight passed in a news vacuum, and the story Kellett-Long began to work on for the next news cycle looked like being an anti-climax. When the phone rang, perhaps it was the London office wanting to know when the story was coming.
But the man on the line spoke German. "I strongly advise you not to go to bed tonight," he said, and then rang off without saying who he was. An anonymous friend! One needs friends in a one-man bureau.
Then the ADN teleprinted clattered, reeling out a Warsaw Pact communique from Moscow urging "effective control" round West Berlin. Aware that this was the moment he had been waiting for, Kellett-Long rushed out to look for clues to "effective control".
Outside there was silence and gloom. No sign of a story as he drove towards the Brandenburg Gate, main crossing point to West Berlin. Just as he reached it a Vopo, a policeman, waving a red torch stopped his car and told him he could go no further. "The border is closed," he said.
As he drove back to his flat/office to file the momentous story, his car was halted for 10 minutes by a seemingly endless convoy of lorries ferrying heavily-armed militia and police to the East-West dividing line.
While the State Radio began broadcasting a series of ominous decrees to the still sleeping population, all road crossing points as well as the city's underground and overhead railways also closed. Work began with concrete posts and barbed wire all along the border.
It was the start of the wall which, until the crude cement blocks that formed it could be swung into place, snaked through Berlin as a barbed wire fence, halting the manpower drain from East Germany and ending the daily trek to West Berlin of thousands who earned their living there.
Reuters was eight minutes ahead of everyone in reporting the event, scoring not only through being first but because for a long time no other western journalist was in East Berlin to rival Kellett-Long's graphic eye-witness story. Border police and troops for a while let no-one pass.
By daylight it was known that westerners would be allowed to cross, but the border was closed to East Germans and West Berliners unless they had a special pass. Reuters correspondent, using his green press accreditation card, was the first person to drive through the Brandenburg Gate in a car with East Berlin number plates after the clamp-down.
The wall was to be a one-way filter. The refugee exodus was over and Berlin was a divided city.
First on the spot when the wall went up, it would be natural for Reuters to be first when it comes down. Pssst!!!... Unknown friend, are you still there?
Another tip-off please!
---
First published in Reuters World No. 59 December 1988
Almost one year after publication of this account Reuters was first with news of the wall coming down on 9 November 1989, leading to the re-unification of East and West Germany.
Adam Kellett-Long's report from Berlin originally published in The Guardian on 14 August 1961.
Adam Kellett-Long's account of what it was like in a BBC podcast 'The Day the Wall Went Up'. ■