People
Reuters, the King and 'that woman'
Monday 12 September 2011
Researching in the Thomson Reuters archive for her latest book, That Woman: the Life of Wallis Simpson, Anne Sebba (photo)​, - known by her maiden name Anne Rubinstein during her years as a Reuter correspondent: 1972-1978 - discovered an intriguing connection between King Edward VIII, Mrs Simpson and Reuters' editor-in-chief.
---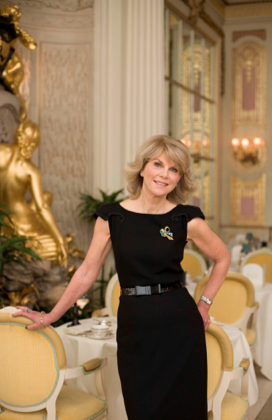 Wallis Simpson's story has an unlikely but deeply significant connection to Reuters. When she opted to marry Ernest Simpson in 1928 - because he was kind, as she told her aunt, and since at 32 she was no longer young - it brought her into close contact with one of Ernest's few male friends, Bernard Rickatson-Hatt, editor-in-chief at Reuters.
Yet it was only after spending many hours in the Thomson Reuters archive in Canary Wharf (Thank you John Entwisle) that I discovered how deeply significant this relationship was. In the first place they were close neighbours in Marble Arch so the two men would often spend Sunday evenings discussing antiquarian books and reading Greek and Latin texts with each other. But, as the private anguish over Ernest and Wallis's marriage developed into a full-blown constitutional crisis, the friendship took on sinister overtones of control and news censorship.
The two men had met during their time in the Brigade of Guards. Rickatson-Hatt had seen action in France and been badly gassed, which left him permanently nervous. He remained in the army however until 1925 when he joined Reuters and was soon promoted to the role of editor-in-chief. Rickatson-Hatt was also newly married to an American woman, Frances née Sharpe, whom he had met while working for Reuters in New York, and they too were childless, enduring a deeply unhappy and fraught marriage. Rickatson-Hatt, having read classics at Oxford, was, like Ernest, an enthusiastic bibliophile with a fine collection of Greek and Latin books. He was easy to mock with his monocle, bowler hat and small pug dog usually carried under his arm. Some evenings he and Ernest read aloud to each other in Latin but both were far too constrained to discuss their marital problems with each other. The idea of such men in the 1930s openly discussing personal matters of this nature is unimaginable but each may have had their suspicions about the other enduring a disappointing marriage. They were a comfort to each other simply by being there but it is unlikely they indulged in the frank sexual revelations which emerged in Rickatson-Hatt's case only before a divorce court judge in 1939. However, the latter's staunch support and determination to help his friend in the years before this owed more than a little to the unfulfilled and unusual nature of his own marital arrangements.
One evening in early February 1936, before Wallis had appeared at Felixstowe for the first stage of her divorce hearing, Ernest went to have dinner with the new King at York House and decided to take Rickatson-Hatt with him. When Rickatson-Hatt got up to leave, Ernest pressed him to stay. He wanted his friend to hear what he felt he now had to state clearly to the King "that Wallis would have to choose between them and what did the King mean to do about it? Did he intend to marry her? The King then rose from his chair and said: 'Do you really think that I would be crowned without Wallis at my side?'" That evening, according to Rickatson-Hatt's version, the King and Ernest Simpson reached an accommodation whereby Ernest agreed to put an end to his marriage provided the King promised to look after Wallis. A strange deal.
Several courtiers did not believe it was as straightforward and unfettered as this. According to a memorandum by Lord Davidson, prime minister Stanley Baldwin's close ally, immediately after this, "Simpson Mason asks to see Jenks Mason – the Mari Complaisant is now the sorrowing and devastated spouse. He tells Jenks that the King wants to marry Mrs S, (unbelievable) & that he - S - would like to leave England only that would make divorce easier - what he wants is his wife back. S suggests he should see the P.M. SB replies to this suggest (sic) with a flat negative. He is the King's chief adviser not Mr S's … Clive Wigram, SB and I have a frank talk. I am quite convinced Blackmail sticks out at every stage. HM has already paid large sums to Mrs S and given valuable presents. I advocate most drastic steps [deportation] if it is true that S is an American. But if he isn't the situation is very delicate. The Masonic move is very clever. The POW [Prince of Wales] got S in on a lie – is now living in open breach of the Masonic Law of chastity." Rickatson-Hatt was the crucial witness to Ernest's insistence that no money had changed hands.
In September 1936, after Wallis's holiday with the King on the Nahlin yacht had been reported in most of the foreign and US press, Rickatson-Hatt, knowing more than almost anyone else on Fleet Street, nonetheless discarded journalistic instincts for the sake of honour, telling his staff that "Mrs Simpson's name is not to be mentioned in either the inward or outward services without reference (to him)." The Press Association followed suit. When the abdication was finally announced in December it was for many people in England the first they knew of Mrs Simpson's role in the King's life.
After the abdication, when the Duke and Duchess of Windsor, as they were now styled, found themselves abandoned by the British establishment the Duke extraordinarily turned to Rickatson-Hatt, and paid him to help get the couple good publicity. He was especially keen that Wallis's work, visiting hospitals and forward areas of the French army and carrying out other duties on behalf of the Section Sanitaire Automobile (SSA) of the French Red Cross was covered in the British press. He sent Rickatson-Hatt a long account of how Wallis was billeted within the sound of gunfire and had much interesting information about conditions in which French troops were living at the front. British views of her remained unchanged by knowledge of such work, which in any case did not last long once. In May 1940, as the Germans invaded, it was time to flee once again.
Bernard Rickatson-Hatt died in 1966. ■