People
Clare Hollingworth, 105 today, feted in Hong Kong
Monday 10 October 2016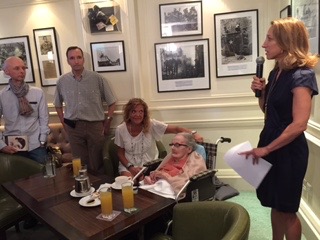 Clare Hollingworth, the legendary reporter who got her first amazing break with one of the scoops of the century on the outbreak of the Second World War during her very first week as a correspondent, celebrated her 105th birthday today.
A champagne reception to mark the occasion was held in Hong Kong, where Clare is a long-time resident, at the Foreign Correspondents' Club. The occasion was presided over by Tara Joseph, current FCC president and chief correspondent Reuters TV, Asia.
According to an excellent new biography of Clare, written by her great-nephew Patrick Garrett, she "helped out" at Reuters in Tehran during the surprise Anglo-Soviet invasion of Persia in 1941.
Tributes from around the world included one from British foreign secretary Boris Johnson, himself a former hack, a US ex-marine who met Clare during the thick of the fighting in Vietnam in 1968, and an intensely poignant one by video from one of the several thousand refugees whom Clare helped to escape from the Nazis in 1939 before she became a journalist and witnessed the German tanks massing on the Polish border.
Garrett's well-researched book, which fills many of the gaps in Clare's extraordinary life that she herself left in her autobiography, is called Of Fortunes and War and is available from Amazon as an e-book or paperback.
---
PHOTO: Tara Joseph, Reuters TV chief in Hong Kong (R), speaks at the FCC party for Clare Hollingworth, 105 today, who is in a wheelchair. ■