People
Bernd Debusmann leaves Reuters - with a bullet in his back
Thursday 27 September 2012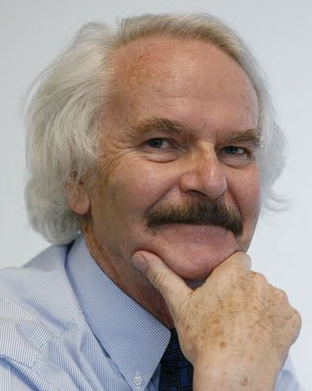 He has been shot twice - he still has a bullet in his back - and has reported from more than 100 countries. For fun, he jumps out of aircraft - with a parachute, of course. Now, after an extraordinarily long career with Reuters, Bernd Debusmann (photo), is leaving. Tomorrow is his last day in the office.
It began in 1964 in Bonn, where "a decidedly unbureaucratic bureau chief" took a chance on a young German with zero news experience, less-than-perfect English and big dreams of becoming a globe-trotting correspondent covering conflict and wars, he told colleagues in a farewell message today. "It ends in Washington, from where I say goodbye and wish you good luck."
In between Bonn and Washington Debusmann had a long string of postings (Vienna, Addis Ababa, Cairo, Beirut, Belgrade, Nairobi, Mexico City, Prague, Miami), a variety of jobs (correspondent, bureau chief, diplomatic correspondent, regional news editor, area news editor) "and the good fortune to learn from some of the world's best journalists and to work with talented and interesting colleagues".
There was more globe-trotting than he imagined almost half a century ago, as well as a great deal of luck in surviving hazardous environments in places such as Angola, Eritrea, Central America, Iran, Iraq.
In 1975 he was expelled from Addis Ababa for refusing to reveal his sources for a report about the execution of five Ethiopian army officers. After five hours of questioning the interrogating officer remarked: "Our prisons are not very pleasant." Fingering a gun, he added: "You know accidents happen."
In 1976 Debusmann was wounded by gunfire in Beirut. In 1980 he was shot in the back by a man firing a silenced gun from a passing car in Beirut.
"I feel as if a big fist has hit me in the back," he recounted later. "The vehicle carrying the shooter accelerates down the road. I get out of my car, stumble across the sidewalk, shout 'I've been shot,' and collapse."
He told colleagues today: "That followed Syrian complaints about my reports on a government crackdown on dissidents. Censorship by 7.65 mm bullet. It remains encased near my spine, a permanent souvenir."
The last stage of Debusmann's marathon with Reuters began five years ago with the inception of Reuters Opinion. His first column ran in September 2007. "At the time, there were two opinion writers. Now there's a small army and, in many ways, a new company. For me, it's time to move on. What next? There's a long-pending book project and I expect my column to have a new home before long. I'll stay in Washington." ■