News
Microsoft buys stake in Refinitiv owner
Monday 12 December 2022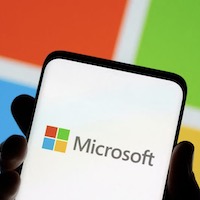 Microsoft is to take a 4% equity stake in Refinitiv owner London Stock Exchange Group as part of a 10-year commercial deal to migrate the exchange operator's data platform into the cloud.
LSEG said that as part of the deal it has made a contractual commitment for minimum cloud-related spend with Microsoft of $2.8 billion over the term of the partnership.
Microsoft said the basis of the partnership will be the digital transformation of LSEG's technology infrastructure and Refinitiv platforms on to the Microsoft Cloud.
"The initial focus will be on delivering interoperability between LSEG Workspace and Microsoft Teams, Excel and PowerPoint with other Microsoft applications and a new version of LSEG's Workspace," it said.
David Schwimmer, CEO of LSEG, said: "This strategic partnership is a significant milestone on LSEG's journey towards becoming the leading global financial markets infrastructure and data business, and will transform the experience for our customers."
Satya Nadella, Chairman and CEO, Microsoft, said: "Advances in the cloud and AI will fundamentally transform how financial institutions research, interact, and transact across asset classes, and adapt to changing market conditions.
"Our partnership will bring together the industry leadership of the London Stock Exchange Group with the trust and breadth of the Microsoft Cloud — spanning Azure, AI, and Teams — to build next-generation services that will empower our customers to generate business insights, automate complex and time-consuming processes, and ultimately, do more with less."
LSEG bought Refinitiv, originally the terminals and data business of Reuters, for $27 billion from a Blackstone and Thomson Reuters consortium, which turned the exchange into the second largest financial data company after Bloomberg.
Thomson Reuters, which owns Reuters News, has a minority shareholding in LSEG following the Refinitiv deal.
LSEG has made "good progress" on its programme for the delivery of its cloud-based data platform since the completion of its Refinitiv acquisition in January 2021, it said in a statement.
Microsoft will buy LSEG shares from the Blackstone/Thomson Reuters Consortium, the exchange operator said.
Microsoft's purchase is expected to complete in the first quarter of 2023. ■
SOURCE