News
Obituary: Claire Rosemberg
Friday 15 April 2022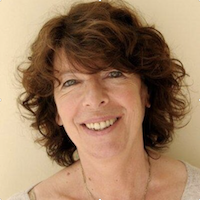 Claire Rosemberg (photo), former Paris correspondent, died of cancer on Tuesday in Paris surrounded by family and friends. She was 73.
Claire was born in Paris, grew up in Melbourne, Australia, and began her career in journalism as a stringer in Nicaragua covering the overthrow of Anastasio Somoza in 1979. Back in Paris, she freelanced for Australian papers including The Age and worked for AFP and UPI before joining the Paris bureau of Reuters as a reporter in early 1985.
She quickly made her mark as a talented lifestyle writer, covering the "f-factor" in France - fashion, film, food and culture alongside the politics, diplomacy and terrorist attacks of the Mitterrand era.
Bob Evans, the bureau chief who hired her, recalls her as "a fun person - a sort of Australian Barbara Streisand, who became Reuters queen of Cannes and the Paris catwalks".
Claire, who lived for four decades in the Montmartre district, the heart of bohemian late 19th century Paris, was the life and soul of the bureau in those years. She looked out for her colleagues and was never afraid to stand up for them if she felt they were being worked too hard or treated unfairly.
Paul Taylor, who was chief correspondent late in Claire's time in the bureau, writes:
"One great Claire story I remember was on the morning after the grandiose celebrations marking the bicentenary of the French Revolution in Paris in July 1989. Claire had the unenviable task of 'warming up the corpse' of yesterday's news. She did it to perfection with a lede that began 'France awoke with a giant hangover on [the day after]'…"
Claire and her family moved to South Africa in the early 1990s, returned to Paris for a few years and then went on to Senegal. During this period she rejoined AFP where she held a series of senior positions, including deputy head of the English desk, deputy news editor in Brussels and the agency's first English-language lifestyle editor, until she retired in 2017. After retirement, she helped asylum seekers and refugees navigate the French bureaucratic maze and welcomed some of them in her Paris home.
Witty and warm, Claire kept her sense of humour throughout her illness and continued to follow the French presidential election campaign and to post about the war in Ukraine until the week before her death. She is survived by her son Julien Jourand, her partner Ali Messalhi and her ex-husband Erwan Jourand.
Her funeral will be held at Père Lachaise cemetery in Paris on 25 April at 1:30 pm. Condolences and reminiscences can be sent to Julien: julien.jourand@gmail.com ■