News
Thomson Reuters envisages investment in news
Wednesday 3 November 2021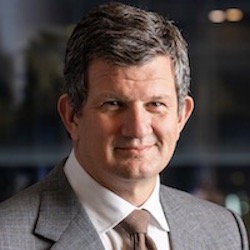 Thomson Reuters sees opportunities for investment in three areas of Reuters News, its chief executive said as the group reported that it swung to a loss in the third quarter despite a rise in revenue.
CEO Steve Hasker (photo) said the three areas are Reuters business with its largest customer, Refinitiv; agency operations supplying video, pictures, graphics and stories to media companies; and the professional news segment serving lawyers, accountants and others.
Thomson Reuters still has $700 million remaining of a $2 billion mergers and acquisition budget, but chief financial officer Michael Eastwood said the company had much more available for deals.
"Given the passage of time and the performance of our business, we have significant capacity beyond the $700 million," he said.
Thomson Reuters earlier on Tuesday reported its Q3 net loss was $240 million, compared with a net profit of $241 million a year earlier. The loss was due to a decrease in value of its investment in London Stock Exchange Group, which in January closed its $27 billion deal for Refinitiv. Thomson Reuters holds a minority LSE stake worth $7.1 billion at the end of October.
Reuters News makes more than half its revenue from supplying news to Refinitiv. Its revenue benefited from gains in its business with media customers and a 60 per cent rise in sales at its events business that was hurt by the pandemic.
Thomson Reuters revenue during the quarter rose to $1.53 billion from $1.44 billion.
The Toronto-based group raised its 2021 revenue forecast for the third time this year as it benefits from a recovering global economy.
"We've seen pretty good signs of activity in our core segments, across all parts of our businesses," Hasker said in an interview with Reuters. "2021 has been at the upper end of our expectations in terms of return to solid if not healthy economic activity."
Shares of Thomson Reuters rose about three per cent on the Toronto and New York Stock exchanges. ■
SOURCE