News
Thomson Reuters grows revenue, sees F&R deal closing in Q4
Wednesday 8 August 2018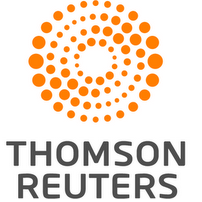 Thomson Reuters reported a two per cent rise in quarterly revenue and reaffirmed its 2018 forecast, saying it was on track for a "solid" year.
Second quarter revenue was $1.31 billion, in line with analysts' forecasts, compared with $1.28 billion a year ago. Adjusted for special items, earnings were 17 cents per share, down from 19 cents per share a year ago.
Operating profit was six per cent lower at $204 million, primarily due to costs and investments ahead of the planned sale of a majority stake in the financial and risk division to private equity firm Blackstone.
"It's a bit of a mixed bag," Doug Arthur, an analyst at Huber Research Partners, told Reuters. "The underlying profitability of legal and tax & accounting was a little disappointing... the organic growth of the remaining company looked pretty good."
Thomson Reuters agreed in January to sell 55 per cent of F&R, which sells data and news primarily to financial customers and expected to close the deal in Q2. It now expects completion early in the fourth quarter when the business will be re-branded as Refinitiv.
The company has said it expects to use $1 billion to $3 billion from the proceeds of the $20 billion Blackstone deal to make acquisitions in its legal and accounting division, but has no plans to go into new businesses.
Chief executive James Smith said he was assessing potential opportunities.
"There are a couple that look quite interesting to us and we'll continue to evaluate them," he said in a Reuters interview.
F&R, now counted as a discontinued operation, grew revenues by two per cent in constant currency to $1.55 billion.
The company's legal business reported revenue of $882 million in the second quarter, up two per cent when factoring out currency. Tax and accounting reported revenue of $359 million, up four per cent when factoring out currency.
Reuters News, which will remain under Thomson Reuters ownership after the Blackstone transaction, reported $72 million in revenues, down five per cent from a year earlier in constant currency.
Shares in Thomson Reuters have risen 12 per cent since May, when they were trading at their lowest level since July 2015. ■
SOURCE