News
Evidence from Reuters reporters' phones may be 'tainted' - lawyer
Thursday 31 May 2018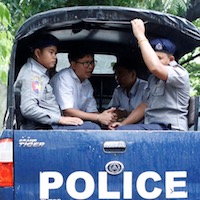 Evidence Myanmar police say they obtained from the mobile phones of two Reuters reporters accused of possessing secret documents might be "tainted", a defence lawyer said, because at least one phone was used after it was confiscated.
A WhatsApp message was sent from the mobile phone of journalist Wa Lone (photo) after he and Reuters colleague Kyaw Soe Oo were arrested on 12 December and held incommunicado on suspicion of violating the Official Secrets Act, the defence told the court.
Prosecution witness Police Major Aung Kyaw San, who said he and other police had examined the phones, told the court he was not aware of the exchange on WhatsApp and did not know who else used the phones before their delivery to investigators on 14 December.
In what has become a landmark press freedom case, the court in Yangon has been holding hearings since January to decide whether Wa Lone, 32, and Kyaw Soe Oo, 28, will be charged under the colonial-era Official Secrets Act, which carries a maximum penalty of 14 years in prison.
Defence lawyer Than Zaw Aung said the one-word text message - "OK" - was sent via WhatsApp in reply to a question from Reuters' bureau chief in Myanmar at about 10 pm, after Wa Lone's phone was taken from him by police shortly after the two reporters were arrested around 9:10 pm.
"That means anyone could have access to the phones, so anything could happen to the phones," a second defence lawyer, Khin Maung Zaw, told Reuters after Tuesday's proceedings. "All those messages they said were found in the phones may not be genuine or the phones may be tainted."
At the time of their arrest, the reporters had been working on an investigation into the killing of 10 Rohingya Muslim men and boys in a village in western Myanmar's Rakhine state. The killings took place during a military crackdown that United Nations agencies say sent nearly 700,000 people fleeing to Bangladesh. ■
SOURCE