News
Reuters reporters' lawyers argue for court to dismiss case
Wednesday 4 April 2018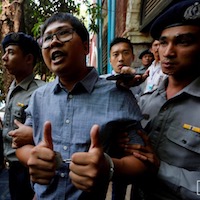 Lawyers for two Reuters reporters jailed in Myanmar asked a judge to dismiss the case against them, arguing there was insufficient evidence to support charges of obtaining secret government papers.
A court in Yangon has been holding preliminary hearings since January to decide whether Wa Lone (photo), 31, and Kyaw Soe Oo, 28, will be charged under the colonial-era Official Secrets Act, which carries a maximum penalty of 14 years in prison.
Defence and prosecution lawyers made legal arguments after the defence filed a motion to have the case thrown out last week.
The reporters' lawyers argued that the testimony from witnesses called by the prosecution was insufficient to charge the pair. They also pointed to what they said were inconsistencies in witness testimony and procedural mistakes made by the authorities during the arrest and subsequent searches.
"At this stage, after we've examined 17 witnesses, there's nothing in the preliminary testimonies so they should be released now without being charged," defence lawyer Khin Maung Zaw told reporters after the hearing.
Myanmar's government spokesman, Zaw Htay, told Reuters by telephone that under Myanmar's constitution the courts were independent, "so the judge will decide whether to dismiss the case or not".
Judge Ye Lwin adjourned the proceedings until 11 April, when he is expected to rule on the dismissal motion.
After the hearing Wa Lone told journalists that he was not "a traitor of the country".
"We only did our work as reporters. I want the people to understand that and want to tell them that I never betrayed the country," he said on the steps of the courthouse as he was being pushed inside a police truck. ■
SOURCE