News
Obituary: John Entwisle
Sunday 23 July 2017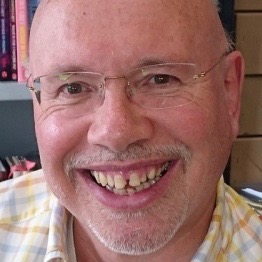 John Entwisle, Reuters archivist for more than 30 years, died in hospital on Saturday after surgery. He was 65.
Editor-in-chief Stephen Adler, announcing his passing, wrote: "John's love for the history of the company was a lifelong passion. Over the decades in which he managed the Archive, he curated mountains of documents, correspondence, Reuters memorabilia and news stories back to the 19th century. He helped historians from universities around the world unearth the facts that Reuters reported and learn how Reuters grew over the last 150 years and expanded into the company it has now become.
"It was amazing how many of those facts John carried in his head. He could tell you, off the cuff, the chain of events behind our journalists breaking some of the most important news stories in history. And he could answer questions as small and specific as what brand of cigarettes Ian Fleming, the creator of James Bond, smoked when he worked for Reuters.
"Every conversation with John left me more inspired by our company's legacy. He was a unique individual and we shall miss him greatly."
At university, Entwisle had taken a law degree but decided he didn't want to be a lawyer. So he returned to take a post-graduate course in Palaeography and Archive Administration. He spent a few years with BP, learning about business archives. In 1985 he joined Reuters in London to start a professionally-managed modern archive and began gathering documents, letters, photographs and artefacts dating from the earliest days of the founder, Paul Julius Reuter, in the 1840s.
A few years ago, he noted that of the great 19th century news agencies, Reuters was the only one which had remained continually in existence and, in consequence, it had an unbroken archive.
"This makes it pretty special," he said. "The Archive is the memory not only of the company but of us all. It ensures that, however long or short a time you worked for Reuters, something of you and your contribution will remain for the future…
"In the days before television, radio and the Internet, when the written word ruled supreme, what Reuters said and how Reuters interpreted a set of events was immensely influential. This means that the way the company worked and how it organised its operations is continually of major interest. Historians, biographers and documentary film makers always have a special interest in the many famous historical figures who have worked for Reuters at some stage in their lives.
"As the owner of a private company archive, Thomson Reuters is proud to hold a rich collection of unique historical material and is happy to share it with outsiders as appropriate. But, of course, it is under no legal obligation to do so. Allowing members of the public to have access to its archive material is something which comes under the Thomson Reuters 'good corporate citizen' umbrella."
Asked who in Reuters history he most wished he could have had dinner with, Entwisle replied: "This would be a toss-up between founder Paul Julius Reuter and Sigmund Engländer, our colourful and eccentric first editor. I think it would have to come down to Reuter as the only person able to answer some of those questions which, otherwise, could never be answered. Were I to chose Engländer one thing I could be quite certain of is that, in the end, I would be the one paying!" ■