News
Hold Thomson Reuters shares, say analysts
Tuesday 5 May 2015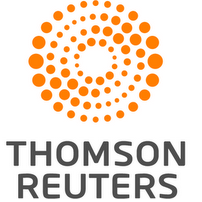 Shares of Thomson Reuters have earned an average rating of Hold from the 15 ratings firms covering the stock.
Analyst Ratings News reported 11 research analysts rated the stock Hold and three assigned a Buy rating to the company. The average one-year target price among brokerages that have updated their coverage on the stock in the last year is $40.40.
Thomson Reuters traded in New York were 1.54 per cent lower at $40.80 on Tuesday.
In Toronto, they closed at C$49.25, a fall of 1.74 per cent.
Thomson Reuters' most recent quarterly earnings results were announced on 29 April when the company reported $0.44 earnings per share for Q1, missing analysts' consensus estimate of $0.45 by one cent. The company had revenue of $3.04 million for the quarter, compared with the consensus estimate of $3.03 billion.
The company announced a quarterly dividend of $0.335 per share to be paid on 15 June to investors of record on 21 May. The ex-dividend date is 19 May. ■
SOURCE