News
Ahead of Q2 results, analysts give Thomson Reuters average rating of Hold
Sunday 27 July 2014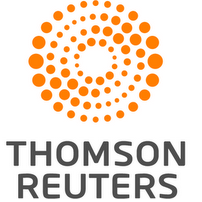 Shares of Thomson Reuters, which reports its second quarter earnings on Wednesday, have been given a consensus rating of Hold by the 15 analysts currently covering the company.
One equities research analyst has given the stock a Sell rating, seven say Hold and seven say Buy. The average 12-month price target among brokerages that have covered the stock in the last year is $38.65. TRI shares traded on the New York Stock Exchange closed down at $36.89 on Friday. Their 52-week range is $32.87-$38.73.
TRI shares are also traded on the Toronto Stock Exchange where they closed at C$39.88 on Friday.
Several analysts have commented on the stock recently. Jefferies initiated coverage on the shares in a research note on Thursday. They set a Hold rating and a $36.00 price. Analysts at Barclays raised their price target $38.00 to $40.00 on 14 July. They now have an Equal Weight rating on the stock. Zacks upgraded the shares from Neutral to Outperform on 2 July. They now have a $38.90 price target on the stock.
Thomson Reuters chief executive James Smith and Stephane Bello, chief financial officer, will announced the Q2 results in a conference call and simultaneous webcast at 8:30 am EDT on Wednesday.
You can register to access the webcast on the Investor Relations section of the Thomson Reuters website. ■
SOURCE