Archives
The Baron is back in New York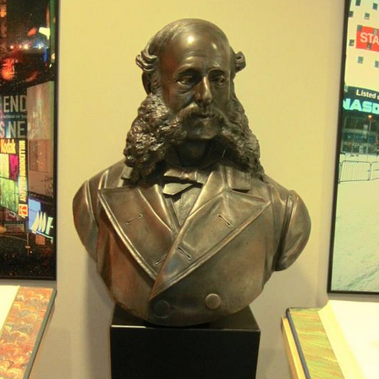 A bronze bust of Baron de Reuter has been restored to Reuters' New York newsroom after an absence of some years.
The bust (photo) has pride of place between two memorial books also on display at 3 Times Square. The books commemorate Reuters journalists who died covering the news.
The bust was put there in December 2012, Jonathan Oatis, a Reuters.com editor in New York, reports.
Copies of the bust were a feature in some of Reuters' larger offices prior to the 2008 takeover by Thomson. The original marble bust from which the bronze copies were cast is at Thomson Reuters' London office in Canary Wharf.
The marble bust, dated 1878, is the work of G B Trabucco, a sculptor who worked in Nice in the south of France. Reuter, then 61, had retired in May 1878 as managing director of Reuter's Telegram Company "in consequence of failing health". He had a house, the Villa Reuter, in Nice so it seems likely he sat for the bust there soon after his retirement. It was at Villa Reuter that he died on 25 February 1899.
On the Baron's retirement his son Herbert took over the business. On his death in April 1915, his son Hubert presented the bust to Roderick Jones, who had just taken over as head of the company. Jones kept it in his office at 24 Old Jewry, London. When Reuters moved to larger offices at 9 Carmelite Street in 1923 the bust was placed in the entrance hall. In 1939, it was moved once again to an alcove in the entrance hall of Reuters' new headquarters at 85 Fleet Street. In 1951, Reuters' centenary year, it was pictured in the 7th floor office of the general manager, Christopher Chancellor. It seems to have been removed at some point in the 1960s.
Sculptor Michael Black borrowed it to help him model a new statue of Paul Julius Reuter for the company's 125th anniversary in 1976. That statue is located outside Royal Exchange where Reuter founded his business. After Black returned it, the marble bust was crated and stored out of sight at the Reuters garage at Saffron Hill, London where it remained until January 1993 when John Entwisle, company records manager, discovered it in a large, dusty, wooden crate while searching for company documents.
When news of its re-discovery got out, requests for copies came in from Reuters offices around the world.
The Nautilus Foundry, then in New Cross, London, was chosen to cast a mould of the bust, from which bronze copies could be made. Through the 1990s, bronze copies of the same size as the original were produced and shipped to offices in New York, Edinburgh, Athens, Frankfurt, Brussels, Vienna, Tokyo, Milan, Oslo, Stockholm, Moscow, Tokyo, Sydney, and to offices in Turkey, Oman, Dubai, Saudi Arabia, Lebanon and Jordan. A copy was also made for the office of the then editor-in-chief Mark Wood at Gray's Inn Road, London. The original cost was £800 per bronze copy plus £600 for transport by a firm of fine art shippers. Each office paid for its own copy or copies.
The original marble bust, pictured, remains in London and stands at the head of the flight of stairs leading up from the reception area at South Colonnade, Canary Wharf.
PHOTO: Jonathan Oatis. ■