Archives
Reuters technical development chronology 1991-1994
Wednesday 26 April 2017
1991
Glen Renfrew retires and Peter Job is appointed chief executive.​
​​PHOTO: Glen Renfrew in his office at 85 Fleet Street in 1986
The new era starts positively enough with a message that the current difficult market conditions will not hold up investment in modernisation or technical infrastructure, and that old-style IDN 700MRV terminals are to be replaced by the new Reuter Terminal PC platform. This will come at a cost as a PC connection consumes more overall system resource than the equivalent 700MRV. However the overall feeling on "the bridge" is that the basics are all now in place and things should go a lot faster.

The organisation changes slightly by combining the individual real time, historical, and trading room systems groups into the information products group. It should provide some technical streamlining at the client site as many developers are working on different applications to run on the same PC base.

The final connections are put in place to enable electronic mail users (numbering some 5,000 out of a staff total of approximately 11,000) to communicate over the three different networks used within the company: the IBM network covering product administration staff, the Digital VAX network covering product development staff; and the IPSharp network connecting the Toronto-based community. The editorial network remains outside at this point for security reasons. There was also resistance from journalists to joining this new initiative, keyboard familiarity and reluctance to take up a perceived manual task being the main reasons.

The project to build a common software kernel, for the three area quotations collection systems (US, Europe and Asia) is all but abandoned. There is general agreement on the benefits but not on scheduling the work (spending the money) necessary to make it happen. This is a classic example of the conflict between the areas (who have the money) and whose priority is getting the latest market changes to customers as quickly as possible, and the centrally-led architecture group (who have no money) with longer-term priorities of simplification and cost reduction.

Reuter Company NewsYear is made available via the Reuter Terminal providing coverage of 22,000 quoted companies from 35 countries and 94 stock exchanges. NewsYear is derived automatically from the historical text database which has developed from the original 1980 Textline database. It is the first product to give the user access through the IDN gateway (IRG) originally developed in prototype form in 1988. It allows the IDN subscriber to view market data and historical data received via a single communications line.

Small dish technology enables news delivered over the SDS3 network to be received directly in the Baltic republics. Terrestrial communications to Lithuania, Latvia and Estonia are non-existent at this time.

Hovland position keeping systems development is moved in-house and is renamed the Reuters Position Keeping System. Like

IDR

Farmingdale

in the

1970s

, the new development location chosen is opposite an amusement park, this time in

Chessington

, UK. A new product, Deal Manager, emerges as an attempt to introduce a lightweight Windows-based risk management and position keeping system with the objective of integration with Dealing Conversations and the forthcoming Dealing 2000 Matching product.

Instinet access is integrated into the Reuter Terminal providing an equity trading tool with IDN-sourced market information and analytic tools like Microsoft Excel.

Quotations Retrieval Services, which began life in 1964, is switched off, appropriately, by former managing director Glen Renfrew. The network that provided quotation prices for a range of products from Stockmaster, Videomaster, and Monitor is no more. From its beginnings as the flagship company offering, it has soldiered on providing basic quotations services and gaining the company time to introduce the IDN replacement functionality. Its last architectural upgrade had been in 1972 with the introduction of the Second Generation Slave but its life was prolonged in 1983 by the development of the "Square Drum". Tribute is due to the developers, engineers and operations staff who kept the systems going beyond any reasonable expectation. The Asian development group releases the prototype of a new generation of direct broadcast systems. The communications environment in Asia requires an architecture that does not rely heavily on long land line connections between data centre and client. Similar to the original Row Grabber design, it comprises a large database of product data and news fed by IDN which is then cycled out to storage or cache devices close to or on the client premises.On News2000, marketing call for urgent new product features to bring the user experience into the 1990s and profit from the PC environment. These features include the ability to create user-defined baskets for the display of headlines matching user-defined criteria. Codes and keywords, either individually or combined, are used to find news related to a particular subject. There are also deficiencies in the original design to be remedied including the handling of corrections to stories. The original Monitor-style design approach for IDN news now has to be abandoned although it is just good enough for early IDN clients. The technical challenge is to design a solution by which new functionality can be delivered inside the old broadcast news protocols such that new devices benefit and old devices don't fail. These new product features also make the rapid recovery from an upstream component failure very complex. It means that a large cache of news headlines and text has to be stored at the terminal or that the connection from the terminal to the data centre has to be very fast indeed. The communications environment of the day, particularly in Asia, means that relying on long line delivery (e.g. to a data centre) is problematic outside the major centres. The Asian Broadcast Service includes this recovery feature from the start, since their communications environment is less reliable, and often involves satellites, with inevitable but occasional communications outages. So the Asian development group find themselves temporarily as the owner of the only reliable mechanism for recovery of news after failure. Meanwhile, it is back to the drawing board for other terrestrial communications environments and the clients have to live with the inadequacies for the moment.​
​​​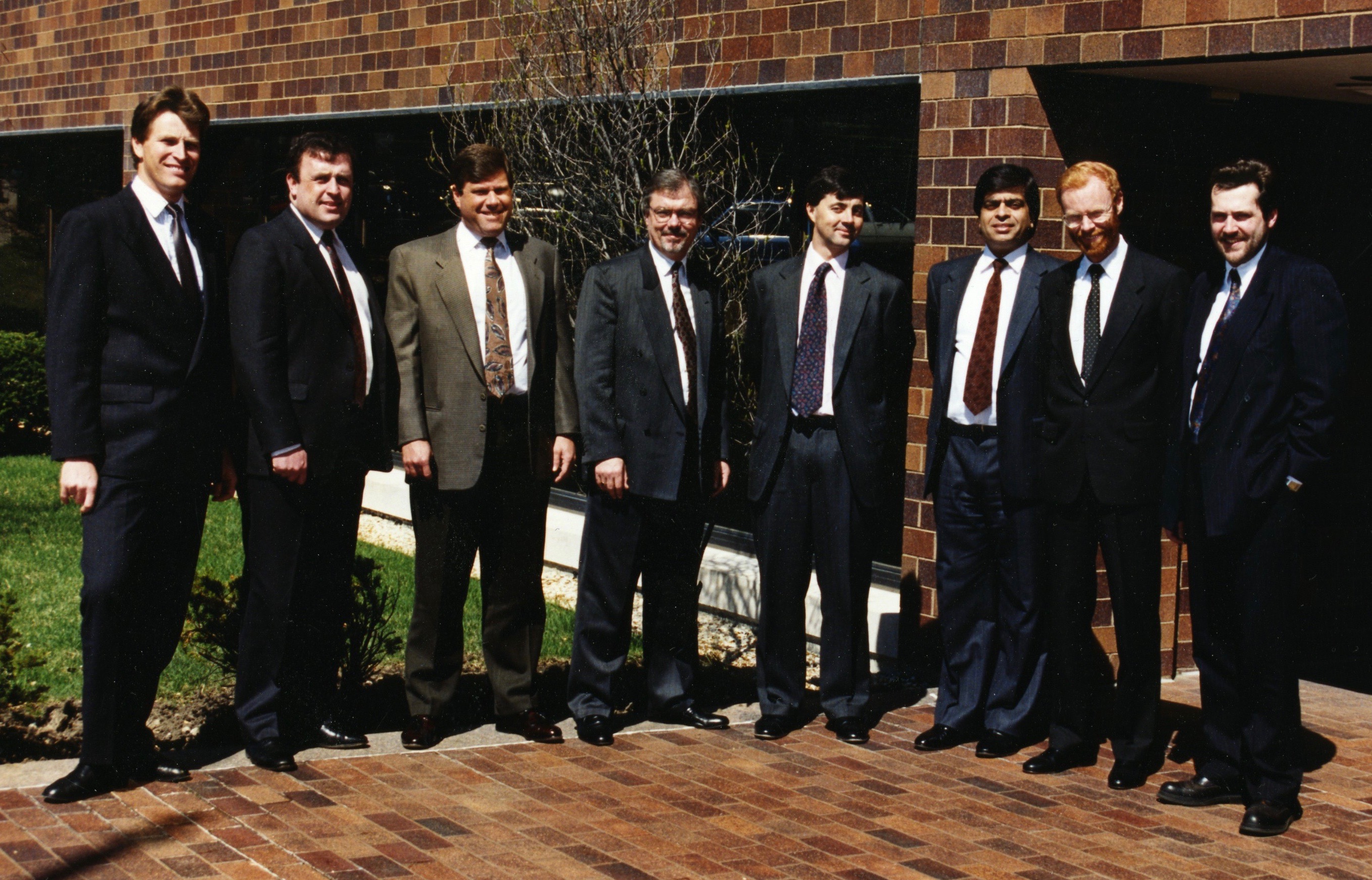 PHOTO: Information Products Technology Group management team members outside the Oakbrook, Chicago facility in 1991. L-R: Greg Meekings, Graham Albutt, Lewis Knopf, Martin Davids, Geoff Chapman, Ranjit Verma, Brian Douglas, Mike Sayers
An architectural pause for thought: the need to introduce the news functionality and how the data is transmitted highlights an issue which will haunt implementations for decades to come. The problem is how to introduce new software versions to some components without causing failure in other components and without a global upgrade programme. This "version negotiation" feature is an industry-wide problem which can sometimes be solved by withdrawing support for earlier versions and casting them adrift. This option is not open to Reuters, of course.

IDN data content consists of a large database of records. There are different record types for each class of market instrument, e.g. stock market quote or government treasury bond. For each record type there is a record template which defines the order of fields in the record and their encoding for transmission. There is also a display template which tells the terminal device how to present the information to the customer. This is all very sensible. However, there was an early implementation decision, aimed at speeding product launch, to defer the real time distribution of templates. Any IDN component which needs to interpret, store or display market information is forced to store the templates statically and makes subsequent change very difficult. This infamous record and display template upgrade problem will be mentioned many times in the chronology.

SDS3 Phase 1 is formally approved to start delivering services at 56/64 kbs. It uses the technology developed by the Asian development group which, as already explained, is the area with the biggest interest in providing a decent broadcast solution. It uses Ku-band satellite technology to a 0.9-metre dish. The broadcast signal contains the real time element of all the 2000 products with a "backlink" connection to the data centre for other data types. Although the full database cannot be transmitted within the 64 kbs it is the closest yet to the original Glen Renfrew dream of all data into everyone's front room.

On other architecture topics, the MCD (Monitor Contributed Database) continues to evolve towards providing full Monitor retrieval functionality for IDN clients. Contributions are still handled by Monitor. This is ironic since the most valued clients, the contributors, are stuck with the oldest technology. It is still not clear at this point how some complex Monitor functionality such as closed user groups will be implemented.

A new system is introduced, known as the IDN Pagination System (IPS), to deliver delayed exchange data to clients as currently provided by Monitor.

Another major company-wide initiative to reduce costs and increase efficiency is announced. This follows announcement of a deteriorating financial outlook with client cancellations up and forecast revenues down. Technical costs have also risen disproportionately with increasing investment in IDN infrastructure and also transaction products' costs. Closure of the independent IPSharp network is cited as an example of an obvious cost saving target as is complete "Monitor close down". As a first phase the second (B) Monitor network is targeted for close down in early 1991 with the A network expected to follow by 1992. All hopelessly optimistic.

New video conferencing rooms for internal use are installed in

Hauppauge

, Geneva, Singapore and Tokyo to sit alongside those in New York, London and Hong Kong. They are still expensive to run and communications lines have to be booked well in advance.

Dealing terminals number over 15,000 with over one million conversations per week. Conversion of Dealing subscribers from the original PDP-8 based terminal to the D2000-1 platform continues apace with about 35 per cent converted so far. D2000-1 offers better reliability than the PDP-8 and extra functionality such as the Ticket Output feed (TOF). This analyses dealer-to-dealer conversations and produces an electronic ticket output feed to a back office system removing the need for handwritten tickets. Smart prompts save time and mistakes. The deal blotter keeps records of deals transacted over a period of time. All this enables the dealers to trade more rapidly and efficiently. The roll-out of the new terminals is not without challenges. The new screens and keyboards require modifications to trading desks, carpentry, etc, and the Intel 302 units are extremely bulky and hard to fit into dealing rooms. However, on the positive side, perhaps this means less space for the competition's equipment! Client training is a major dependency and has to be scheduled. D2000-1 introduces a mouse pointing device to the product, which many dealers hate. They remove the mouse ball rendering the pointer static, hovering over the "accept conversation" button for easy "clicking". In parallel it is decided to develop a completely new keyboard with large keys that dealers can find in a hurry.​
PHOTO: Position Keeping display using Ticket Output Feed
A GLOBEX test takes place over three centres - Chicago, London and New York - with good results.

Reuter Terminal version 2.0 is launched. Based on Microsoft Windows 3, it allows the user to run several applications at the same time. The release is mainly infrastructural but does offer some new user capabilities such as saving up to 20 custom-designed screen formats and the ability to transfer data between applications.

The Intel-manufactured 486 PC is selected as the standard platform for the next 24 months. Typical configurations offer 4-8 MB storage with a hard drive of 50-100 Mb and, of course, a 3.5 inch floppy drive.

The

HPSN

pilot proceeds to a fully operational network providing a global trunk communications network for all products, replacing

Reuternet

. It is an attempt to move away from the model where each product has a dedicated communications network. Hughes Network systems is the chosen supplier.

Another Carnegie Group product, using artificial intelligence, JASPER (Journalist's Assistant for Preparing Earnings Report) is introduced to aid reporters in writing routine earnings and dividend reports. It follows the first experiment with automation of

Newsbank

updating in 1989.

The RICH assembly group in Franklin Park, Chicago is closed. Most systems are now integrated on site and comprise industry standard equipment. It also reflects the almost complete switch from hardware video switching to digital distribution. Where custom solutions are required they are supplied through third parties and system integrators.

Decision 2000, an

analytics

system for the fixed income market, is launched entering a market where competitors include

Bloomberg

and

Telerate

. It is said to have a combination of functionality, information and

analytics

not currently available. It is developed by an outside company, Capital Market Decisions, with a staff of 40 in Stamford, Connecticut. It offers real time data

sourced

from an

IDN

Marketfeed

2000

datafeed

, together with historical data and analytic applications. The data and

analytics

intelligence are hosted on a cluster of DEC VAX computers accessed via industry standard protocols and a standard

VT240

display emulation. The host applications include a spreadsheet, which seems like a bad idea. There are doubts from the

Reuter

technical community about the overall viability of the design, particularly under load, but these are dismissed as a severe case of "not Invented here".

The first satellite

uplink

to be owned and operated by Reuters becomes operational as a back-up to the existing

SDS3

service.

Requirements for small scale automated matching system are outlined. Expected to address small markets and using a technical architecture based on existing components such as

IDN

. It would have to be orders of magnitude cheaper than the components developed for

GLOBEX

or

D2000-2

. These prove impossible to

downscale

to meet the requirements and so the initiative is based on

IDN

messaging which doesn't yet exist and on theoretical products. It all goes nowhere for the moment although the requirements return later in the decade with real product opportunities.

Meanwhile

D2000-2

development enters the home straight. A hidden

complicator

of the whole

D2000-2

implementation is the provision of a usage-based billing and administration system which is not available on the normal administration systems developed so far. There are also the complexities of handling broken trades. The matching host generates an alert to each counter-party that a deal is in progress and identifies the counter-party. An acknowledgement is generated signifying that this notification has been received. If it is not received then the counter-parties will know that the trade is broken. The implementation of this so called "ping-pong" software logic has already delayed the launch in order to mitigate against this risk but a transactions desk must be organised, with supporting software, to deal with any remaining problems. A great deal of effort is applied to avoid administration becoming a further delaying factor.

The Dealing network completes implementation of performance recording functionality. This is built into the network and terminals and provides an accurate picture of performance and usage statistics. For the first time regular summaries are put on display in the development team area to encourage pro-active quality planning. Performance issues are now public knowledge and act as a powerful motivator to the team to resolve them quickly.

The requirements for a very large historical database to complement

IDN

are published in October following considerable architectural work. The concentration of the many and various small database systems that have sprung up into a properly supported central repository has become urgent as has the replacement of the Toronto-based database systems inherited from the

IPSharp

acquisition. The requirements are summarised as a database size of 1

Terabyte

with an update rate of 100 per second and an availability of 99.98 per cent. The preference is to only consider two vendors: DEC, the current development partner of choice, and Tandem. Tandem have a good reputation with their fault tolerant systems of which Reuters has some experience in the form of the

SII

editorial systems. Another preference is for a single vendor hardware and software solution. However

Teradata

soon becomes a player because like Tandem they have sold a great many systems to banks who use them as database

backends

to large (usually) IBM mainframes and have the experience of very large databases.

Teradata

is a high-end data warehousing system used by the likes of Walmart for recording customer purchases and analysing patterns and trends. An immediate hindsight observation is that these applications are essentially batch updating with queries and so not real time. The project becomes known as

RDB

- the Reference database. DEC start a proof of concept exercise using their database product also confusingly called

RDB

(Relational Database System). Their exercise is based on initial support of 120,000 instruments with up to 70,000 requiring

interday

close processing leading to a transaction rate of about 40 transactions per second.

Towards the end of the year an

IDN

think tank returns to the problems of faster implementation of Record and Display Template changes. A three-phase approach is suggested with the first and most important phase being that all systems downstream of data origins should be tolerant of any changes to templates that they don't understand (i.e. don't fall over). Simple enough but it never happens due, once again, to the myriad of systems affected and the impossibility of finding a way to schedule the work. As the year ends another proposal is made to include a large number of additional unused fields to be reserved for later use thus avoiding a full template release. This doesn't happen either for the same reasons and will wait for eventual implementation in 2013. Both are important missed opportunities and the template (or time to market) problem returns again and again on an annual basis.

A PC-based stand-alone graphics terminal is launched from the Australian-based company

ESL

using

IDN

data and a dial-up link to

IPSharp

databases to offer various technical analysis studies.

In Germany, the branch

d

atafeed

product is enhanced with the introduction of

MPAS-2

. Like its predecessors the branch

datafeed

delivers Reuters data to an application on a bank's IBM mainframe and so into the bank's own internal network.
1992
Using a nautical metaphor and alluding to continuing tough market conditions Peter Job says ''Our ship is still in stormy weather with no immediate end to the storm in sight but we do not seem to be taking much water on board. The engines from my position on the bridge seem to be working perfectly and the crew is in good spirits. We are holding to our charted course. We shall continue to invest in development."

A major milestone is achieved when testing of Dealing 2000-2 by some 30 banks in New York and London goes well.

VTX is launched as the first company-wide electronic information system. It provides a wide range of information in basic paginated form including staff notices, technical project directory, employee directory and other user guides. Extremely crude by the standards of today's social media but nevertheless a leap forward from paper distribution.

The Hong Kong Quotation Front-End is closed down. Since 1983 it has provided an interface between Asia's stock and commodity markets and both the

QRS

and Monitor networks. Its function is replaced by a combination of new systems and the

IDN

pagination system (

IPS

).

The first

SDS3

dish is installed in China in

Guang

Dong.

The

Reuterlink

product is introduced in North America and provides end-of-day and historical data from the historical databases, visible on a PC platform. It is marketed as an easy-to-use and cost-efficient way for analysts to access global market data. At the same time the Time Series Database is enhanced to include six years of equity data for graphics and analysis applications.

Reuterscoop is launched. It is a Japanese language news service for the money and capital markets. It replaces the original

JALFIS

system introduced in 1985. News is fed to news processing systems in

Hauppauge

and then distributed from there over the

IDN

network. News items can be accessed in Japanese script or English and the service is the first in the field to offer integrated reporting.

At the same time a

Kanji

version of the

RT

is introduced - the

Kanji

Broadcast

RT

(

KBRT

). The previous

JALFIS

terminal could not be integrated into switching systems such as PRISM and did not carry newer

IDN

services and so did not have a big dealing room presence. A huge development effort makes the

KBRT

share the same platform as the standard

RT

with switching between textual display in

Kanji

and English. Another global first by the

RT

development group.

On

RDB

, the proof of concept undertaken by DEC continues in

Galway

, Ireland. It costs them a lot of time and money but unfortunately the exercise fails as the highest performing VAX systems cannot sustain the load and recovery issues are problematic. It just predates the introduction of the next generation Alpha technology and the exercise is later successfully repeated by DEC as an internal exercise but too late for the project to take into account. Other vendors' offerings will have to be evaluated. Mild panic sets in and a number of fudges are proposed leaving the Toronto mainframe in place. These are rejected as the major objective to close down Toronto by end-1993 is adopted as the main justification for the huge expenditure contemplated. This does shape the performance requirements of any replacement in that the Toronto replacement is not a client-facing retrieval system but rather a fast updating repository with data extracted for downstream systems.

Discussions continue with Tandem using its fault tolerant system design popular with the financial sector. The technology impresses but the costs and difficulty of organising a proof of concept result in Tandem being eliminated as a possibility. Another supplier, Oracle, is not considered for various reasons, one certainly being that a hardware platform would have to be chosen which was not DEC. Eventually, after considerable head scratching, the

Teradata

solution is chosen running on an NCR platform. By this time NCR have acquired

Teradata

and then NCR are in turn acquired by AT&T. There are some NCR management shuffles but no delays. The NCR model 3600 is selected running

Unix

and a proprietary technology called Top End. The NCR/

Teradata

combination meets the perceived capacity and update throughput requirements, i.e. high update rates to the database and relatively few but complex and computationally intensive retrieval requests. The vehicle for a single reference database is now defined. An

aspirational

target of two years is set for the delivery of the first products using the new database. One feature of the NCR architecture is that it is based on standard PC hardware and so the cost should come down radically in line with PCs. Of course, it doesn't.

Up to this point the new database,

RDB

, has been a technically-driven project on the grounds that a large database of historical prices must be a requirement. Product leadership is absent for the moment.

Treasury2000 is launched as an

IDN-delivered

service for Money and Capital Markets. It uses the

RT

applications and some critical

IDN-hosted

content. Along with

Decision2000

it forms part of the tactical effort to build a presence in capital markets.

The term "Front Line Business Unit" becomes the jargon of the day as the company starts the process of building a customer-centric model of doing business. Development becomes a global supplier which doesn't appeal as a concept. Inevitably layers of

FLBU

process and people attach to the development process, not always to good effect.
Our ship is still in stormy weather with no immediate end to the storm in sight but we do not seem to be taking much water on board. The engines from my position on the bridge seem to be working perfectly and the crew is in good spirits. We are holding to our charted course. We shall continue to invest in development
A huge sigh of relief is made when Dealing 2000 Phase 2 finally launches on 29 April after many years of development. It is announced as the second phase of Dealing 2000 to disguise the many delays. One of these was due to the last-minute introduction of "ping pong" logic to overcome problems arising from broken deals caused by technical or communications problems. The product adds automatic matching of bids and offers in the foreign exchange market to the conversational Phase 1 product. Twenty-two banks sign up to use the system and currencies available are dollar/mark, dollar/sterling and dollar/yen. It squeezes in ahead of competitive offerings from EBS developed by a consortium of banks and Minex, a Japan-based consortium. Live dealable prices can now be broadcast round the world as distinct from the indicative rates shown on information screens.

Some 160 members of the RAM management team meet in Amelia Island, Florida to develop a "vision" for the future. Entitled "Take the Initiative", it attempts to improve the focus on customers, and promote teamwork. It becomes a huge undertaking and much time is spent developing concepts and encouraging staff in the Americas to participate via town hall style meetings. Much slicker and customer-centric product development is a key aspiration.

Centrally-based Triarch2000 development staffing in Chicago is reduced as responsibility for applications development is passed to the regions. Oakbrook will concentrate on network infrastructure.

Dealing 2000-2 feeds dealt rates and deal sizes to Monitor (page DXDX) and

IDN

RICs. The deal sizes turn out to be smaller than anticipated.

A large project, Product Reclassification, is set up to try to bring order to the myriads of national and international products, some of which overlap.

The development of a new generation of satellite capability is proposed. Known as SDS-4, it will be capable of operation at speeds from 256 kbs to 1 Mbps and give much needed capacity to directly delivered services via the small dish (VSAT). There is a fleeting hope that the whole IDN database could be delivered by SDS-4 instead of only a part. This was as originally requested by Glen Renfrew in 1981. However market activity is projected to continue to increase and the goal will continue to be elusive.

Following the signing of a 20-year operating agreement and a successful 250 keystation test with the Chicago Mercantile Exchange and the Chicago Board of Trade,

GLOBEX

launches at 6:00 pm on 25 June with the matching of a yen futures order at 6:03 pm Chicago time. Chicago Mayor Daley announces it as

GLOBEX

day, "a technological advance and an innovation in marketing that expands the shores of Chicago to markets in the rest of the world". It starts with selected futures and options contracts and trading is moderate with about 100 key stations operating. The system behaves well. Additions to the contracts traded are promised.

The Moneymatch product is acquired. It is an automated trade matching system for money market instruments, and is still in the early stages of development. The design is intended to provide anonymous trading with credit checking maintained at each site and tailored to a bank's particular requirements. Potential matches are identified at the client site more like the model used by the EBS matching system. (Dealing 2000 and

GLOBEX

match trades centrally). Anyway, it all gets very complex very quickly as the technical developments necessary to meet the requirements escalate in difficulty. It proves impossible to re-use any existing

Reuter

"matching" components from Dealing 2000 or

GLOBEX

. One issue is whether Reuters has the energy left to implement another complex matching project.

The

Reuter

Terminal (

RT

) overtakes the basic

700MRV

keystation

as the primary delivery vehicle for the

IDN-based

2000 product range. The

RTs

installed number some 24,000, from fewer than 1,500 in 1990. This shows the enormous change pioneered by Reuters in replacing the original homegrown software and hardware terminal controllers with commodity Personal Computers running Microsoft Windows. Old style terminals now number fewer than 23,000. Sales of

keystations

are generally levelling off and it is hoped that this decline will be offset by selling applications to run on the

RT

. With this in mind the brave decision is taken to spend money to accelerate the retirement of the

700MRV

. This also removes a Monitor dependency as the

700MRV

requires a Monitor feed for news. There is natural resistance from some business units who are doing quite nicely milking the

700MRV

and don't want the upgrade hassles.
The

RT

undergoes a massive enhancement to its display capabilities. This is in response to the need to develop a much slicker UK equity product to compete with the London Stock Exchange Topic service. Display features developed include multiple size fonts, coloured background regions, dynamic colour changes, bold fonts, double click retrievals and variable timing for update highlights. This completely revolutionises the look and feel of the Reuter service.

Client Site Systems is renamed Information Management Systems to reflect the broader integration of data feeds and other terminal products into the product line. Nothing changes for the clients.

Dealing 2000-2 expands to Asia with sites in Tokyo, Hong Kong and Singapore.

JALFIS, the world's first

screen-based

Japanese language system, closes.

Early in the product life cycle both Dealing 2000/2 and

GLOBEX

face capacity hurdles. The centrally-based architecture used for matching becomes overloaded as client activity increases. The architecture does not support multiprocessor technology so expansion of the services depends on the availability of ever more powerful computers. Cost is also an issue as the development and test environments must be upgraded alongside the operational systems. The Dealing 2000/2 matching host has already passed through two VAX models (8200 and 8842) but

GLOBEX

is on a third (9420). There is a problem that continued progress depends on the announcement of new hardware by the manufacturer. In addition the

D2000

/2 communications network faces similar problems of inadequate computer power.

Intel

486s

now start to displace the bulkier

386s

in dealing rooms.

A streamlined version of the master reference database is released which speeds up access to cross reference codes, Reuters Instrument Codes (

RICs

) and company names.
Following the failure recovery problems with the delivery of news over terrestrial links (the Asian Broadcast System had solved this through a caching device storing headlines and stories close to the client), and after considerable re-development a new design of the Reuter Terminal is released. News now appears on the Reuter Terminal in an identical fashion regardless of the means of transmission - by broadcast (satellite) or via land lines connected to a data centre. A sterling effort in the limited timescale.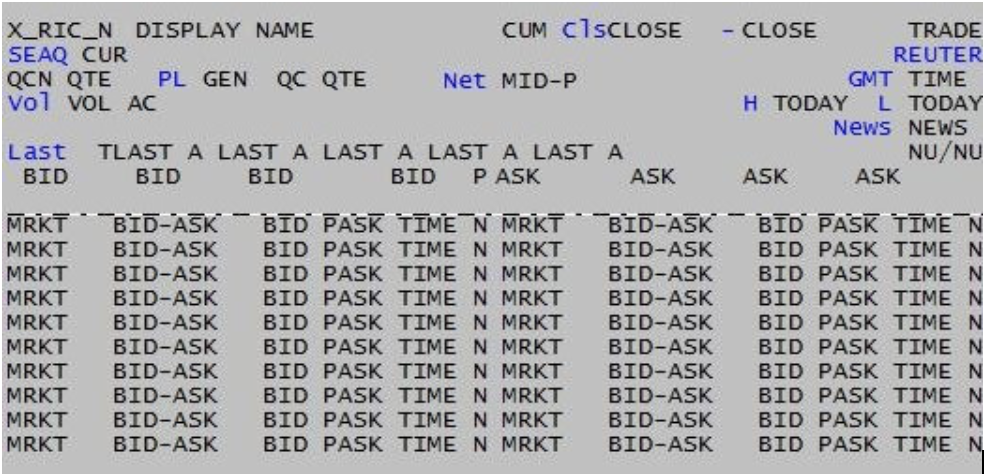 PHOTOS: In 1992 the RT undergoes a massive upgrade to its display, making it a much slicker UK equity product. Examples of old and new displays and what the new technology allowed long before anyone had heard of a web page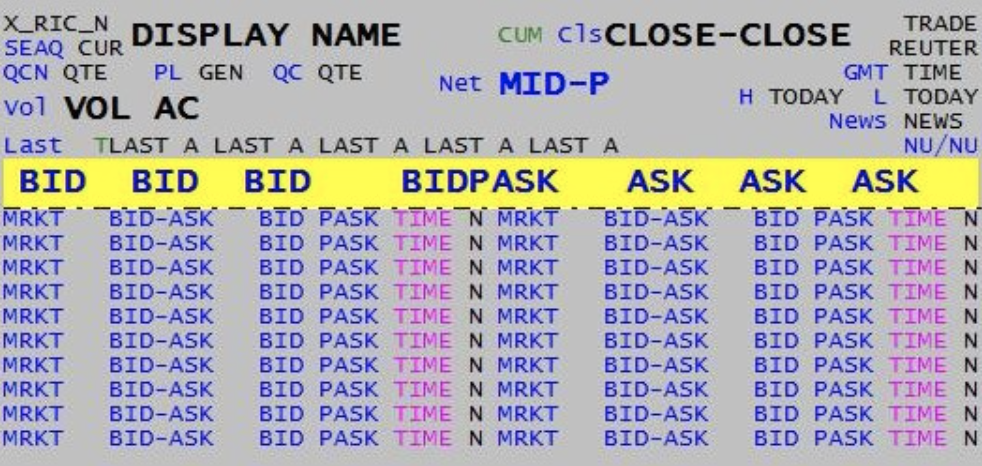 1993
IDN enters the year with an impressive backlog of urgent development including:
A generalised way for terminals to operate with interactive systems like Reuters Messaging

Aliasing which allows users to request data items using a market standard code other than the Reuters RIC code, e.g. Valoren number

Greater operations flexibility in the way that components are installed and configured.
There is also the annual head scratching over the infamous time to market problem, concerning the time taken to implement "simple" changes across the global network.

This now surfaces in the context of data feeds and concerns the need to ensure separation of the way the data is delivered, the way the data is encoded (or the data record structure) and the way it is displayed. It is increasingly important in a world where the future is seen as shrink-wrapped software supplied by data feeds. It would also help business units develop applications for their local clients, faster and independently of central system changes. There are already many examples of application software having been developed assuming a fixed structure for data in the interest of speed to market at the time. Other more subtle shortcuts have also been used, all of which compromise the architectural direction.

Another architectural pause: it is becoming very clear that allowing

datafeed

users to see the actual protocol of any transmission format is a mistake. Proper

APIs

should exist for all data access points but of course they don't and

unpicking

the spaghetti started in 1982 when the first

datafeeds

were installed is impossible.

One thing is certain - the time to change the content of a record or the way it will be displayed on

IDN

is unacceptably long.

Some estimate a number of years to implement network-wide changes to record and display templates. Unfavourable comparisons are made with Monitor where of course data is not logical and format changes are trivial by comparison. It all harks back to the original decision in the early days of IDN, around 1983, to postpone the capability to make real time changes to record and display templates to an unscheduled phase two release and to discussions in 1991 concerning actions to be taken. In all fairness to the designers involved at the time, it would have been very difficult to predict the ramifications of what seemed a simple pragmatic delay. The problem becomes more complicated with the advent of complex data types and multiple language support, with its need for different display templates. The sheer number of systems and development groups involved, all with their own conflicting priorities, defeats all attempts to schedule the work. There turns out to be no silver bullet for these problems and many of the workaround fudges stay with IDN until this day.

More cheerfully the Dealing client site now has a rich set of outputs available including:
The deal database or trade blotter with a record of completed deals and conversations

An audit log with a record of significant events to assist in resolving disputes

A completed transactions feed derived from the deal database

A dealing room overview feed provides trade analysis of all D2000-1 conversations

Credit information adjusted as a result of deals executed.
A Reuters Transactions database can now be made available to client site applications such as Deal Manager.

On the long journey from

Stockmaster

via Monitor and Dealing, the back office is reached as the next product area to be exploited. With all this in mind back office integration for Dealing clients becomes a focus. It is an area which is still well behind the times (when the trading floor uses the latest technology, it is 1965 in the back office) and is ideally suited for exploitation and automation. It all turns out more complex than ever envisaged but although the ideas and products will evolve and be developed the implementation problems, including lack of expertise, hinder progress and thus revenue opportunities.

The Singapore

QFE

is closed down as the switchover of clients from Monitor to

IDN

proceeds to schedule. It had been operational since 1987 and processed feeds from Singapore International Monetary Exchange as well as the stock exchanges in Singapore and Kuala Lumpur.

A new Dealing back-up design is introduced so that the system can survive the complete failure of a main technical centre. The previous architecture meant that a complete failure of London would halt the service completely, whereas now only clients directly connected to London would lose service. Other functions such as file maintenance could continue via another centre. A programme of enhancements to Dealing continues and software and hardware changes are introduced most weekends. By this point field visits have been reduced drastically with the introduction of remote software releases controlled from a central point. Thought of as a given these days, but the norm was for engineers still to visit clients to upgrade software. Unfortunately Dealing line speeds were still in the 1200/1800

bps

range which made downloading new software a lengthy proposition. Trainer visits often added a software upgrade to their list of things to do on visits.

D2000-2

clients have faster line speeds and so downloads of

D2000-1

software is less of an issue.

By this point 63 per cent of Dealing terminals had been upgraded to Dealing 2000-1 which meant they were "Matching" ready and on new, more easily maintained and reliable hardware and software. The system coped with record demands when Britain pulled out of the European Monetary System.

Reuter Terminal installations top 35,000.
The case is made by the executive committee to follow Chairman Mao's advice and 'let a hundred flowers bloom'. This follows on from the publishing of the four corporate objectives: 'close to the customer', 'beat the competition', 'loud and clear', and 'build for tomorrow's growth'
Messaging system futures are debated to include requirements such as order routing and transaction products for secondary markets. The solutions proposed include the evolving messaging/generic e-mail product and an IDN-based point-to-point messaging facility using the yet to be developed interactive "datagram" system. Messaging has the disadvantage of having an inherent store and forward design which delays traffic. Anyway, neither yet exists. Product direction for messaging seems to be aimed at the commodities and shipping markets.

Network problems are occasionally experienced with the

DECnet

network used by both

D2000-2

and

GLOBEX

. Paris is particularly troublesome for

GLOBEX

. It demonstrates how unreliable manufacturer's software can be in highly stressed situations. Workarounds are found but there remain issues with the maximum number of

connection

points that can be made on a standard

DECnet

network. It demonstrates that off-the-shelf network software can allow fairly fast time to market, but may have problems in demanding real-word situations.

GLOBEX celebrates its first birthday in June and its millionth transaction. It also sees 1,000 deals matched in one day. Some 300 terminals are now connected, up from the initial 165. Activity from the French futures exchange,

MATIF

, outstrips that of the primary Chicago partners, which is a concern.

The team from Richards Computer Products, which supplies the Dealing 2000 phase 1 client site software, wins a national competition organised by the British Computer Society.

About the same time as

GLOBEX

attains 1,000 futures and options deals Dealing 2000-2 reaches its own 1,000 daily trades target. Liquidity specialists (former dealers) are dispatched to help gee-up users. A competitive system,

Minex

, launches the same month. Dealing 2000-2 is established at nearly 250 sites, up from 23 at launch.

A global initiative is started to introduce automated systems into local data quality units to improve the efficiency of checking and correcting data, both as input and stored in a database.

Following the linking of the disparate internal e-mail systems, a product by DEC called

Teamlinks

is adopted as the standard e-mail interface for all internal desktop environments. Not an obvious choice at the time, it has the huge advantage that it works on PCs, VAX workstations as well as dumb terminals. Editorial treads its own path, as does Reuters America with an implementation of Lotus Notes.

The future of quotes systems is again debated a year after the abandonment of the single base system approach for the three areas. New ticker processing systems have been introduced and the European system completely overhauled using outside consultants to assist in the migration to a new platform. However, geographic differences continue to cause triplication of effort in many situations. On the positive side, this decentralisation helps get control closer to the data source and the local expertise. The outcome in any case is that Reuters is stuck with three large-scale area-based development groups for the foreseeable future.

Dealing 2000-2 introduce a new keypad with just the keys relevant to that service. Also a voice output capability using a speaker in the keyboard. The latter never catches on.

A VAX-based Dealing 2000/1 concentrator is introduced to replace the ageing

PDP-11s

which are nearing the end of their life and are getting much harder to source. A similar initiative is already under way for the network nodes which are slowly converted to

VAXs

too.

The case is made by the executive committee to follow Chairman Mao's advice and "let a hundred flowers bloom". This follows on from the publishing of the four corporate objectives: "close to the customer", "beat the competition", "loud and clear", and "build for tomorrow's growth". This inevitably leads to a proliferation of development activities and will make duplication and architecture harder to police.

The Reuters America "vision" initiative continues with vastly differing views on its success. It certainly seems to promote a great deal of angst and soul searching. Some people have a "road to Damascus" moment, while others find it just a familiar and well known song to a slightly new tune. Development groups generally avoid the whole subject and worry more about quality, cost and doing more with less as cost controls continue to bite but without any lessening of the pressure to deliver.

An agreement is signed with Cantor Fitzgerald for access to European bond broker price data. For the first time Reuters has to pay for contributed data. This is one of several deals with brokers where long term agreements are made to access and display valuable data.

IMS strategy is the subject of a major review as the

Triarch

product line must be updated to a world where all services are designed for

datafeed

delivery with access provided to new databases and services such as Messaging. Marketing aims to move to the world of "open systems" with separate offers to the customer for hardware, display software and data rather than a traditional bundled approach. This is very advanced thinking for the time and ahead of competitors who advocate a bundled approach. Technically it is not straightforward to get there from the current spaghetti of closed systems. A tactical concern is that the current client site user experience is not as slick as that of competitors. It seems that the terminal from the French acquisition

Effix

may have the best approach going forward. In any case meeting the needs of clients who are pressing for further integration of their applications with

Reuter

data leads to an opportunity to build close local relationships. The desktop design group is set up to coordinate the efforts of local staff who sit alongside clients and help them get the most from the capabilities available and also provide input into future designs. Making use of the new "open platform" depends on clients being able to use the data and so, well ahead of Apple and the

App

store, the Reuters Third Party Programming Interface is born. Applications providers are targeted to develop to this interface and a library of applications evolves that can be integrated into the open systems environment.

A Monitor end life project is formally set up with the twin objectives of upgrading all Monitor terminal devices to single line delivery

IDN

devices and to decommission the Monitor A and B networks.

IDN

will be able to support Monitor (green screen) terminals so that the Monitor network close down is not dependent on upgrading Monitor terminals in the field. Some Monitor functions continue to prove hard to replicate on

IDN

and questions remain about how to do that. Services such as shipping are particularly affected. Contributions are also a major headache as

IDN

is well suited to larger scale

datafeeds

but not for manual contributors, for whom a technical solution is clumsy and in some cases inadequate. This is all the result of the muddled thinking between broadcast and genuine interactive services which has been ever present in the evolution of

IDN

. An example is some of the specialist data which is contributed in free paginated form which the contributor must agree to convert to logical form.

A new version of the

Reuter

Terminal is released offering an upgrade to Windows 3.1 for more stability and memory for larger applications but most importantly background downloading of updated software whilst the terminal is still in use. Previously the terminal could only be downloaded when not in use, e.g. at weekends. Further useful information about

RT

usage is made available centrally.

The now very slick UK Equity Focus product is launched to compete with the London Stock Exchange Topic service.

Meanwhile, a new fixed income organisation is announced and a very large project is set up known as Armstrong which will form the basis for the new generation of products for capital market customers. The goal is to capture, store and deliver the necessary data as well as the appropriate

analytics

for a capital markets product. It also recognises the disappointing progress on

Decision2000

and the teething problems with software quality, data quality and coverage; not to mention response times. The existing information products infrastructure has been developed to deliver real time information effectively and efficiently to an open

datafeed

interface and cannot be enhanced for the necessary database storage, search and

analytics

capabilities. The obvious choice, given the situation, is the newly defined

RDB

platform being developed as a Toronto replacement. A good moment for someone to say that "I wouldn't start from there" but, in the rush to make progress, no-one does. So the choice fails to fully take into account the changing pattern of demand that will be placed on the infrastructure by Armstrong which requires a large number of relatively simple queries. Diverting the

RDB

design from a data warehouse with an "end of day" batch focus to a client-facing system with an on-line transaction load and a vastly different transaction mix will challenge the designers and developers for some time to come. Certainly, to displace the competition, any capital markets development has to be very much better in most respects. Decision 2000 fails to do this and Reuters finds itself with a very long way to go.

Whilst one part of development wrestles with brand new database toys the Dealing team face the fact their top-of-the-range terminal still depends on information from Monitor and it is proving difficult to switch to an

IDN

replacement feed.

A new multi-port router from DEC is rolled out on the

D2000-2

network which reduces the number of routers required and makes management of the network much easier. It is a large and expensive global task.

A closed user group facility is added to the Dealing 2000-1 network such that collections of clients (for example countries that do actually get on) can be defined who can only contact one another rather than the wider population. It replaces the initial crude centrally administered control. The first implementation is for Poland.

The old

PDP-8

terminal controllers still represent a sizeable chunk of the Dealing base with 1,388

PDP-8s

out of a total of 3,312.

By now space on the Dealing screen is problematic. Conversations windows compete with matching data, news alerts, ticket data and so on. Fixed format dealing with structured conversations, rather than free form, evolves in an attempt to ease the screen real estate problem. It also simplifies the ticket analysis software which is proving somewhat unreliable in interpreting the free format conversational text.

Another attempt is made to develop a small scale local market matching system, this time for the Mexican money markets, using the latest technology that Microsoft has to offer. In spite of much skilled effort being deployed to the detriment of other projects and the unscheduled debugging of the latest Microsoft Visual Basic compiler, the product is never launched.

Letting a hundred flowers bloom and using some of the cash reserves results in several important acquisitions:
Teknekron Software Systems, a Palo Alto-based software supplier and systems integrator. It is a competitor to Triarch in dealing rooms but also has clients outside financial services. It continues to be run independently with the weird prospect of customer-facing competitive bids from two different parts of the Reuters group. Teknekron markets itself as a technology agent with a mechanism to tie applications together via the Teknekron Information Bus - a sort of sophisticated local area network with software interfaces. The company line avoids the obvious questions on how to manage competing entities and pitches it as a strategic deal to combine the two companies' expertise to better handle client needs.
The Quotron market data business is acquired to reinforce Reuters position in the equities market and increase share. The task is to turn a loss-making entity into profit. Integration will be difficult. In fact it remains outside the fold for its life. The acquisition excludes the foreign exchange operations but doubles the Reuter share of the global equities data market and increases the current US share from a paltry four per cent to 20 per cent.
Another US acquisition related to Quotron is the American Real Time Services Inc (ARTs) which provides a client site application for the US domestic markets for which Reuters has never developed a satisfactory offering.
VAMP is a provider of computer facilities for UK doctors. It seems to be a fit with Reuters' ability to distribute information quickly to any location, and is later complemented by other acquisitions in the US. It may be a technical fit but the product area is quite different from a marketing and sales point of view. The entry into the unknown health market is fraught with risk.
1994
SDS-4, a new high speed satellite delivery system, replaces the previous generation SDS-3. It uses an entire transponder on Eutelsat II which carries the information services as well as Reuters financial television. It is hoped that a substantial part of the product range will be made available directly to an ever increasing number of subscribers via this route. It initially offers a data speed of 448 kbs compared with 134.4 kbs of SDS-3 and the ability to handle 1024 kbps. A massive programme of upgrades is planned to downstream devices to handle the increased speed - a familiar tale to Reuters developers and operations staff.

Two contribution mechanisms are launched to allow data contributions into IDN. A device called the xCI is located on the client site and can receive a direct feed from the client's own computer, in the style of the earlier Monitor contributions interface. An RT application, the CUI (contributor user interface), already delivers contributions to the old Monitor network from client input via a separate Monitor line. A new application, Insertlink, with identical functionality is introduced to deliver contributions via the IDN network. At this point the Monitor A network is still the main mechanism for collecting contributed data.

The

Hauppauge

footprint increases with the lease of 104 Parkway Drive South.

Teams in

Tiverton

, Toronto, Singapore and Stamford are now in place with the task of improving the provision of time series and historical background data. Applications to use the data are many and various and include graphics, analysis as well as

Decision2000

and trading room services from the likes of

Effix

. Although considerable progress has been made with much fundamental data stored and available, more remains to be done. Staff have to be trained in the complex language of international fixed income securities markets. There is a race to maintain coverage in a huge period of growth in the markets.

Editorial leaves the head office in 85 Fleet Street to share a building in

Gray's

Inn Road with Independent Television News. Reuters buys 85 Fleet Street from the Press Association. The System 55 editorial system soldiers on but is planned to be replaced by a new system, FLEET (various explanations for the acronym are circulated, most unprintable).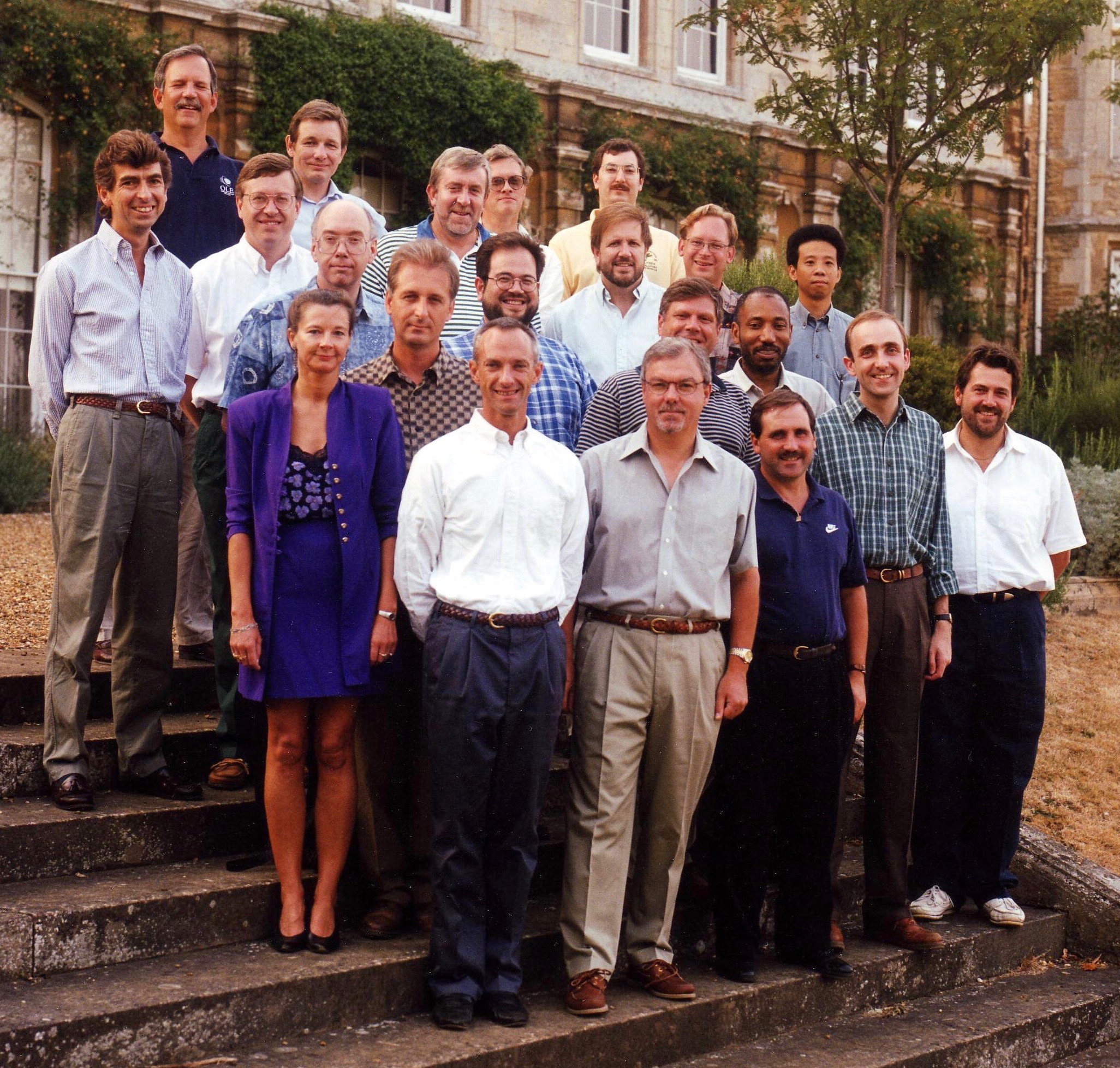 PHOTO: Global technical development and operations meeting to discuss IDN Renewal 1994. Row 1: Glynn Evans, Martin Davids, Alex Mcluckie, David Jacobs, Mike Sayers; Row 2: Cherylin Fletcher, Colin Steadman, Dave Allen, Lewis Knopf, Art Johnson; Row 3: John Goacher, Dave Wallace, Brad Rodes, Kenneth Tsui; Row 4: Trevor Bartlett, David Kirby, Alan White, Glenn Wasserman; Row 5: Bill Donner, Richard Willis, Peter Kingslake
As part of the move to open systems, a networked

RT

is released which allows customers to

install

a bundled

RT

application on their own PCs and distribute

Reuter

information across their own networks. The

RT

Power Plus, which allows clients to feed

Reuter

data into their own applications, has been around for a while. This compounds the existing problem with Trading Room Systems customers, of billing clients according to the number of terminal users that they report.

Open systems is a new way of doing business and the disciplines of selling, installing, administering and supporting all have to change. Current examples are: Data delivery systems such as

Selectfeed;

technical interfaces such as Reuters

Triarch

SSL

and the

RT

dynamic data exchange; applications such as

Effix

workstations; and networked solutions such as the Networked

RT

.

IDN

,

Triarch

and transactions have always benefited from very strong central architectural leadership. The looser guidelines for

RT-based

add-on applications become harder to police as the world of Windows-based development becomes ever more decentralised.

Decision2000 development is moved in house and the previous owner is bought out. It establishes Stamford, Connecticut as the

HQ

of the new initiative to gain data expertise in the capital markets and historical databases areas. To complement the database initiatives a stake is acquired in

Equisoft

which specialises in applications for securities market

analytics

and calculations. It is based in

Colchester

near London. Their Equation product is used to deliver the client functionality and uses scripts (a little like Excel) to produce the requisite displays and calculations as well as the

analytics

routines.

Intel delivers to Reuters the 100,

000th

PC since the agreement was signed in 1989.

A major

Quotron

improvement is completed when new servers are introduced. Developed by another small US acquisition,

ARTs

, they translate

IDN-

formatted

data into a form suitable for the

Quotron

terminals and so facilitate the closing down of the

Quotron

ticker plants with significant cost savings.

The

GLOBEX

contract is reviewed as the daily turnover target of 50,000 transactions had not been reached by April 1994. One of the partners,

CME,

proposes a new system of governance to allow other exchanges to participate fairly and equally. Another partner,

MATIF,

agrees and they still generate 85 per cent of the traffic but the

CBOT

decides to leave and develop an alternative with

Bloomberg

. Deutsche

Terminborse

says it would join

GLOBEX

but

LIFFE

decides against. Reuters still owns the problem of the development and operation of the hardware and the software and leases the terminals to users. Over $100 million is said to have been spent so far. Much of the problem has been building capacity for activity levels that never materialised.

IDN now carries non-Roman scripts such as Japanese, Chinese, Arabic and Russian. The first application is aimed at Japanese domestic markets and incorporates data, news and applications in Japanese. It involves regional developers in Hong Kong, Singapore and Tokyo as well as central developers in London and New York.

The Armstrong database hardware (

RDB

) arrives in

Docklands

. It is an

NCR3600

with the potential to store more than 1

Terabyte

(1,000 Gigabytes) - half as much as many current home PCs. Commodity Intel 486 processors provide the basic building blocks (the

Pentium

has not yet appeared) and hundreds of such processors can be configured. The first deliverable discussed is Securities 3000, a successor for the equities market using infrastructure from

Equisoft

and announced for late 1995. Phase Two is aimed at Fixed Income. At the same time a new and important device comes into being - the Session Server. This acts as a TCP/

IP

router, with address translation allowing the client's network to connect directly to the Reuters Network. This is a commodity item now but was innovative at the time. The

Teradata

database accompanying the

NCR3600

hosts the data and is particularly good at high update rates and computationally intensive retrieval requests as specified in the proof of concept. It is less good at the different transaction mixes that will be encountered with Armstrong. Finally the NCR Top End product provides security and load sharing for the client.

Analytics

are produced centrally via analytic servers attached to the main database host. Central functionality allows

permissioning

to be enforced and searches to be undertaken. An early proof of concept is demonstrated with an

RT

application accessing the

Teradata

database via the

IDN

HPSN

Gateway.

Reuterlink and

Reuterlink

for Windows provide interactive access to Toronto database. It allows bulk historical data to be pulled into the terminal for modelling and calculation purposes.

IPSANET, the

IPSharp

communications network, is switched off with all 4,000 clients being transferred to

HPSN

. Close downs are never glamorous and, as in this case, mask the huge effort involved.

Reutermail is announced for the

RT

and offers a high speed e-mail facility in a window with the ability to send relevant attachments from one terminal to another. Books of Royal Mail first day covers are dished out to celebrate. Whilst the publicity trumpets the business benefits it is just another e-mail system and does not emulate the more "chat" oriented capabilities of the competition. It is another example of a new application being developed by outside consultants to get round the central log jam of

infrastructural

work.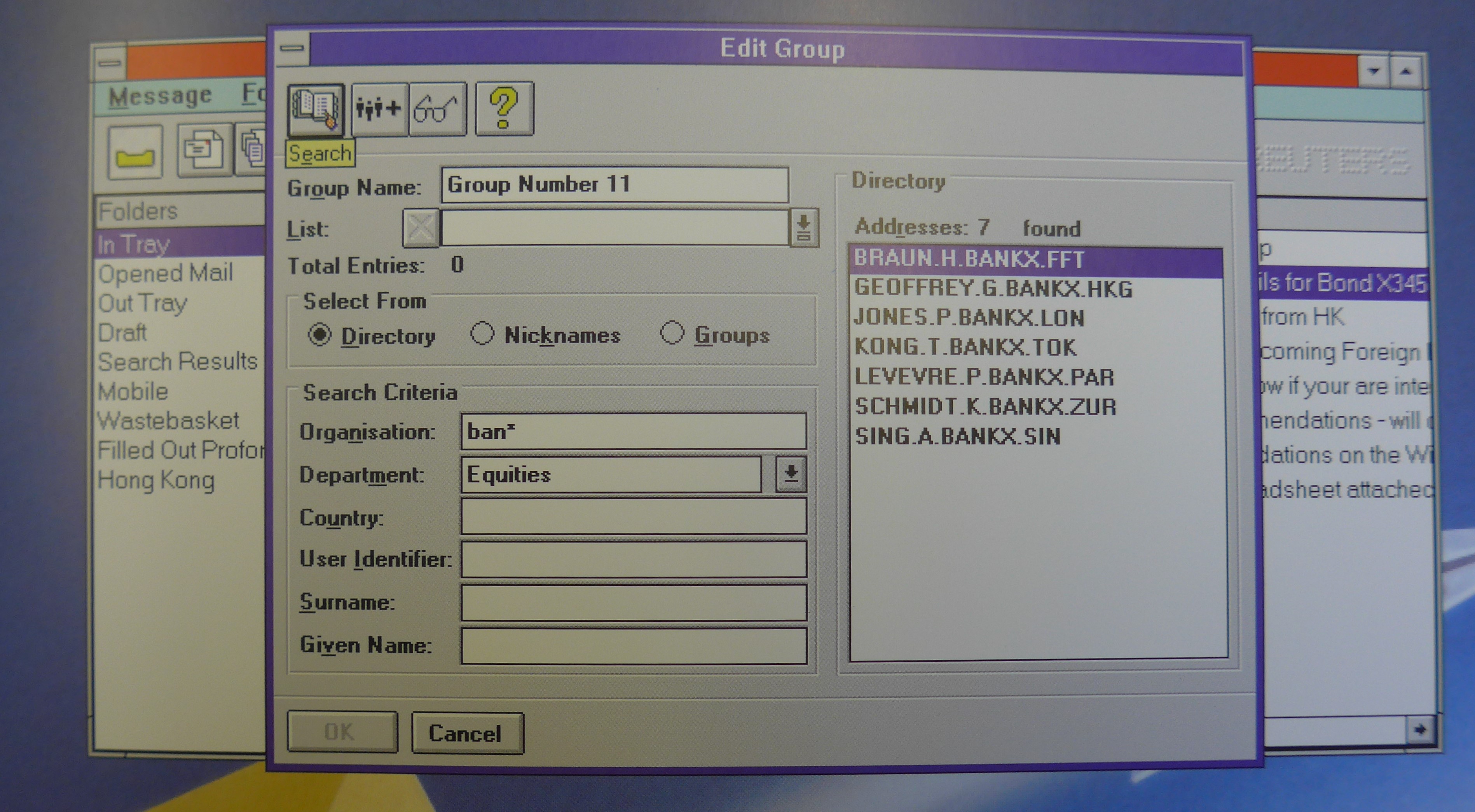 PHOTO: ReuterMail display
IDN goes into another capacity-induced crisis. Sloppy use of the valuable resources has led to systems running out of capacity after many years of uncontrolled growth. There are more than 1.5 million records compared with 220,000 five years previously. Updates at New York market opening are in excess of 1,000 updates per second. It is clear that the architectural model of sending all updates everywhere is not sustainable. Further, few clients need access to all 1.5 million records on a tick-by-tick basis. Committees are set up to manage requests for data additions and to comb through products using unacceptable high levels of resource. A programme, called inventively IDN94, is set up to stabilise and incrementally improve the IDN network.

The usability group is set up to improve the user experience of Reuter products. The objective is to provide guidance on developing products that are easy to learn, intuitive to use and efficient to support. The idea is that in a specially designed environment (the laboratory) marketing, development and usability experts can observe exactly how customers perform tasks and where problems are encountered. All client-facing products are required to be passed through the laboratories. It is a very worthwhile exercise but like all good initiatives risks going completely over the top as all sorts of specialists are employed, expensive studios are built in three locations, and a queue of products awaiting testing develops. It should be remembered how hopeless many clients were in that era in using the capabilities and functionality on offer. Often a trainer would set up a screen for them, tell them what to do, and that is how it stayed until the next visit. The client seemed to have no interest in refining or changing anything and was not interested in learning how to go about it. This was particularly true of the Dealing product family where the screen real estate problem has already been mentioned. So a major aspiration is for the usability process to address these many issues, changing the way the clients perceive and use the products, and so designing more usable products.

Development groups embrace the idea of ISO9000-based quality assessment and some start the process of certification.​

​​
many clients were hopeless in using the capabilities and functionality on offer. Often a trainer would set up a screen for them, tell them what to do, and that is how it stayed until the next visit. The client seemed to have no interest in refining or changing anything and was not interested in learning how to go about it
A programme for administrative reform (PAR) is started in conjunction with IDN94. It aims to bring some order out of the marginally chaotic product administrative systems. They did manage to give away some passable golf umbrellas.

Based on the questionable assumption that IDN has gone as far as it can go and within the next few years can no longer move forward, a new mechanism is proposed which is more amenable to product change. In the words of the problem definition "to provide the client with a service exactly as required, where required, the way required and with a quality of service at an acceptable price". Of course everything is promised in the initial proposal, even a Beta test in a little over a year. The idea that a radically new path should be chosen over the evolution of IDN is accepted but the instruction is that it should also be used to test the viability of the Teknekron architecture. So a project is set up in Palo Alto with Teknekron staff and architects. Reuter staff assist in outlining problems with IDN that are proving difficult to get round. There are many misgivings on the Reuter side as the Teknekron Information Bus (TIB) architecture has not really been tested over the "very" wide area. Nevertheless it proceeds as a prototype called Model T and then as a project known as IDN REDUX. The Teknekron approach proposes a decoupled architecture using "Publish/Subscribe" and "subject based addressing" which allows applications to be independent of the underlying hardware or network. New publishers or consumers can be added easily, Teknekron says.

Reuters' approach to IDN evolution is likened to repairing a cumbersome aircraft carrier which may or may not succeed, whereas with TIB the promise is a fast attack boat to quickly kill the problem. Certainly it would be good to extract value from the Teknekron acquisition and leverage their technologies and people. One suggestion is that rather than try to replace a global network the project should consider addressing the problem of contributed data with which the IDN broadcast model has struggled. IDN did make a revolutionary step forward by recognising the need to move away from just viewing data to being able to process it, i.e. offer data in a logical form in which elements of data are individually identified. It enabled Reuters to offer an open interface to its data. However if indeed we are progressing to a world of contributing and receiving complex objects over and above basic data (e.g. graphics, video, etc) then IDN is not the solution. Particularly the idea of distributing multi-media objects rather than just information. In the background the Internet is appearing with the tantalising possibility of getting there first.

If Project Armstrong is to succeed a much more coherent approach is also needed with data collection. This is done in a myriad of different ways and reflects mostly the history or geographical origin of the architecture/approach chosen. The whole thing has grown like Topsy. The organisation still does not reflect the fact that data gathering is a key strategic asset and it is left to the individual business units to sort out. Whilst they may indeed know most about the data to be collected they will tend to take the cheapest route to providing the data required in a format convenient to them. Nothing much happens, which will cause Armstrong many difficulties.

It is worth recalling that the flagship D2000-2 product still receives data from Monitor and is proving a tiresome dependency on the Monitor close down plan.

The first complete Armstrong Technical Specification is issued. Worthy goals include an architecture that is open, layered, and modular, and supports terminals and data feeds all with a rapid time to market. The product requirements include a large database (for the era), many subscribers supported, high performance, fast time to market in that new data items and analytic functions can be introduced without complex client site upgrades. Also to have an interface that is one or more open APIs as part of the general strategy to migrate from message interfaces to genuine APIs. Very many standards are involved. Conforming to evolving standards is seen as a good thing. A far cry from when Reuters set the standards. Exotic names for sub-systems are coined such as MAMA, Hades, Gaia, and Magellan.

Meanwhile IDN growth in subscriber numbers continues to be an issue with very high growth rates in traffic and database size. Infrastructure costs continue to track both items a problem which Glen Renfrew highlighted many times. Initiatives proposed include widespread use of the Asian broadcast system AMS. A new evolution is the dynamic AMS which is more sensitive to the downstream data being processed/viewed and so the memory can be reduced and hence costs reduced. Other initiatives involve tinkering with the combination of broadcast and back link to get the best outcome. As always, the trick is to find the broadcast bandwidth which provides the most interesting records whilst recognising that some products are sold as broadcast only and will of necessity contain not very interesting records. HPSN provides a cheaper way for the backlink to function.

Reuters Newmedia is created to exploit opportunities in emerging markets for multimedia information. Early partners include America On-line and Prodigy. Publishing Reuter content on the internet and seeking new partners are the next steps in the fledgling initiative.