Archives
Romantic, idealist and no chip off the old block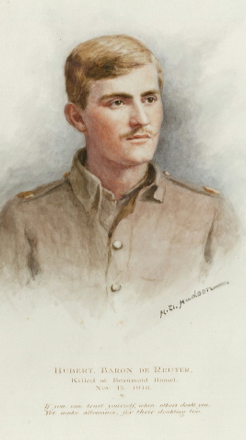 Hubert de Reuter, grandson of Baron Julius, founder of Reuters, was anything but a chip off the old block. Any cherished hopes that, one day, he would take over the mantle of head of the company were soon to be dashed.
Hubert Julius de Reuter was not like his grandfather. A romantic and idealist of the kind destined to die - both spiritually and physically - in the mud of Flanders, he seems to have inherited little of the drive and business acumen of the first Julius. Perhaps he was more of a Campbell, his mother's family. Perhaps also, as the son and heir of Herbert, 2nd Baron de Reuter, the need for drive and tenacity in business was not sufficiently strong. The hunger just wasn't there.
For Hubert did not want to be a journalist. He most certainly did not want to be a businessman. What he wanted to be, above all else, was a poet.
He was born in 1878, four months after the retirement of his rich, successful and famous grandfather, Julius, first Baron de Reuter, founder of Reuters News Agency. Hubert's father, who had himself passed through an aesthetic phase, had by this time knuckled down to be Julius's successor as Head of Reuters. Reuters was transforming itself into a national institution, an essential cog in the communications network of the British Empire.
From Harrow School, Hubert went to Weisbaden in Germany where he spent two years improving his German (the first language of his paternal grandparents) and acquiring a taste for the local beer. There then followed three years in Lausanne "learning French and climbing inaccessible peaks".
Eventually he returned to London and started work as an editor at Reuters' Old Jewry office. He was moved to Reuters in Melbourne, Australia and then did a stint as a correspondent in Constantinople. He hated every minute of it. Finally the fact had to be faced that Hubert and Reuters were never going to be compatible. Reuters was not destined to continue as a family-run fiefdom. Hubert resigned to become a tutor and schoolmaster, writing songs and poetry in his spare time. A sample of his verse:​
the fact had to be faced that Hubert and Reuters were never going to be compatible. Reuters was not destined to continue as a family-run fiefdom
Perhaps you'll say this was not love
May love not live in one heart alone?
Or must there be two fires that move
From two souls to make them one?
The Gypsy Melodies was published in 1907. The Scotsman newspaper praised it constructively but not unreservedly. "The book," it informed its readers, "contains a great number of gracefully turned lyrical pieces, of which the most characteristic set a lively fancy playing around the beauties of Nature". Overall, the reviewer felt that "without reaching any very lofty height as absolute poetry, the work is invariably tuneful and pleasing, and cannot fail to please any lover of poetry who reads it sympathetically".
War was declared in August 1914. Hubert joined the Sportman's Battalion as second-lieutenant. Aged 38 and kept back by the regimental depot because of his steadying influence on his juniors while wave after wave of younger men were sent to Flanders, discontent and frustration set in. He resigned his commission, put a coat over his officer's uniform, re-enlisted as a private in the 42nd Highlanders and, almost immediately, was sent to France. He was killed at Beaumont Hamel on 13 November 1916 after capturing single-handedly 98 Germans and then carrying to safety, one by one, under heavy machine-gun fire, no fewer than three badly-wounded men of his own platoon. He was buried close to where he fell.
His father, Herbert, 2nd Baron de Reuter, had died by his own hand in the previous year.
The direct connection of the Reuter family with Reuters had only lasted for two generations.
POSTSCRIPT
A few nights before he returned to the front for the final time, Hubert dined with Roderick Jones, the third head of Reuters. Perhaps with some premonition of what was to come, he asked Jones to accept as a personal gift an oil painting and bust of Baron Julius, his grandfather. Neither item, he said, was thought much of by the family. Today the bust stands in the reception area of Thomson Reuters' London office at Canary Wharf. The painting hangs next to a portrait of Roy Thomson, founder of Thomson Corporation, at 3 Times Square, New York. ■