News
Reuters reduces Chinese news site, redeploys staff
Wednesday 15 June 2016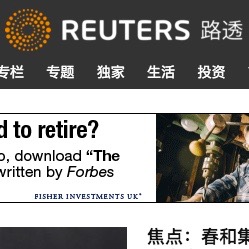 Reuters is scaling down its Chinese-language news website and redeploying some staff in Beijing.
"We are reorganizing our Beijing editorial consumer operation to deploy more translation and editing resources to our professional news products from Reuters.cn," digital executive editor Dan Colarusso said in an e-mail.
"We will keep a small team running the website, which has been unavailable to readers inside China, and will automate a large portion of the site around our core financial coverage. This team will also experiment with various social media platforms to best reach Chinese readers," the e-mail said… "We [will] continue to pursue revenue opportunities with Chinese marketing clients."
A Reuters spokesperson told the Hong Kong Free Press website that its digital team would be restructured. "We remain totally committed to reporting on stories from the country, including on cn.reuters.com," the spokesperson added.
Reuters.cn has been blocked in China since March 2015.
Bloomberg scaled back its China news coverage in 2013 after a series of articles about the wealth of Chinese leaders infuriated Beijing. Bloomberg chairman Peter Grauer said the company should have focussed on its core business news to avoid jeopardising its sales potential on the mainland. ■
SOURCE