News
Thomson Reuters forex volumes fall sharply
Wednesday 13 April 2016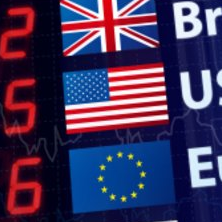 Daily spot trading volumes on currency trading platforms run by Thomson Reuters fell sharply in March, continuing the downward trend of recent months, according to figures released by the company.
Spot currency trading volume on its platforms totalled $104 billion in March, down 21 per cent from $132 billion in March last year, and down six per cent on the previous month.
Total foreign exchange trading volume across Thomson Reuters platforms fell 10 per cent to $362 billion a day in March from $402 billion the same month last year.
The decline in trading volume across the world's largest financial market is the result of tighter bank regulation, fragile emerging markets and lighter global trade flows, analysts say.
Total volume actually rose 1.7 per cent from February thanks to a rise in non-spot trading activity, the data showed.
But the broader downward trend mirrors figures from rival platform EBS whose daily volume fell 27 per cent in March to $83.7 billion.
Much of the trading in sterling and "dollar bloc" currencies like the Australian and Canadian dollars goes through Thomson Reuters platforms while EBS has more euro and yen volume. ■
SOURCE