News
Obituary: Reg Potterton
Thursday 6 July 2017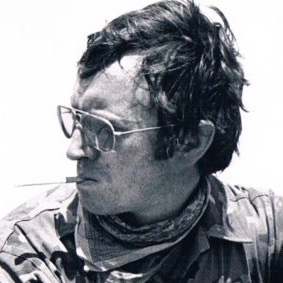 Reg Potterton (photo), one-time Reuters correspondent and a feature writer for Playboy magazine in its heyday, has died at the age of 81. He ghosted travel articles for the novelist Len Deighton in the 1960s and then wrote them under his own byline.
"Publisher Hugh Hefner told me I could go where I liked, spend what I liked so long as I turned in half a dozen decent lengthy pieces each year," said Potterton. "I had a ball".
London-born, he travelled the world for more than a decade describing exotic destinations. In between, his assignments varied from reporting the war in Vietnam where he suffered tinnitus from shell explosions, to covering major US events like the Edward Kennedy tragedy at Chappaquiddick.
He met many of the major celebrities of the time and was one of the few journalists tolerated by Frank Sinatra. The singer even invited him to help blow out his birthday candles.
When in a drunken spree Gonzo journalist Hunter S Thompson lost all his notes of a long running billionaire divorce case, Potterton became his saviour and covered for him.
His memoir of working for publisher Generoso Pope at the National Enquirer was just one of many amusing pieces to appear in Playboy. He had a gift for sardonic humour which was not always appreciated by his targets.
Hefner clamped down on a biography in which Potterton recounted the problem of his boss's favourite toffee apples melting in the heat of a Chicago summer. The patisserie made them only once a week so a supply was kept in the fridge-freezer. That made the toffee too hard for Hefner's liking so they were moved to the climate controlled computer room. When the technicians complained, Hefner solved the problem by buying the patisserie and having toffee apples made daily.
During British National Service he worked for army intelligence in Egypt and survived a terrorist attack in Cyprus. His Blighty plane was blown up by EOKA as he was about to board, killing several passengers while he escaped to safety under fire.
Awarded £50 for the loss of his kitbag with all his possessions, Potterton quit his demob job with the South Wales Steel Board and emigrated to Canada. A trial with the Montreal Monitor led to a regular column. Next stop New York and the job he said he always wanted, working for Reuters. That ended when he dated the news editor's secretary, so he moved to AP's business section.
When he left the staff of Playboy he drew his pension, bought a sail boat, sailed the Atlantic and jobbed around the Caribbean for several years, eventually editing Yachts International in Miami. He also authored a biography: Mafia Wife.
An earlier passion was blues and he enjoyed playing stride boogie woogie on his or anyone else's piano.
He worked briefly for London News Service but quit when features editor Neil McCarthy said he wrote with his trousers on. "I was never sure what that meant but it didn't sound like a compliment" he complained. "I now write with a brown paper bag over my head".
Potterton's one regret was the difficulty he found in keeping on his trousers. He was wedded three times.
He was grateful for the care of the Journalists' Charity after a series of strokes. He died in hospital on 29 June after undergoing an MRI scan.
The funeral service will he held at St Andrew's Church, Walberswick​, Suffolk on Wednesday 19 July at 2:00 pm. ■