News
Thomson Reuters Foundation worker marks one year in detention in Iran
Monday 3 April 2017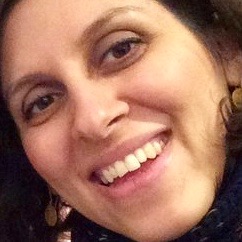 One year ago today, Thomson Reuters Foundation worker Nazanin Zaghari-Ratcliffe (photo) was arrested at Tehran airport after visiting her Iranian parents.
She is still in prison following a trial on espionage charges and her infant daughter Gabriella remains stranded in Iran with her grandparents following confiscation of her British passport.
Zaghari-Ratcliffe, 38, was sentenced to five years imprisonment in September and lost an appeal in January, but maintains her innocence against a charge of plotting to topple the government.
"She was working on programmes which had nothing to do with Iran, in the media development part of the Foundation. So she had no way of spying on Iran," Monique Villa, chief executive of the Foundation, said on BBC Radio's Today programme. "It's just unbearable and unfair."
Villa said she worries about Zaghari-Ratcliffe's health. "All I hope is Nazanin is going to be freed very soon. I'm 100 per cent sure she is totally innocent and she is someone of integrity so I'm very afraid of the scars she will have after such a long time in jail."
Zaghari-Ratcliffe is married to British accountant Richard Ratcliffe and is a dual citizen of Britain and Iran.
Amnesty International called on the British government to "drastically raise its game" in securing her release. Amnesty said it was baffling that Foreign Secretary Boris Johnson had not met Ratcliffe, nor replied to a letter its director sent him about the case last October.
"It's baffling that the Foreign Secretary still hasn't had a single meeting with Nazanin's family who are of course sick with worry about her," said Kathy Voss of Amnesty International. "It's a full year now since Nazanin was arrested in Iran and it's six months since she was given this completely unfair sentence. The UK Government needs to drastically raise its game on Nazanin. It should start by loudly and clearly calling for her release."
"We continue to raise our strong concerns about all dual British-Iranian prisoners in Iran, including Mrs Zaghari-Ratcliffe, at the highest levels in both London and Tehran," a Foreign Office spokesman said. "We have been supporting Mrs Zaghari-Ratcliffe's family since we were first made aware of her arrest." ■