News
Reuters names new global pictures editor
Thursday 12 January 2017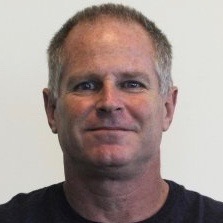 Reuters' new global pictures editor is Rickey Rogers (photo), editor, Americas pictures in New York since 2015, and there's a new role for veteran award-winning photographer Yannis Behrakis.
Rogers will be responsible for maintaining Reuters' reputation for excellence in pictures globally. He will also ensure the team works even more closely with colleagues from text and video to deliver the world's best multimedia news service, said John Pullman, global head of video, pictures and sports, lifestyle and entertainment.
Rogers replaces Reinhard Krause who left the top pictures job last year to move from London to Berlin as head of the global pictures desk.
"Rickey and I have decided to strengthen the pictures management team by creating a new role for Yannis Behrakis," Pullman said. He will become senior editor, special projects, and will work closely with Rogers and the regional picture chiefs. "In this role, Yannis will help to ensure we always deploy our best talent to maximum effect, and that we develop a more agile and diverse workforce to guarantee future success."
Prior to joining Reuters, Rogers was an oilfield geologist in Texas and Egypt before turning his passion for photography into his livelihood. In the 1990s he founded the first news picture agency in Bolivia and worked for Reuters as a stringer. He then became Reuters' chief photographer for Southern Latin America, and later for all of Latam, based first in Buenos Aires, then Sao Paulo, and finally Miami. His responsibility was extended to include North America in 2015, when he moved to New York.
Behrakis has a 30-year history with Reuters and has covered major news events all over the globe. He was chief photographer in Jerusalem from 2008-2010, before returning to his native Greece. He was a key member of the Reuters team that won the Pulitzer Prize for Breaking News Photography in 2016 for coverage of the refugee crisis. ■
SOURCE

Reuters