News
Obituary: Allan Barker
Monday 9 January 2017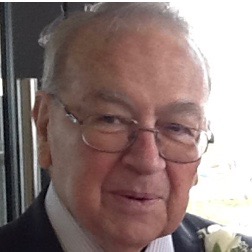 The Sarge is dead. Allan Barker (photo), a 35-year veteran Reuters journalist who retired in 1995, died in hospital on Monday after a short illness. He was 83.
An Australian born in Perth, he was known to colleagues as the Sarge - an affectionate nickname coined by George Short, Reuters training editor who died in 1997.
"I'm not entirely happy," his catch-phrase, indicated that a journalist's work was not up to his own exacting standard.
Barker worked as an editor in key news centres including New York, Washington, London, Singapore and Hong Kong. On retirement he was chief sub-editor on the Business News Unit in London.
Last year, Barker cast his mind back to when he joined the London Central Desk, forerunner to the World Desk, in the summer of 1960 after a stint as a local hire in New York.
"The following layout of desk personnel sticks in my mind: On the down table desk, Jim Forrester, John Stephens and myself, in the filing slot Peter Mosley, editors in charge or copy tasters Nick Carter, Gordon Ditchfield, Ron Cooper, leads subs Hubert Nicholson, Ron Clarke," he said. "After recent sad events I seem to be the only survivor of that group. The grim reaper has taken a heavy toll of our fellow journos in the last few years."
Barker retired to Arundel, West Sussex, from where he kept in touch with former colleagues around the world and studied his twin passions of trying to pick winners at horse races and on stock markets, the latter with a group of colleagues in an investment club. Successes at both were mixed.
Five years ago he suffered a heart attack, the second in 22 years.
Barker and his first wife Frances separated in 1999 and some years later she died in hospital after a fall.
In May 2013 he married Doreen Stevens, a former dental nurse manager, who survives him, as does a son from his first marriage. The photo shows him on his wedding day.
One of Barker's last wishes was to return to Perth but doctors advised against the journey because of a chest infection.
Cremation will be at Chichester. His ashes will be flown to Australia and scattered on the race track at Perth.
---
Postscript: The funeral will be Monday 30 January 1230 at Chichester Crematorium, Westhampnett Road, Chichester PO19 7UH, UK and afterwards at the Norfolk Hotel, Arundel. Please advise the editor if you propose to attend. ■