Comment
Childhood memories of the Second World War
Friday 24 November 2017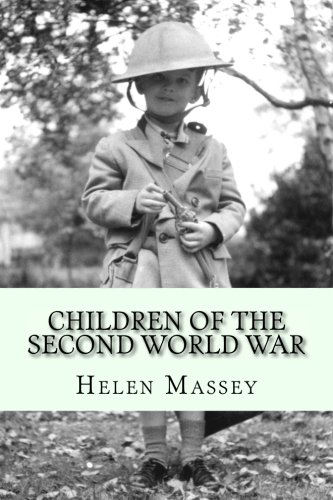 Helen Massey, widow of long-time Reuter correspondent Pat, was working on a book of childhood memories of World War II - hers and others - when she died in 2012. Entitled Children of the Second World War - Memories of evacuation, invasion and imprisonment, it has been finished by their daughter, Shauna, and recently published.
It was inspired by Helen's own experience as a refugee from Hong Kong to Australia in 1940, and - in part - by the experiences of Pat himself, the late Mary Thomson (widow of Ron) and Mary Norsworthy (wife of Rick).
Helen, a magazine journalist, had met Pat in Fleet Street when he was working for the Associated Press before joining Reuters.
Mary Thomson was among the first group of schoolchildren evacuated from London in August 1939, days before the formal declaration of war with Germany.
Each child was given a number, had a label with their name tied to their clothes, was allowed one suitcase and one toy. Mary writes: "There was I aged 11 marching away from school in a struggling line, clutching a little suitcase and my gas mask. I had no idea where I was going... on my first ever train journey."
Pat Massey was also evacuated from London at the same time to the genteel south coast resort of Bexhill on Sea. "Nobody imagined that within 12 months France would have collapsed and that Hitler's Panzar divisions would be parked on the French coast only 50 miles away." His exile lasted only a few months, but not long after his return to Catford in southeast London, Pat recalls seeing dogfights and dive bombers in the sky during the Battle of Britain.
Helen tells her own, moving account of a small child leaving Hong Kong with her mother and three brothers for Sydney, the war years in Australia, back to Hong Kong and the return to normal family life eight years later.
Mary Norsworthy recalls being evacuated to a quiet village in Bedfordshire near a large US airbase, forced to share a tiny cottage with a dozen or so people.
Other varied accounts include: the outbreak of war in coastal Norway; evacuation from Finland to Sweden; and childhood memories from inside Germany, Brazil, Hong Kong, Macau, the Philippines, Singapore, Java, China and Japan.
The book is available on Amazon - ISBN no. 9781542868785. ■