People
Paul Ingrassia joins Dow Jones watchdog
Saturday 17 December 2016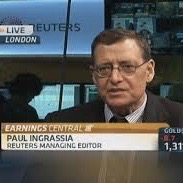 Paul Ingrassia (photo), who retired as managing editor of Reuters earlier this year, has been appointed to The Dow Jones Special Committee, formed under an agreement between the former shareholders of Dow Jones & Co and News Corp.
The five-person committee was established in December 2007 as an independent body charged with monitoring the adherence of The Wall Street Journal and Dow Jones Newswires to the highest ethical and professional standards under Rupert Murdoch's ownership.
Ingrassia worked at the Journal for 31 years as a reporter, bureau manager and editor, winning the Pulitzer Prize in 1993 (with Joseph B. White) for coverage of the management crisis at General Motors. He was appointed president of Dow Jones Newswires in 1998.
He left Dow Jones in late 2007 and subsequently became managing editor of Reuters. He retired in April. ■