News
Reports of Egyptian accusations against Reuters concern CPJ
Saturday 23 April 2016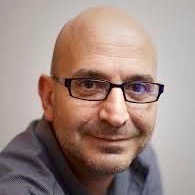 The Committee to Protect Journalists is concerned by reports in the Egyptian media that authorities have accused Reuters of "spreading false news" in a report on the death of an Italian student.
The press reports could not be verified and Reuters said it had not received notification of legal action.​
Press reports citing security officials said that the Legal Affairs Department of the Ministry of Interior filed a criminal complaint with central Cairo's Qasr al-Nil police station against Reuters and Michael Georgy (photo), its Cairo-based Egypt and Sudan bureau chief, accusing them of "spreading false news aimed at disturbing public order," and "spreading rumours to harm Egypt's reputation".
The New York-based CPJ was unable to verify the reports. The Egyptian Interior Ministry did not answer repeated phone calls from CPJ seeking comment.
A Reuters spokesman told CPJ that the news agency could not verify whether a complaint had been filed. "We have not received notice of any legal action," the spokesman said.
The alleged accusations reported in local media are in connection with a 21 April Reuters report that cited three unidentified Interior Ministry officials and three unidentified intelligence officials as saying that Egyptian police detained 28-year-old Italian postgraduate student Giulio Regeni on 25 January, the day he disappeared. Regeni's mutilated body was found by the side of a road outside Cairo on 3 February, according to news reports.
Interior Ministry officials have repeatedly denied that police detained Regeni or had anything to do with his killing, including in remarks Reuters published in its story on Thursday. In a separate statement, the ministry denied there was any truth to the Reuters story, and said it reserved the right to take legal measures against those who "promote such rumours and false news," according to press reports.
"These reports and threats are disturbing and come against a backdrop of increasing intolerance of independent journalism," CPJ Middle East and North Africa Program Coordinator Sherif Mansour said from Washington. "The Egyptian authorities should repeal broad laws that make criminal prosecutions for spreading so-called false news possible."
Egypt's Interior Ministry on 25 March told journalists that police had killed in a shootout four men they suspected of being responsible for Regeni's murder. The ministry produced the student's identification documents and personal belongings as evidence, saying police had discovered them in possession of the men they had killed.
Italy on 8 April recalled its ambassador to Egypt for consultation, out of frustration with Egypt's handling of the investigation into Regeni's murder, according to press accounts.
Egyptian journalists and human rights groups have for decades campaigned to amend article 102 (bis) of Egypt's penal code, which allows for the detention of "whoever deliberately diffuses news, information/data, or false or tendentious rumours, or propagates exciting publicity, if this is liable to disturb public security, spread horror among the people, or cause harm or damage to the public interest." Article 18 of the penal code defines "detention" as up to three years in prison. Egyptian authorities have increased pressure on the press in recent years. On 1 December 2015, when CPJ last conducted its annual census of journalists imprisoned around the world, only China jailed more journalists than Egypt. ■